Posted by
Mary Chastain
Tuesday, January 28, 2020 at 12:00pm
| 1/28/2020 - 12:00pm
On Monday, Trump described the plan as a "suggestion" for both sides.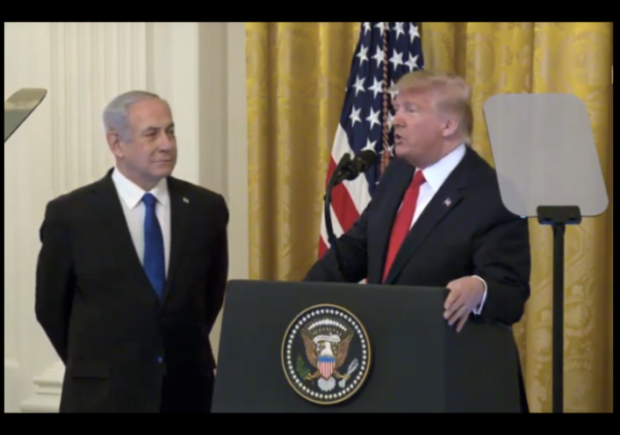 President Donald Trump will announce his Middle East peace plan alongside Israeli Prime Minister Benjamin Netanyahu.
It will take place at 12 p.m. ET in the White House East Room.
On Monday, Trump described the plan as a "suggestion" for both sides. He said the plan is what Palestinian leaders "should want," but may not "want it initially."
Trump admitted they will not "do the deal" without those leaders, but remained optimistic.
From The Wall Street Journal:
For instance, the plan envisions Israeli sovereignty over Jerusalem, including areas Palestinians claim as the capital of a future independent state. The Palestinians would have control over some neighborhoods on outer parts of East Jerusalem and might control 70% to 80% of the West Bank. That would fall short of Palestinian demands, but the plan isn't expected to rule out a Palestinian state.

Israeli Prime Minister Benjamin Netanyahu has pledged that Israel will annex much of the Jordan Valley—a portion of the West Bank bordering the country of Jordan—in effect encircling any potential future Palestinian state.

Trump administration officials have said Israelis and Palestinians won't be forced to leave their homes as Israel expands its borders under the administration plan. Unlike past efforts, the Trump administration isn't expected to seek compromises that would allow some Palestinians to return to land they or their families left after Israel's creation or receive compensation for it.
UPDATES (by WAJ)
You can read the Plan HERE.
Trump says Jerusalem will remain Israel's undivided capital, but Palestinian state will be territorially contiguous "when conditions for statehood are achieved." https://t.co/ziVqQxaNvY

— David A. Daoud (@DavidADaoud) January 28, 2020
Trump: It is an opportunity for Palestinians for getting an independent state – maybe the last chance

— Richard C. Schneider (@rc_schneider) January 28, 2020
.@realDonaldTrump says his peace deal map will provide a "Palestinian capital in East Jerusalem" where U.S. will have an Embassy.

— David A. Daoud (@DavidADaoud) January 28, 2020
The Trump peace plan essentially acknowledges facts on the ground: Israel is not going to dismantle major Jewish settlements, nor should they; the Palestinians are not going to get a divided Jerusalem, nor should they; the right of return is a fantasy designed to destroy Israel.

— Ben Shapiro (@benshapiro) January 28, 2020
Pres. Trump details proposed peace plan: "We will also work to create a contiguous territory within the future Palestinian state for when the conditions for statehood are met, including the firm rejection of terrorism." pic.twitter.com/pOTuL9Tvph

— NaynWorld (@nayn_world) January 28, 2020
Trump: "It's time for the Muslim world to fix the mistake it made in 1948 when it chose to attack, instead of recognise, the new state of Israel."

— Raf Sanchez (@rafsanchez) January 28, 2020
Trump: No Palestinians or Israelis will be uprooted from their homes

— Richard C. Schneider (@rc_schneider) January 28, 2020
Trump thanks Oman, Bahrain and UAE for sending ambassadors to the event.

— Lahav Harkov (@LahavHarkov) January 28, 2020
The most important & useful part of Trump's approach is that unlike in every past effort, he is putting onus on the Pals to seize the opportunity to build a state, as opposed to pressuring Israel for concessions and allowing the Pals to sit back and say no to everything

— Noah Pollak (@NoahPollak) January 28, 2020
Netanyahu: You recognize our sovereignty over all Jewish places in Judea and Samaria. Hebron, Bet-El, Shilo – where Jewish history took place

— Richard C. Schneider (@rc_schneider) January 28, 2020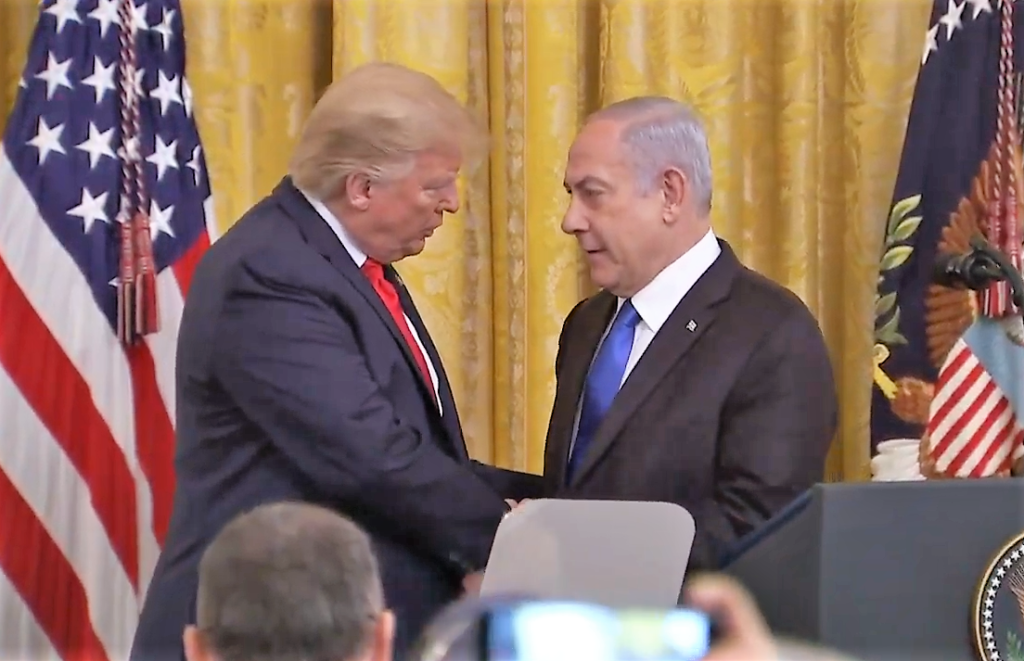 Trump plan: Yes, there is a West Bank, Gaza tunnelhttps://t.co/kYqS39kg2O pic.twitter.com/nYubHDRyVU

— Haaretz.com (@haaretzcom) January 28, 2020
Sami abu Zuhri: The announcement of the deal of the century has no value and it is not worth the ink it was written with.
Palestine will prevail, and Trump and the deal will go to the dustbin of history.#NoForTrumpDeal pic.twitter.com/1lwhBOjoik

— IRM-Palestine (@IRMPalestine) January 28, 2020