Posted by
Mary Chastain
Thursday, December 19, 2019 at 10:05am
| 12/19/2019 - 10:05am
What was that about Democracy Dies in Darkness?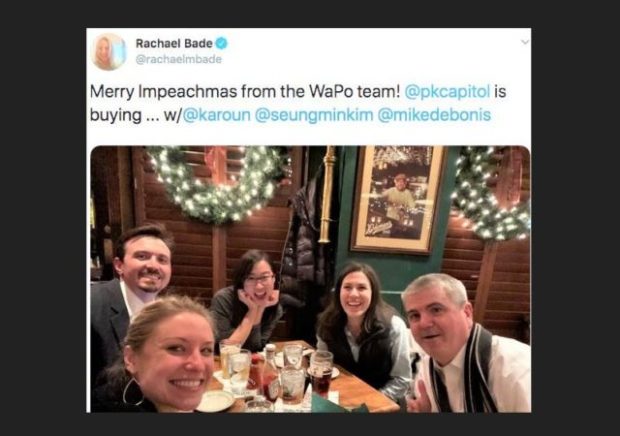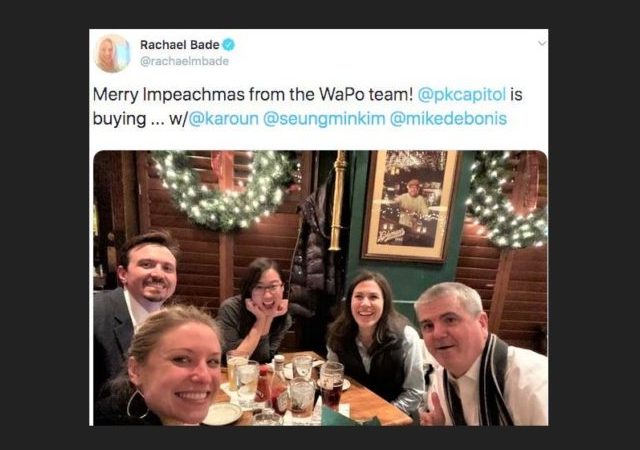 The Washington Post's Congressional reporter Rachael Bade deleted a tweet of her and other reporters at the paper, wishing everyone a Merry Impeachmas.
The reporters look happy and joyful as Congress debated and voted to impeach President Donald Trump.
Here is a screenshot of Bade's tweet.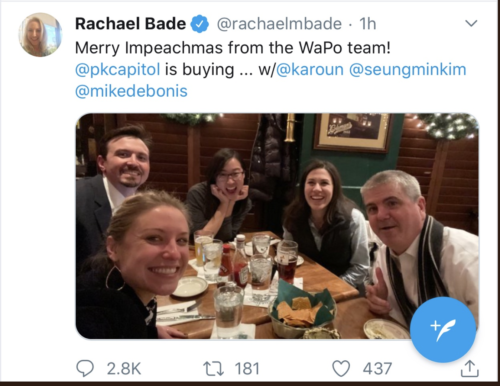 The reporters with Bade:
The tweet received a lot of criticism. I should have liked more of them on Twitter because I knew she would delete the tweet. But I caught one from a fellow journalist:
What the hell were you thinking when you tweeted this? Some of us still care about ethics and unbiased reporting, and this garbage makes it harder for all of us by reinforcing a stereotype. Come on guys.

— Bill Melugin (@BillFOXLA) December 19, 2019
Bade decided to delete the tweet…four hours after she posted it. Bade included an excuse, but people saw through her.
I'm deleting a tweeting tonight that is being misinterpreted by some as an endorsement of some kind. To be absolutely clear, we at the Post are merely glad we are getting a break for the holidays after a long 3 months. I will retweet the group photo w/ a better caption !

— Rachael Bade (@rachaelmbade) December 19, 2019
I think we all know what "Merry Impeachmas" meant but ok

— Caleb Hull ??? (@CalebJHull) December 19, 2019
"Misinterpreted." Uh huh.

— Molarkey (@molratty) December 19, 2019
Oh you mean the one of you celebrating The impeachment ? No need, we all know what partisan hacks you are

— ????? ???? ??? (@HonkyTonkJew) December 19, 2019
When you log back onto twitter and see your mentions after only two tweets pic.twitter.com/KlcBWXXj41

— Matthew (@matthops82) December 19, 2019
The moral of the story here is never tweet.

— Siraj Hashmi (@SirajAHashmi) December 19, 2019
"Merry Impeachmas" is pretty clear. Stop lying. pic.twitter.com/taGb7lTUb0

— Steph (@steph93065) December 19, 2019
[Featured image via Mark Dice]