Posted by
Mary Chastain
Friday, December 13, 2019 at 7:00pm
| 12/13/2019 - 7:00pm
Trump: "We will begin negotiations on the Phase Two Deal immediately, rather than waiting until after the 2020 Election."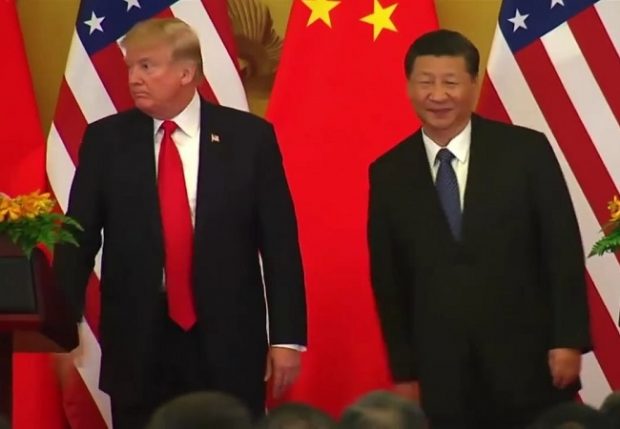 The U.S. and China have reached a limited deal to pause the trade war and remove the threat of new tariffs.
China has agreed to purchase "American farm goods and other products."
From The Wall Street Journal:
As part of the "phase one" deal, the U.S. canceled plans to impose fresh tariffs on $156 billion in annual imports of Chinese-made goods—including smartphones, toys and consumer electronics—that were set to go into effect Sunday. The U.S. will also slash the tariff rate in half on roughly $120 billion of goods, to 7.5% from 15%.

Tariffs of 25% would remain on roughly $250 billion in Chinese goods, including machinery, electronics and furniture.

Chinese officials said the U.S. has agreed to reduce these tariffs in stages, but U.S. Trade Representative Robert Lighthizer said there was no agreement on that, and he suggested China believes such reductions can be negotiated in subsequent phases.
We have agreed to a very large Phase One Deal with China. They have agreed to many structural changes and massive purchases of Agricultural Product, Energy, and Manufactured Goods, plus much more. The 25% Tariffs will remain as is, with 7 1/2% put on much of the remainder….

— Donald J. Trump (@realDonaldTrump) December 13, 2019
…..The Penalty Tariffs set for December 15th will not be charged because of the fact that we made the deal. We will begin negotiations on the Phase Two Deal immediately, rather than waiting until after the 2020 Election. This is an amazing deal for all. Thank you!

— Donald J. Trump (@realDonaldTrump) December 13, 2019
The agreement includes "intellectual property protection, forced technology transfer, opening markets, and currency issues."
While it may not seem like much, people have embraced the agreement:
Business trade groups applauded the announcement. "Today's announcement represents real progress, and manufacturers look forward to working with President Trump and U.S. Trade Representative Robert Lighthizer to achieve additional concrete outcomes," said National Association of Manufacturers President Jay Timmons.

The Business Roundtable called the announcement a "positive step" and urged both sides to "continue progress toward additional structural reforms in China and tariff relief."
However, farmers remain cautious:
"For farmers, this could either be the first ray of hope or another empty promise," Brian Kuehl, co-executive director of the free-trade organization Farmers for Free Trade, said in a statement. "Farmers want sustained access to China's market, not one-time purchases, so it will be critical to see how the retaliatory tariffs that have crippled farm exports are treated in this agreement."

"While any progress is encouraging, this cannot be Phase One and done. The last thing the U.S. and China should do now is step away from the negotiating table or let this go into deep freeze through 2020. Farmers are looking for an end to the trade war, not a pause," Kuehl added.