Posted by
Mary Chastain
Thursday, December 5, 2019 at 9:25am
| 12/5/2019 - 9:25am
White House responds: "Democrats should be ashamed."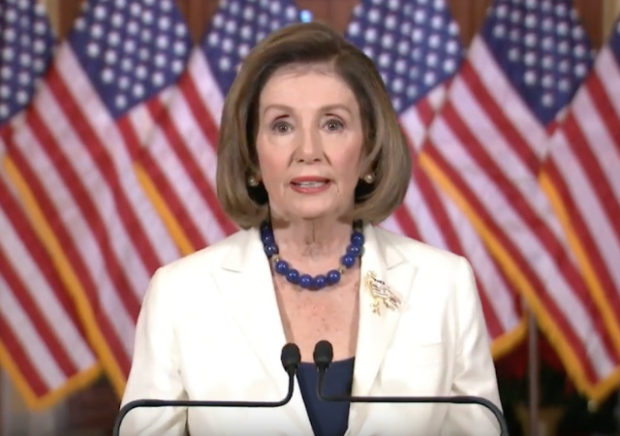 Speaker of the House Nancy Pelosi announced this morning that she has asked "our chairman to proceed with articles of impeachment" against President Donald Trump.
Pelosi claimed Trump "abused his power for his own personal political benefit at the expense of our national security."
She also claimed that America's "democracy is at stake." Well, it's a good thing we're a republic!
For some reason, she believes Trump's "actions have seriously violated the Constitution." Didn't the House and Senate renew the Patriot Act?
Pelosi did not provide a timeline or details. The articles of impeachment include abuse of power and bribery, obstruction of Congress, and obstruction of justice.
The White House responded:
.@SpeakerPelosi & the Democrats should be ashamed. @realDonaldTrump has done nothing but lead our country – resulting in a booming economy, more jobs & a stronger military, to name just a few of his major accomplishments. ?? We look forward to a fair trial in the Senate.

— Stephanie Grisham (@PressSec) December 5, 2019
Trump dared the Democrats to impeach him:
The Do Nothing Democrats had a historically bad day yesterday in the House. They have no Impeachment case and are demeaning our Country. But nothing matters to them, they have gone crazy. Therefore I say, if you are going to impeach me, do it now, fast, so we can have a fair….

— Donald J. Trump (@realDonaldTrump) December 5, 2019
…..trial in the Senate, and so that our Country can get back to business. We will have Schiff, the Bidens, Pelosi and many more testify, and will reveal, for the first time, how corrupt our system really is. I was elected to "Clean the Swamp," and that's what I am doing!

— Donald J. Trump (@realDonaldTrump) December 5, 2019