Posted by
Mike LaChance
Wednesday, December 18, 2019 at 3:00pm
| 12/18/2019 - 3:00pm
"There have been several restaurants in Seattle that have closed because of the [burdensome] laws that are coming down—that are hitting them—and the minimum wage is one of those"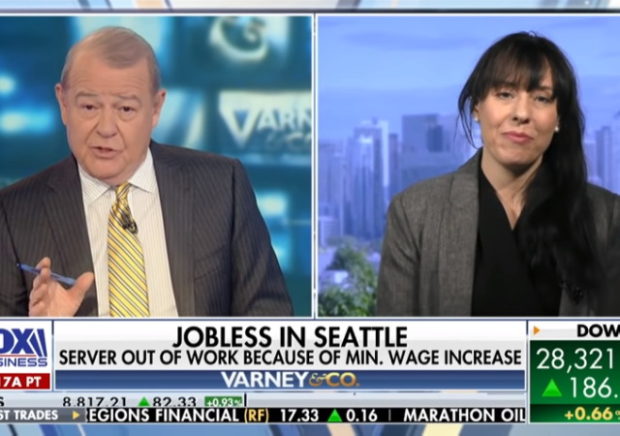 While America is enjoying record low unemployment, some areas are actually experiencing the loss of jobs. In certain cities where progressive activists and politicians have forced increases in the minimum wage, restaurants who can't keep up are closing and taking jobs with them.
Frank Connor of FOX Business highlights this report about Seattle from Stuart Varney:
Minimum wage strangling Seattle restaurant workers

Minimum wage increases may be costing Americans their livelihoods.

"There have been several restaurants in Seattle that have closed because of the [burdensome] laws that are coming down—that are hitting them—and the minimum wage is one of those," Full Service Workers Alliance co-founder Simone Barron told FOX Business' Stuart Varney.

Beginning in 2020, the city of Seattle will increase the minimum wage for companies employing over 500 workers from $16 per hour to $16.39 per hour. Companies employing 500 workers or fewer will see their required minimum pay increase from $15 per hour to $15.75 per hour in the new year—if they do not contribute $2.25 per hour to medical benefits or the employee does not earn $2.25 per hour in tips.

Barron herself is a victim of this mandated pay raise. The restaurant at which she currently works, her former place of employment, and the restaurant at which she was hoping to work will all be closing in 2020, she said.

"All of this is due to the minimum wage increase paired with other laws that are coming down through our city council," she explained.
In the video below, Barron notes that food service workers did not ask for this increase and wonders if they could be exempted from it:
A similar thing is occurring in Sacramento, California.
CBS News Sacramento reports:
Sacramento Restaurants Closing Due To Imminent Minimum Wage Increase

With California's minimum wage set to increase on January 1, restaurants facing high rent and staffing costs said it's a price they can't afford, which is forcing some to close their doors.

"It's bittersweet. It's been 14 years. It's been a good run," said Phil Courey, the owner of Opa! Opa! Greek restaurant in East Sacramento…

The minimum wage increase, which will hit $13 per hour, applies to businesses with 26 or more workers. Employers with fewer than 26 workers will have to pay a minimum wage of $12 per hour.

When considering his operating costs, Courey said it is just unsustainable.

"The wages are definitely a heavy pressure on us," he said. "About 40 grand a year every time they jack up the minimum wage."

Meanwhile, another popular Sacramento restaurant closed under pressure.

In South Sacramento, Perry's restaurant along Highway 99 served their final meals on Sunday. Some customers who lined up for the last meal were dismayed.

"It's really sad just thinking about this," Patricia Smith said. "It's an institution. This is a Sacramento institution."
This is what happens when activists and politicians, many of whom have never owned businesses, are allowed to dictate policy to job creators.
Featured image via YouTube.