Posted by
Mike LaChance
Thursday, December 5, 2019 at 12:00pm
| 12/5/2019 - 12:00pm
"I hope that all of the Deans at GWU Law and the students will recognize that he is not serving in the best interest of our country and is a detriment to the success of your school's future reputation"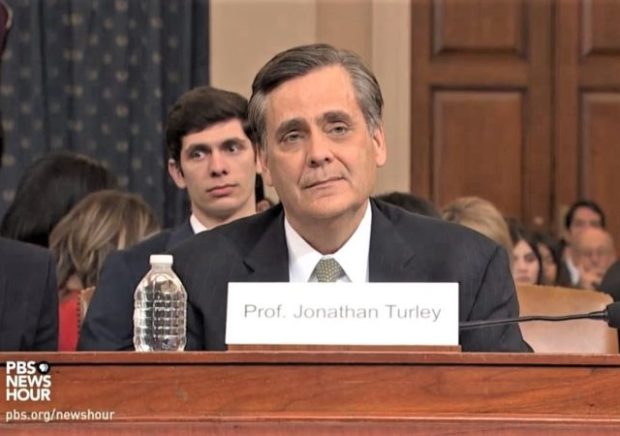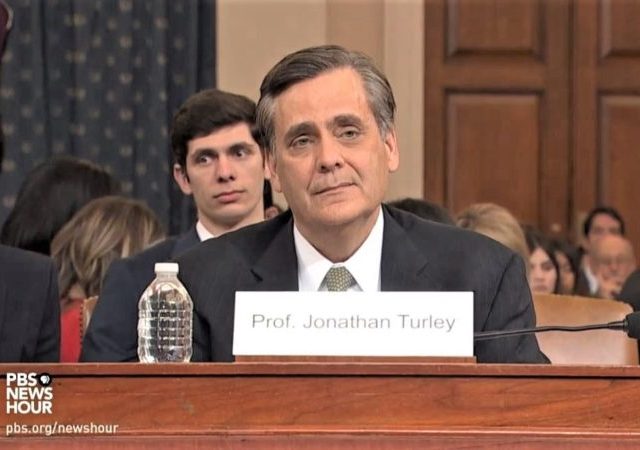 Professor Jonathan Turley of George Washington University stood out during the impeachment inquiry hearing on Wednesday by citing history and law, rather than acting as a member of the resistance.
As a result, there is already an effort underway to remove him from his position.
Jennie Taer writes at the Sara Carter blog:
Leaked Email: Threat Sent To GW Law Deans Calls For Prof. Turley's Removal

The email speaks for itself calling Turley a 'sad excuse of a man.'

The email opened, "I hope this message finds you all well, ladies and gentleman. Aside from Mr. Turley, of course."

"I am writing you all after listening to Jonathan Turley's disgraceful statement defending the corrupt and impeachable actions of President Trump at the House Judiciary impeachment hearing today. I know you all cringe inside knowing that you are affiliated in some way with Turley and have to work or study at the same institution in which he is employed," the email read.

Turley was the Republican witness at Wednesday's hearing. He made clear in his testimony, however, that he never was a Trump supporter."By no means should he be considered a Republican. If anything, his legal and political philosophies entertain the more Liberal stance," a former student of Turley's told this reporter.

"He is defending the indefensible and I hope that all of the Deans at GWU Law and the students will recognize that he is not serving in the best interest of our country and is a detriment to the success of your school's future reputation. His actions today were spineless and shameful. He is clearly a lackey for the Trump Administration," the email says.

The email's writer concludes, "I trust you will act appropriately and reprimand this sad excuse of a man."
Taer notes in her report that a George Washington University student did not send the message.
For the last three years, the left has made it explicitly clear that they will target and destroy anyone who stands in the way of their efforts to remove Trump. It is no surprise that Turley would be singled out by the left after his testimony which included moments such as this:
Turley flips the Dem argument on impeachment on its head:

"If you impeach a president, if you make a high crime and misdemeanor out of going to the courts, it is an abuse of power. It's your abuse of power. You're doing exactly what you're criticizing the president of doing." pic.twitter.com/j32p5vXuWI

— The First (@TheFirstonTV) December 4, 2019
Larry Elder is joking here, but there is a grain of reality in his question based on recent history:
What's the over under on when democrats start calling Professor Jonathan Turley a "Russian asset"?#ImpeachingHearings

— Larry Elder (@larryelder) December 5, 2019
UPDATE
My call for greater civility and dialogue may have been the least successful argument I made to the committee. Before I finished my testimony, my home and office were inundated with threatening messages and demands that I be fired from GW. https://t.co/X3wsqPTZBj

— Jonathan Turley (@JonathanTurley) December 5, 2019