Posted by
Fuzzy Slippers
Wednesday, December 4, 2019 at 5:00pm
| 12/4/2019 - 5:00pm
This is the same woman who once said she "had to cross" the street to avoid passing Trump hotel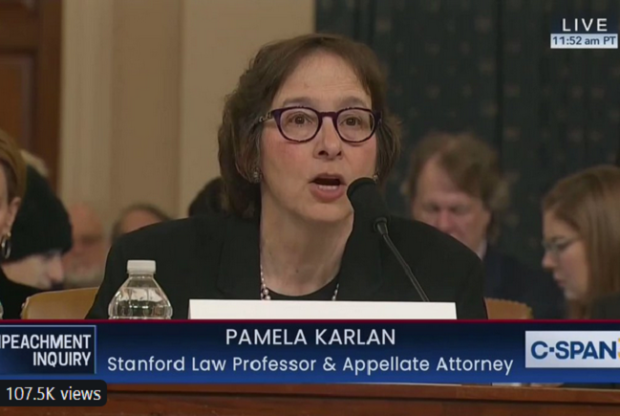 If Democrats hoped that today's panel of anti-Trump law professors explaining impeachment to "deplorables" was going to sway public opinion, they may have miscalculated.  Bigly.
Stanford law professor Pam Karlan decided the House impeachment hearings of the president of the United States was a great place to mock the president's 13-year-old son.
One of the Democrats' star impeachment witnesses just attacked the president's 13-year-old child to justify her zeal to overturn the 2016 elections via impeachment.

This farce somehow keeps getting worse for Democrats. https://t.co/Vw5KVEWAyK

— Sean Davis (@seanmdav) December 4, 2019
This is the same woman who once bragged about crossing the street to avoid walking on the sidewalk adjacent to the Trump hotel.
The law professor Democrats invited to provide obviously objective and fair analysis at today's impeachment hearing once explained how she had to cross the street rather than simply walking by the Trump hotel.

lol.pic.twitter.com/6BXMpkX5IT

— Jason Howerton (@jason_howerton) December 4, 2019
I'm not sure Democrats really understand how this plays outside of the left-wing DC/coastal urban/media bubble.
UPDATE:
First Lady Melania Trump responded to this unhinged attack on her son:
A minor child deserves privacy and should be kept out of politics. Pamela Karlan, you should be ashamed of your very angry and obviously biased public pandering, and using a child to do it.

— Melania Trump (@FLOTUS) December 4, 2019
UPDATE:
Karlan has issued an apology.  She "regrets" what she said . . . but Trump!
Pamela Karlan: "I want to apologize for what I said earlier about the president's son. It was wrong of me to do that. I wish the president would apologize, obviously, for the things that he's done that's wrong, but I do regret having said that." pic.twitter.com/7lYiRWCKjw

— CSPAN (@cspan) December 4, 2019