Posted by
Fuzzy Slippers
Wednesday, December 4, 2019 at 7:00pm
| 12/4/2019 - 7:00pm
"What subliminal message are we sending to the world when we have experts, but not one person of color? Are we saying that there are no people of color who are experts on this topic?"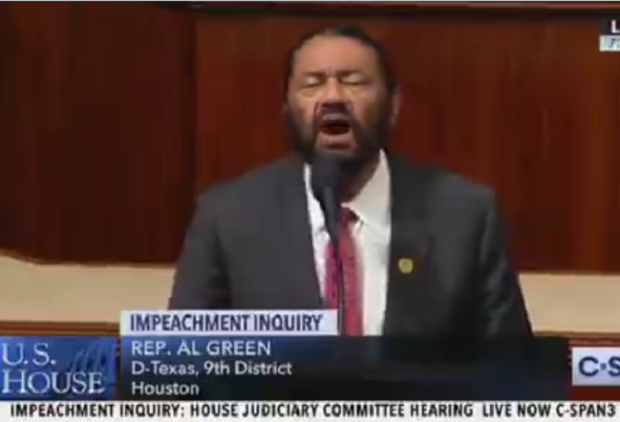 It's becoming increasingly difficult to take the partisan Democrat impeachment circus seriously.  Particularly when there is infighting about identity politics taking place simultaneously.
Rep. Al Green (D-TX) took to the floor to complain that his party had not called any black law professors for today's public tutorial on the Constitution as it pertains to impeachment.
.@RepAlGreen criticizes the lack of black impeachment experts called before today's hearing:

"What subliminal message are we sending to the world when we have experts, but not one person of color? Are we saying that there are no people of color who are experts on this topic?" pic.twitter.com/oGDyodSh3S

— Tom Elliott (@tomselliott) December 4, 2019
You can't make this stuff up.
This is great, possible the best part of the whole impeachment charade to date https://t.co/ltapAn4cKk

— Legal Insurrection (@LegInsurrection) December 4, 2019