Posted by
Mary Chastain
Friday, November 29, 2019 at 6:00pm
| 11/29/2019 - 6:00pm
Lefties demand boycott of Whole Foods stores, but they have the wrong "WholeFoods"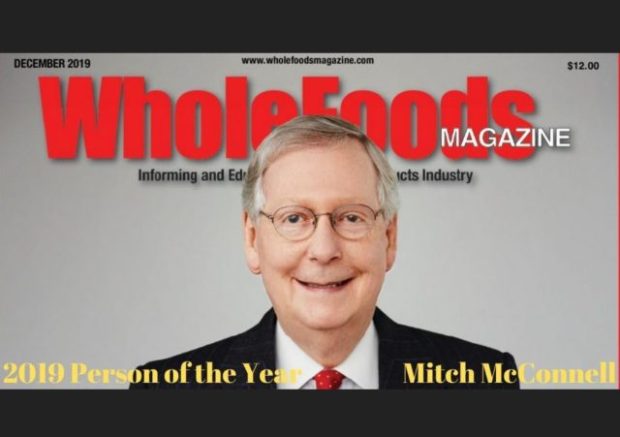 Outrage culture leads to many misunderstandings because people react before they think or even educate themselves.
The latest incident involves Whole Foods. A magazine called WholeFoods, which is not associated with the grocery store, named Senate Majority Leader Mitch McConnell its Person of the Year.
Did people bother to read any of the articles? Did they even bother to realize that the magazine is called WholeFoods instead of Whole Foods?
Yes, it's one word instead of two words.
Of course they did not because outrage. Everyone assumed the store publishes the magazine.
The magazine first came out in 1984:
The editorial focus is, and always has been, on informing and educating about how to improve your businesses and take advantage of emerging opportunities both within the industry and in the world at large. Every monthly issue includes feature-length articles covering hot, new product categories.
It named McConnell as its Person of the Year because of his efforts to help a "hemp growing project" in Kentucky.
Because of everyone's arrogance, Whole Foods spent the last few days addressing snowflakes on Twitter. People even started the hashtag #BoycottWholeFoods.
I even noticed people quote tweeted a tweet from HuffPo, which specifically states the grocery store chain does not have anything to do with the magazine.
The stupid…it burns.
Honored to be named @WholeFoodsMag 2019 Person of the Year. I was recognized as the most influential person in the natural products industry, specifically because of my work to legalize industrial #hemp for farmers in Kentucky and around the country. https://t.co/Nu9ZZLs1pZ pic.twitter.com/xB6PbkQe9G

— Leader McConnell (@senatemajldr) November 27, 2019
Thanks for bringing this to our attention. Whole Foods Market is not affiliated with this publication.

— Whole Foods Market (@WholeFoods) November 27, 2019
Thanks for reaching out. Whole Foods Market is not affiliated with this publication. @wholefoodsmag

— Whole Foods Market (@WholeFoods) November 29, 2019
Hello. Whole Foods Market is not affiliated with this publication. @wholefoodsmag

— Whole Foods Market (@WholeFoods) November 29, 2019
Thanks for reaching out, Louise. Whole Foods Market is not affiliated with this publication. @wholefoodsmag

— Whole Foods Market (@WholeFoods) November 29, 2019
Hello Bob. Whole Foods Market is not affiliated with this magazine publication.

— Whole Foods Market (@WholeFoods) November 29, 2019
@WholeFoods destroys itself and its brand in order to ingratiate itself to Trump and @senatemajldr McConnell . #BoycottWholeFoods https://t.co/2aNQNC0wTh

— Fiducia (@cmpnwtr) November 29, 2019
Now let's drown Whole Foods with a "Blue Wave" boycott.#BoycottWholeFoods@WholeFoods https://t.co/TBfaAbXWcQ

— Eric G. (@TheSpeaker2012) November 29, 2019
Disgusting I used to like @WholeFoods ….. NOT ANYMORE ????#BoycottWholeFoods

— Lina (@LinaSeara) November 29, 2019