Posted by
Mary Chastain
Friday, November 29, 2019 at 12:00pm
| 11/29/2019 - 12:00pm
"A male suspect was shot by specialist armed officers from the City of London police, and I can confirm that this suspect died at the scene."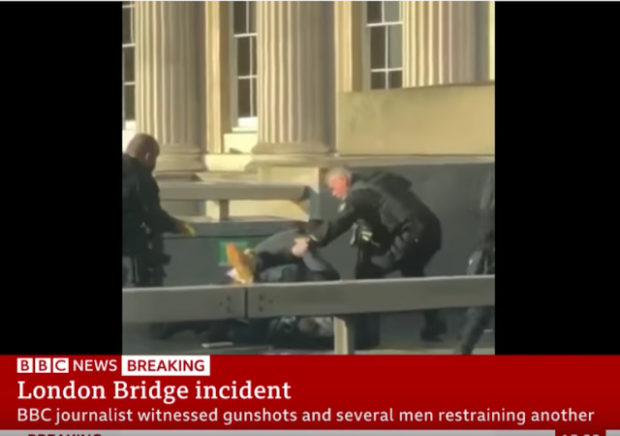 Assistant Commissioner Neil Basu announced outside of Scotland Yard that authorities have declared the stabbing attack on London bridge a "terrorist incident." The Guardian published his press conference:
I can confirm that at approximately 2pm today Friday the 29th of November. Police were call to a stabbing at a premises near to London Bridge EC1. Emergency services attended including officers from the City of London police and the Metropolitan Police.

A male suspect was shot by specialist armed officers from the City of London police, and I can confirm that this suspect died at the scene.

A number of other people received injuries during this incident. As soon as we can provide further updates on their condition we will. And our heartfelt sympathies go out to everybody who's been involved in this and is anxiously waiting for information on their loved ones. As soon as we can get that information w will get it to you.

As you would expect due to the nature of the incident, we responded as though this was terrorist related. I'm now in a position to confirm that it has been declared a terrorist incident.
Basu did not specify how many the man injured, but I'm seeing in some reports that he injured five people.
Basu confirmed the suspect wore a hoax explosive device on his chest. As of publication, the London Bridge station remains closed.
#BREAKING : Reports of a shooting incident on London Bridge #Londonbridge #London pic.twitter.com/9kLaoTFElP

— News flash (@BRNewsFlash) November 29, 2019
Please stay away from #LondonBridge! I just saw a man with a knife being shot in the head by police. Please be careful London! pic.twitter.com/BotIffaLJ0

— Hand Luggage Only (@HLOBlog) November 29, 2019
As you can see in the video many people tackled the terrorist. One man managed to take away the knife. It looks like the police shot the suspect after they pulled off the pedestrians.
I saw many news outlets post a picture of Tower Bridge as London Bridge. This is false. London Bridge is just west of the famous Tower Bridge: