Posted by
Mary Chastain
Tuesday, November 19, 2019 at 12:00pm
| 11/19/2019 - 12:00pm
"The media, of course, are free to act as Democrat puppets, and they're free to lurch from the Russia hoax to the Ukraine hoax at the direction of their puppet masters."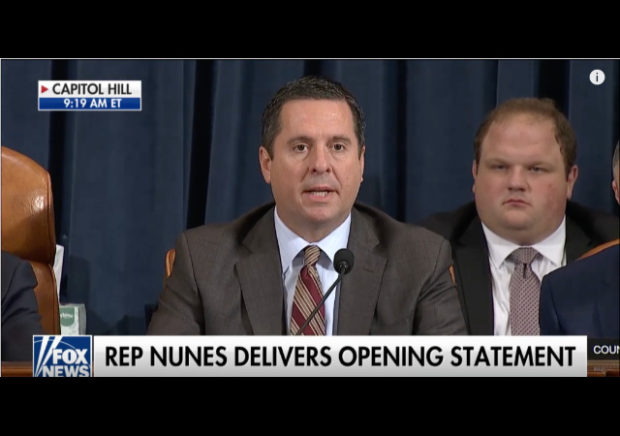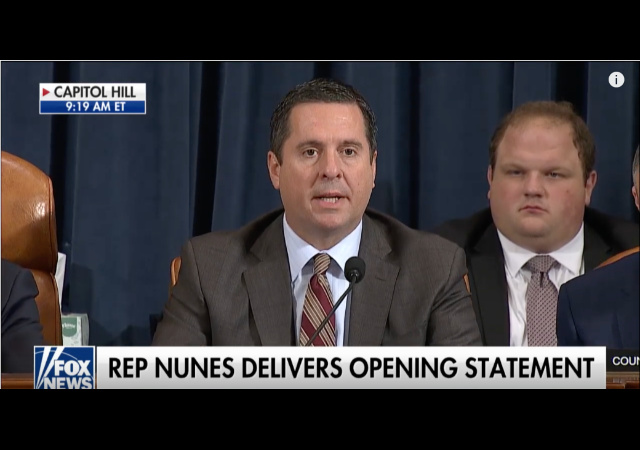 House Intelligence Committee Ranking Member Devin Nunes destroyed the media in his opening statement at the third hearing of the impeachment inquiry.
He criticized the way the media has handled the impeachment inquiry. He even accused them of taking direction from the Democrats.
Nunes said:
If you watched the impeachment hearings last week, you may have noticed a disconnect between what you actually saw and the mainstream media accounts describing it. What you saw were three diplomats, who dislike the President's Ukraine policy, discussing second-hand and third-hand conversations about their objections. Meanwhile, they admitted they had not talked to the president about these matters, and they were unable to identify any crime or impeachable offense the President committed.

But what you read in the press were accounts of shocking, damning, and explosive testimony that fully supports the Democrats' accusations.
He reminded everyone the media is acting the way they did during the Russian investigation. He described their behavior as a "fevered rush to tarnish and remove a president who refuses to pretend that the media are something different than what they really are-puppets for the Democratic Party."
Then Nunes brought up investigative journalist John Solomon, who has published many pieces on Ukraine in The Hill.
The Hill stated "it would conduct a review of Solomon's Ukraine reporting." This happened three days after a Democrat on this committee told a Hill writer that she would stop speaking to The Hill because it had run Solomon's stories, and she urged the writer to relay her concerns to Hill management."
Nunes also pointed out how the Democrats have changed their narrative after the phone call between President Donald Trump and Ukrainian President Volodymyr Zelensky showed no quid pro quo:
After trying out several different accusations against President Trump, the Democrats have recently settled on "bribery"—according to widespread reports, they replaced their "quid pro quo" allegation because it wasn't polling well.

But if the Democrats and the media are suddenly so deeply concerned about bribery, you'd think they would take some interest in Burisma paying Hunter Biden $83,000 a month. And you'd think they would be interested in Joe Biden threatening to withhold U.S. loan guarantees unless the Ukrainians fired a prosecutor who was investigating Burisma. That would be a textbook example of bribery.
Nunes ended his statement:
The media, of course, are free to act as Democrat puppets, and they're free to lurch from the Russia hoax to the Ukraine hoax at the direction of their puppet masters. But they cannot reasonably expect to do so without alienating half the country who voted for the President they're trying to expel.

Americans have learned to recognize fake news when they see it, and if the mainstream press won't give it to them straight, they'll go elsewhere to find it—which is exactly what the American people are doing.
Nunes Opening Statement by Anonymous 5DZYb5cl on Scribd