Posted by
Mary Chastain
Wednesday, November 13, 2019 at 12:35pm
| 11/13/2019 - 12:35pm
"The pervasive and longstanding problem of corruption in Ukraine included exposure to a situation involving the energy company Burisma."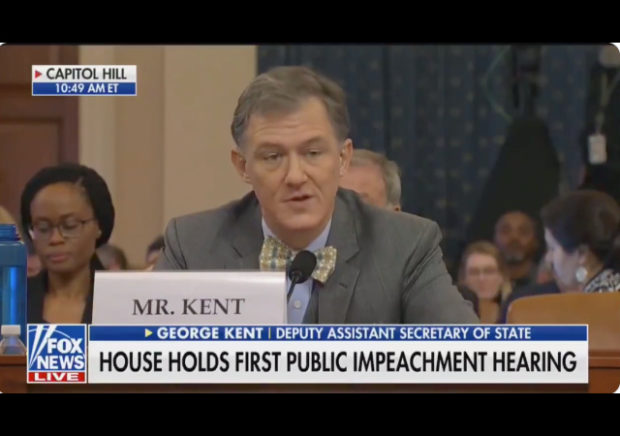 George Kent, a diplomat in the State Department, testified that America has always placed conditions on all loans to Ukraine:
"There are and always have been conditionality placed on our sovereign loan guarantees for Ukraine. Conditions include anti-corruption reforms, as well as meeting larger stability goals and social safety nets. The International Monetary Fund does the same thing. Congress and the executive branch work together to put conditionality on some security assistance in the Ukraine Security Assistance Initiative."
Kent: "Conditions Have Always Been Placed on Aid to Ukraine Including Anti-Corruption…" ? #WitchHunt pic.twitter.com/LAJ4EGao6l

— Gregg Jarrett (@GreggJarrett) November 13, 2019
Kent also explained he raised concerns in 2015 about Hunter Biden sitting on the board at Burisma Holdings:
"The pervasive and longstanding problem of corruption in Ukraine included exposure to a situation involving the energy company Burisma," said Kent. "The primary concern of the U.S. government since 2014 was Burisma's owner, Mykola Zlochevsky, whose frozen assets abroad we had attempted to recover on Ukraine's behalf."

Kent, a diplomat in the State Department, noted that in 2015, he raised concerns to then-Vice President Joe Biden when Hunter, his son, had was named to a position on the board of the natural gas firm. The elder Biden was acting as the chief diplomat to Ukraine at the time.

"In February 2015, I raised my concern that Hunter Biden's status as a board member could create the perception of a conflict of interest," said Kent.