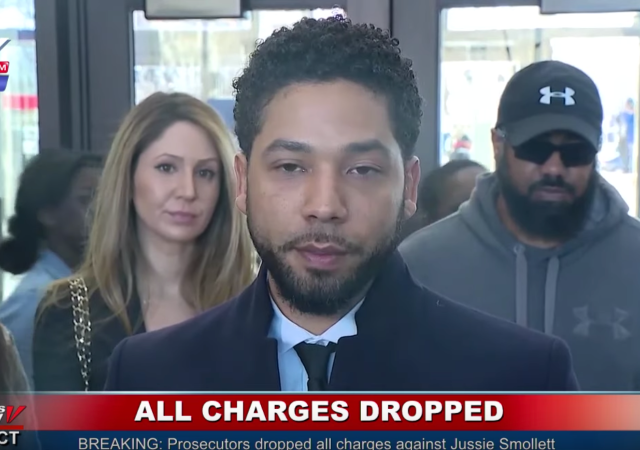 Guy concocts faux hate crime to gin up national press attention, gets busted, Chicago insists he pay for cost of investigating bogus crime and now guy is suing for "malicious prosecution," basically.
Back in April, the city of Chicago filed a civil complaint against actor Jussie Smollett, seeking approximately $130,000, which they claim is the price tag for investigating Smollett's "false police report."
Now, Smollett is counter-suing.
From the WaPo:
This week, Smollett filed a counterclaim against the city of Chicago after its April lawsuit demanding that he pay $130,000 to make up for the 1,836 hours of police overtime spent looking into the alleged hate crime. In that suit, the city stated its intention to also seek attorneys' fees and a civil penalty of $1,000 for each of Smollett's alleged lies. But the actor's lawyers claimed the city "is not entitled" to any of this.

"Having agreed to accept $10,000 from Mr. Smollett as payment in full connection with the dismissal of the charges against him," the counterclaim filed Tuesday stated of his bond, "the City cannot seek additional recovery from Mr. Smollett under the doctrine of accord and satisfaction."

The counterclaim pointed to the "malicious prosecution" it said was carried out by the city. It singled out Chicago Police Department Superintendent Eddie Johnson and two detectives, Edward Wodnicki and Michael Theis, in arguing that police had disseminated "false and misleading information," leading to media reports that Smollett might have orchestrated the alleged attack.

The scandal began in late January, when Smollett, who is black and gay, told police he had been attacked late at night by two people yelling homophobic and racist slurs. Incremental updates cast doubt upon Smollett's story — he had worked on "Empire" with at least one of the alleged perpetrators, for instance — and in early March, he was indicted on 16 felony counts for allegedly lying to police.

Full complaint here:

Jussie Smollett Counterclaim by Anonymous jDcsAZN on Scribd

For more on our extensive coverage of the Smollett saga, see here.

DONATE

Donations tax deductible
to the full extent allowed by law.