Posted by
Mary Chastain
Tuesday, November 19, 2019 at 4:00pm
| 11/19/2019 - 4:00pm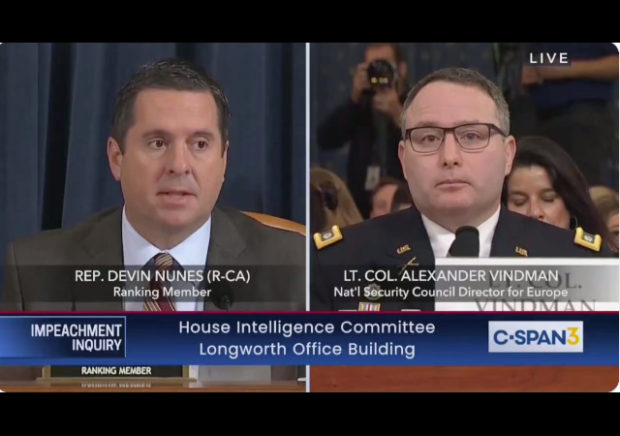 The impeachment hearings in front of the House Intelligence Committee took a weirdish turn this afternoon:
Lt. Col. Alexander Vindman, an Army officer at the National Security Council, told Nunes that he spoke with two people outside the White House about Trump's July 25 call with Ukrainian President Voldomyr Zelensky in the immediate wake of the interaction, including State Department official George Kent and one member of the "intelligence community."

Nunes then pressed Vindman about which agency the intelligence community member hailed from.

Schiff jumped in to interrupt the exchange, apparently worried the exchange could name the whistleblower — though Vindman later insisted he doesn't know who the whistleblower is.
Schiff stopped the clock and told the panel he wants "to make sure there's no effort to out the whistleblower through the use of these proceedings."
Nunes reminded Schiff it was the Republicans turn to question Vindman. Schiff said if Vindman "has a good faith belief that this may reveal the identity of the whistleblower, that is not the purpose that we are here for." He wanted "to advise the witness accordingly."
Nunes did not back down:
Nunes: Mr. Vindman, you testified at your deposition that you did not know the whistleblower.

Vindman: Ranking member, it's Lieutenant Colonel Vindman, please.

Nunes: Lieutenant Colonel Vindman, you testified in the deposition that you did not know who the whistleblower was, or is.

Vindman: I do not know who the whistleblower is, that is correct.

Nunes: So how is it possible for you to name these people and then out the whistleblower?

Vindman: Per the advice of my counsel, I've been advised not to answer specific questions about members of the intelligence community.

Nunes: This is — are you aware that this is the Intelligence Committee that's conducting an impeachment hearing?
Conservatives on Twitter believe the exchange proves Vindman leaked information to the whistleblower. The sidestepping of questions along with Schiff quickly jumping in does not bode well for the Democrats. It also dims their claims of not knowing the identity of the whistleblower.
I'd say Schiff's deer in the headlights look is a dead giveaway, but the man looks like that all the time.
I refuse to flat out say yes, Vindman leaked the information. But the exchange raised red flags in my head.
.@Jim_Jordan calls out Schiff and Vindman:

"I don't see how this is outing the whistleblower. The witness has testified that he does not know who the whistleblower is. You have said, even though no one believes you, you have said you don't know who the whistleblower is…" pic.twitter.com/f7gT9PAFYt

— Daily Caller (@DailyCaller) November 19, 2019
?HOLY SMOKES ?

This exact moment is when we know the impeachment hearings are a farce:

Schiff, Vindman: We do not know the identity of the whistleblower

GOP: So how will you know if we name him?

Schiff, Vindman: STOP ASKING QUESTIONS! HE'S A GREAT GUY. IT HURTS HIS FEELINGS pic.twitter.com/6Fn0n5dzO4

— Benny (@bennyjohnson) November 19, 2019
Nunes: Did you discuss the July 25 call or July 26 call with anyone outside the White House?

Vindman: Yes. George Kent, and someone I'm not going to name who works in the intelligence community.

Schiff just told Vindman not to answer the question.

Vindman is the leaker.

— Sean Davis (@seanmdav) November 19, 2019
Jordan figured out a key part of Vindman's game here.

Vindman refused to go to Morrison, his boss. He instead leaked to his "coordination" partners and his CIA whistleblower friend. Only after that did he go to the NSC lawyer, knowing his seeds were sown. https://t.co/0la8uMbUJh

— Sean Davis (@seanmdav) November 19, 2019
Seems pretty important to establish whether Vindman was a source for the whistleblower, especially since Dems are holding Vindman out as independent corroboration of the whistleblower. This is circular reporting. Reminiscent of the Steele dossier.

— Chuck Ross (@ChuckRossDC) November 19, 2019
Would be nice to know if Vindman was the whistleblower's source and if so, what he thought was the whistleblower's "need to know." Schiff is ensuring that no one ever finds out. Why is that? #StopTheSchiffShow

— Arthur Schwartz (@ArthurSchwartz) November 19, 2019
Point of Order:
Schiff claims to not know who the whistlblower is
LTC Vindman claims to not know who the whistleblower is

So, how can LTC Vindman OR Schiff decide if information in the question refers to the whistleblower unless they DO know who the whisleblower is? #Liars https://t.co/sO4zEa6Vbj

— Hammy ✈ (@e2pilot) November 19, 2019
Didn't he testify he had no idea who the whistleblower was?

Sounds like perjury to me… but don't worry he will get away with it because he's pushing the Democrat's agenda.

Vindman Just Admitted To Leaking To The Anti-Trump Whistleblower. https://t.co/C02oq5OwKP

— Donald Trump Jr. (@DonaldJTrumpJr) November 19, 2019