Posted by
Mary Chastain
Sunday, August 25, 2019 at 11:30am
| 8/25/2019 - 11:30am
"Service to others, service above self, service selflessly. And that, I think, truly exemplifies this man."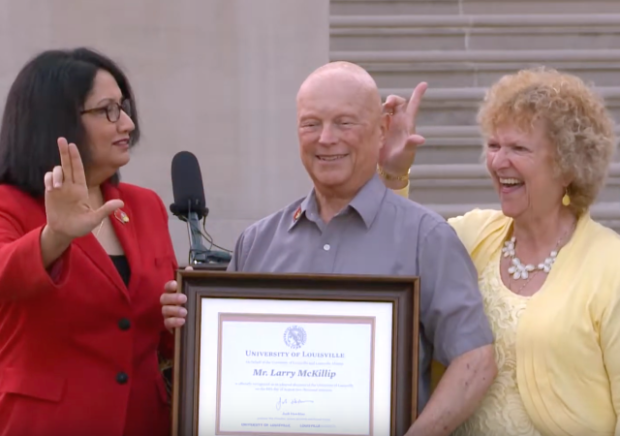 This is a touching story. The University of Louisville gave veteran Larry McKillip, 74, his associates degree 40 years after he had to drop off to care for his sick mother. I dare you to read this and not cry.
McKillip used the GI Bill to attend the university after Vietnam. He studied educational recreation and hoped to work in a VA medical center. But he dropped out when his mom, who took care of his father with muscular dystrophy, received a cancer diagnosis.
McKillip still worked in a VA center in an area similar to his major, but he still wanted that degree. All four of his kids went to college. He would read their textbooks when they came home.
The Chillicothe Gazette has more:
McKillip retired from the VA in 2006 and stopped auditing classes before that. But he still continues to read about topics that fascinate him. McKillip's son-in-law Jason Beavers believes that McKillip partook in these courses to keep his mind engaged.

But McKillip's love for learning was halted three years ago when he was diagnosed with stage four esophageal cancer. During that time, he was completely focused on taking his medication and staying healthy. And by 2019, McKillip recalls giving up any hope of receiving his degree or pursuing any other education.

When Beavers learned of McKillip's diagnosis, he wanted to do something to honor the man who had given so much to others. Beavers reached out to the University of Louisville to see if they would be able to grant McKillip an honorary bachelor's degree for the time he spent at the college.

Staff at the university informed Beavers that they did not issue honorary degrees. Beavers gave up hope. But he soon learned that McKillip had earned enough credits to receive an associate degree in his own right.

"It wasn't something that was awarded as an honorary thing, but as something he had done on his own initiative and gumption," Beavers said. "We knew that would help make that missing piece from his past feel filled in."

After the announcement, Beavers and his wife, his mother-in-law, Linda McKillip, and staff at the university worked to surprise McKillip. The family told McKillip that they were taking a vacation to Louisville with a pit stop at the university. Once there, the University of Louisville Alumni Office, President Neeli Bendapudi and provost Beth Boehm held a special ceremony to declare McKillip an adopted alumnus and present him his degree.

"Some lives are exemplified by service," Bendapudi said at the ceremony. "Service to others, service above self, service selflessly. And that, I think, truly exemplifies this man."