Posted by
Mike LaChance
Friday, August 2, 2019 at 1:00pm
| 8/2/2019 - 1:00pm
"court should bar University of Michigan lawyers from going after the sexual history of a student suing the school"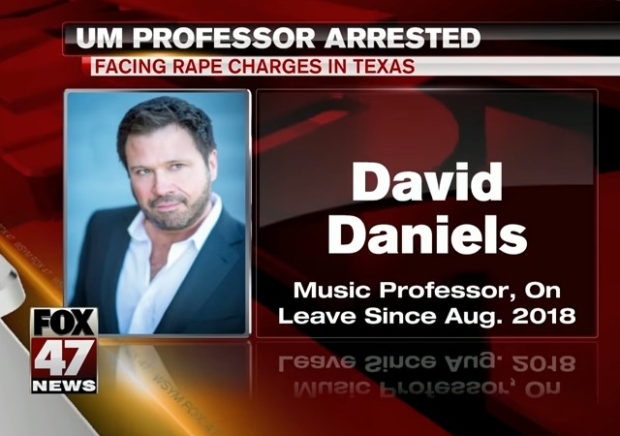 A grad student at the University of Michigan claimed that he was sexually harassed and abused by a professor. He sued the school for failing to act and now the school is being accused of using the student's sexuality against him.
David Jesse reports at the Detroit Free Press:
U-M trying to out former grad student as gay, court filing claims

A federal court should bar University of Michigan lawyers from going after the sexual history of a student suing the school for not stepping in when a professor allegedly sexual harassed and assaulted him, a new court filing says.

Andrew Lipian filed the suit in 2018, alleging that while he was a student at U-M's School of Music, Theatre & Dance between fall 2016 and August 2018, he was sexually harassed and assaulted by David Daniels, a tenured professor who is openly gay. The lawsuit also alleges the university knew for years of Daniels' sexually harassing behavior and did nothing. Lipian graduated from U-M in May.

Daniels has denied the allegations.

"The University clearly seeks to defend this case by incorrectly asserting that Plaintiff consented to Daniels' disgusting overtures and acts, and that this consent will be proven if Plaintiff 'has kissed another man on the lips,'" attorney Deborah Gordon wrote in the filing. "In addition to ignoring well-settled law rejecting this theory, Defendant is blatantly playing on harmful stereotypes about the LGBTQ+ community equating same-sex relationships with indiscriminate promiscuity.
The line of questioning the student was submitted to is rather surprising:
According to the most recent filing, U-M lawyers asked Lipian a series of questions during an early July deposition about his sexual history, including:

"Have you ever had sex with anyone besides your wife?"
"Did you have any sexual relationships with any other students in the School of Music, Theatre & Dance?"
"Have you ever had a homosexual experience?"
"Have you ever had a homosexual or bisexual experience?"
"Have you ever kissed a man on the lips?"
"Have you ever engaged in sexual contact of any kind with another man?"
"Have you ever lied in a bed with Scott Walters with your bodies touching each other?"
"Did you ever talk with Scott Walters about sexual subjects?"
"Did you ever talk to [Scott Walters] in a sexual — text him in a sexual manner?"
In a related story, Professor Daniels and his husband Scott Walters are facing charges in another case. A singer claims he was drugged and raped by the couple after a concert.
Victoria Albert reported at the Daily Beast in January:
Famed Opera Singer David Daniels and Husband Arrested on Sexual-Assault Charges

Famed opera star David Daniels and his husband, Scott Walters, were arrested Tuesday on sexual-assault charges, according to a Wednesday report from The New York Daily News. The pair were arrested separately, and could be extradited to Texas to stand trial over the charges.

Daniels and Walters were accused this August by an up-and-coming singer, who claims that the duo drugged him and raped him after they invited the then 23-year-old back to their apartment in 2010. "I was sore and I didn't know why. I made my way to the bathroom to figure out why I hurt," Samuel Schultz said in the police report cited by the News. "I was bleeding from the rectum. I became numb. I was paralyzed with fear. What had happened? How could I escape? How would I get out? Where were my clothes?"

Daniel and Walters continue to deny the allegations. Their lawyer told the News that "David and Scott are innocent of any wrongdoing.
In a final, and crazy twist to this story, Daniels and Walters were married by none other than Supreme Court Justice Ruth Bader Ginsburg.
I won't spell out her name.

"David Daniels, 52, and his conductor husband Scott Walters, 37, were arrested in Michigan, where they live, on Tuesday nighthttps://t.co/ZM4fFrj7lt

— ??Constitution1A – JusticeIsComing (@Constitution1A) February 1, 2019
Featured image via YouTube.