Posted by
William A. Jacobson
Saturday, August 17, 2019 at 8:38pm
| 8/17/2019 - 8:38pm
Appellant John Doe: "And in that same time period, from August 2015 through February 2016, Oberlin convicted 100% of the respondents it sent through its formal resolution process, the vast majority of whom, if not all, were men"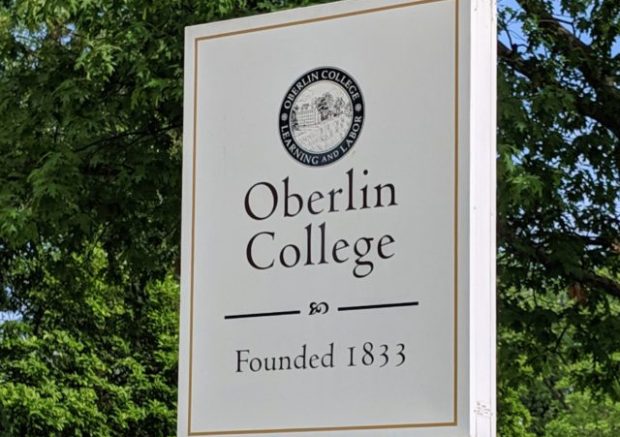 While everyone has been focused on Gibson's Bakery v. Oberlin College, it's worth revisiting another lawsuit against Oberlin College which we have extensively covered but it below the media radar. Once again, the alleged conduct of then Title IX Coordinator, now Dean of Students, Meredith Raimondo was part of the case.
In John Doe v. Oberlin College, an expelled male student who had been found responsible for sexual assault in a campus disciplinary hearing sued, alleging a seriously flawed hearing process as well as discrimination on the basis of sex because the process allegedly was biased against men. We covered the allegations, and the motion to dismiss filed by Oberlin, in Lawsuit: Oberlin College sexual assault hearing process rigged, 100% conviction rate:
A male student who was expelled from campus in October 2016 for alleged sexual assault has filed a federal lawsuit against Oberlin. Though the lawsuit was filed in June 2017, it has not received any publicity. Yet the lawsuit contains allegations which, if proven, reflect that Oberlin's system for adjudicating sexual assault accusations was fundamentally biased against males, at least during the 2015-2016 academic year.

This is a problem at other campuses we have covered dozens of times, the so-called kangaroo courts which serve as rubber stamps under pressure from Obama Education Department Office of Civil rights guidance. It's a pressure that Betsy DeVos is starting to roll back in favor of protecting due process rights of the accused.

The following documents in John Doe v. Oberlin College, filed in the Northern District of Ohio, are referenced below:
The facts alleged were pretty gruesome at many levels, involving as so many of these cases do, two drunk students. The dispute and the hearing turned on whether the female student was deemed "incapacitated" under Oberlin policy. In that prior post I described the allegations:
The details of the sexual encounter and recriminations are all too familiar to anyone who has read the complaints being filed around the country regarding higher education sexual assault adjudications.

According to the Complaint, the encounter started as consensual by everyone's account, including sexual intercourse. There were text messages and other evidence that at least at the start, both parties were on board. At some point, the female asked for intercourse to stop because she was experiencing physical discomfort from the intercourse, and the male stopped. At that point the male requested that the female perform oral sex on him, and she did.

The alleged violation of the campus code took place only on the issue of consent to oral sex, not the preceding intercourse and other sexual relatoins. Just prior performing oral sex, the female made a comment that she was "not sober." That comment would become the central issue as to whether the female was "incapacitated" (and therefore unable to give true consent) under the Oberlin code and whether the male reasonably should have known that.

As in so many cases, the allegation of sexual assault was not made immediately, but only after a period of time. There was no claim of use of force during the female's initial interactions with friends or interview with an investigator. At the hearing that would change, and she alleged the use of force to push her head down during oral sex.
The lawsuit was dismissed even though the student demonstrated a likelihood the disciplinary decision was wrong, for reasons discussed in my post, Male student lawsuit against Oberlin College dismissed despite possibly flawed sexual assault disciplinary decision:
In the Order (pdf.)…, the Court ruled that plaintiff, though having cast doubt on the correctness of the disciplinary panel ruling against him, had failed to allege facts showing such error was due to discrimination against men. Accordingly, the Court dismissed the federal claims with prejudice, but dismissed related state law claims (which might not require such a causal connection to sex discrimination) without prejudice. That means that John Doe can bring the state law claims in state court (and of course, can appeal the dismissal to the 6th Circuit Court of Appeals.).

Here is the key portion of the Order on the correctness of the disciplinary panel ruling:

With respect to the first prong of the erroneous outcome standard, the court, drawing all reasonable inferences in favor of Plaintiff, finds that his accusations create "some articulable doubt" as to the accuracy of the hearing board's decision in the present case. Here, Plaintiff points to the length of the investigation in this case (120 days) as being excessive and without explanation. Oberlin's Policy states that investigations typically will be completed within twenty days. Plaintiff further argues that third-party testimony from Jane's friends present that night indicates that there were no outward signs of Jane's intoxication that a stranger could recognize. Plaintiff also alleges there are inconsistencies between Jane's Investigation Testimony and her Hearing Testimony regarding the circumstances surrounding the oral sex. In the investigative interview, Jane stated that Plaintiff asked her to perform oral sex. However, in the hearing, Jane testified that Plaintiff grabbed her neck and forced her to perform oral sex. Plaintiff maintains that the hearing board based its entire decision on a single piece of evidence to support their conclusion that Jane was incapacitated, her statement that "I am not sober." In addition, Plaintiff also alleges that the hearing board improperly applied its own definition of incapacitation outlined in the Policy. The only issue here is whether Plaintiff has met his pleading burden, and these allegations indicate that he has. See Doe v. Univ., of Cincinnati, No. 1:16CV987, 2018 WL1521631, at *5 (S.D. Ohio Mar. 28, 2018) (finding that the plaintiff pleaded sufficient facts to cast articulable doubt where he was not allowed to confront and question Roe through the panel which would have undoubtedly aided the truth-seeking process and reduced the likelihood of an erroneous deprivation); Miami Univ., 882 F.3d at 592 (same where the plaintiff alleged unresolved inconsistency in Roe's statement, unexplained discrepancy in hearing panel's finding of fact, and alleged use of an erroneous definition of consent).

The Court, however, found insufficient allegations of a causal connection to sex discrimination:

With respect to the second prong of the erroneous outcome standard, the court finds that Plaintiff has not alleged facts showing "a 'particularized…causal connection between the flawed outcome and gender bias.'" Miami Univ., 882 F. 3d at 593 (citing Cummins,  62 Fed. App'x. at 452 (quoting Yusuf, 35 F.3d at 715.)) The Sixth Circuit explains that, "[s]uch allegations might include, inter alia, statements by members of the disciplinary tribunal, statements by pertinent university officials, or patterns of decision-making that also tend to show the influence of gender." Miami Univ., 882 F.3d at 594 (quoting Yusuf, 35 F.3d at 715). In an effort to show this particularized causal connection, Plaintiff asserts: (1) gender bias pervades the entire adjudication process, illustrated in part by comments made by Dr. Raimondo, (2) Campus Climate Statistics for 2015–2016 show gender bias, and (3) the Dear Colleague Letter and the OCR Investigation created an environment ripe for such gender bias. The court finds that, taken together, these assertions are insufficient to meet Plaintiff's pleading burden.

… This case show how hard it is to prevail even when the correctness of the underlying disciplinary decision is in doubt. That is why having a fair process with due process protections is so important. There is no assurance that a bad college disciplinary decision that ruins the life of an innocent accused will be reversed by the courts.
The case now is on appeal to the 6th Circuit Court of Appeals, and is fully briefed. Here are the briefs (embedded at bottom of post also):
Here's how John Doe frames the issues for appeal in his Brief:
1. Did the district court err in concluding that Mr. Doe failed to plead facts supporting a plausible inference that his expulsion from Oberlin College was motivated in part by gender bias, as required to state an "erroneous outcome" claim under 20 U.S.C. § 1681(a) (commonly referred to as Title IX)?

2. Did the district court, after refusing to exercise supplemental jurisdiction over Mr. Doe's state law claims, err in dismissing Mr. Doe's state law claims where Mr. Doe separately pled diversity jurisdiction?
Here are excerpts from John Doe's Summary of Argument:
The district court fundamentally erred in concluding that Mr. Doe failed adequately to plead that his expulsion by Oberlin was motivated by gender bias. Mr. Doe pled evidence of gender bias from multiple significant sources, evidence that exceeds what this Court found sufficient in its two published decisions on the matter, Doe v. Miami University, 882 F.3d 579 (6th Cir. 2018), and Doe v. Baum.

He pled that Oberlin, at the very time it was drafting and first implementing the Policy, was under nationwide pressure from OCR to zealously prosecute claims of sexual assault brought by women against men or risk the loss of its federal funding, RE 21-2, Amended Complaint, PageID #484-85, ¶ 49-50, evidence that the Miami University court found probative of gender bias, 882 F.3d at 594. Then in November of 2015, just four months before Mr. Doe would be charged, OCR targeted that pressure directly upon Oberlin, initiating a "systemic investigation" into Oberlin's Title IX enforcement regime that remained open throughout the entirety of Mr. Doe's disciplinary proceeding, RE 21-2, Amended Complaint, PageID #483-84, ¶ 48, evidence even more probative of gender bias given its intensity. See Baum, 903 F.3d at 586; Doe v. Cummins, 662 Fed. Appx. 437, 453 (6th Cir. 2016) (targeted pressure from OCR investigation more probative of gender bias than nationwide pressure). And in that same time period, from August 2015 through February 2016, Oberlin convicted 100% of the respondents it sent through its formal resolution process, the vast majority of whom, if not all, were men, RE 21-2, Amended Complaint, PageID #486-87, ¶¶ 54-55,—further powerful evidence of gender bias. Miami Univ., 882 F.3d at 593.

But most importantly of all, less than a year before she charged Mr. Doe, Meredith Raimondo, who spearheaded the drafting of Oberlin's Sexual Misconduct Policy, oversaw its implementation, and trained Mr. Doe's hearing panelists on how to evaluate consent and incapacitation, openly stated that she "come[s] to this work as a feminist committed to survivor-centered processes," and furthermore that gender considerations affect the way she thinks about consent in "grey area" cases like Mr. Doe's that do not involve the most extreme kinds of allegations. RE 21-2, Amended Complaint, PageID #488, ¶ 59. Mr. Doe's expulsion, when there was no evidence showing how he could have known that Ms. Roe was incapacitated, is exactly the result one would expect when a hearing panel is trained to evaluate consent and incapacitation informed by gender bias.

Taken together, that is powerful evidence of gender bias, and it is evidence the district court largely failed to address….
Oberlin College, in its Brief, reframes the issues on the appeal as follows:
The first issue presented by this appeal is whether the District Court properly dismissed Plaintiff-Appellant John Doe's erroneous outcome Title IX claim where the Amended Complaint failed to allege any operative facts to support his speculative and conclusory assertions that the outcome of his disciplinary proceedings was caused by a bias against his male gender.

The second issue presented by this appeal is whether the District Court erred by declining to exercise supplemental jurisdiction over Mr. Doe's breach of contract and negligence claims under Ohio law and by dismissing those claims without prejudice when Mr. Doe pled both federal question and diversity jurisdiction.
Here are excerpts from Oberlin College's Summary of Argument:
After an extensive investigation and a full hearing, Oberlin found that Mr. Doe sexually assaulted Ms. Roe in the early morning hours of February 28, 2016, in violation of Oberlin's Policy. Oberlin expelled Mr. Doe due to his misconduct. Mr. Doe has sought to improperly litigate the findings against him by alleging that the outcome of his disciplinary proceedings was caused by a bias against his male gender, in violation of Title IX, 20 U.S.C. § 1681. As a general rule, "'courts should refrain from second-guessing the disciplinary decisions made by school administrators.'" Doe v. College of Wooster, 243 F.Supp.3d 875, 885 (N.D. Ohio 2017)(quoting Davis v. Monroe Cnty. BOE, 526 U.S. 629, 648 (1999)). As this Court well knows, colleges and universities have come under fire for both failing to respond to allegations of sexual assault aggressively enough and, as in this lawsuit, for enforcing their own policies consistent with federal mandates. Accordingly, courts, including this one, recognize that "school-disciplinary committees are entitled to a presumption of impartiality, absent a showing of actual bias." Doe v. Cummins, 662 Fed.Appx. 437, 449 (6th Cir. 2016) (citation omitted).

In this case, Mr. Doe claims that his disciplinary process, based in part on the findings of fact by an outside legal expert who served as a neutral investigator, and the decision by the hearing panel to find him responsible for violating Oberlin's Policy, was clearly erroneous. The District Court correctly determined that Mr. Doe's claims of innocence were insufficient to survive Oberlin's motion to dismiss when Mr. Doe failed to allege any facts that plausibly demonstrated Oberlin found him responsible due to gender bias.

Mr. Doe was found responsible for engaging in sexual contact when it should have been clear that the other person was too intoxicated to consent. The issue is not whether Mr. Doe can point to evidence that supports his belief that, under the preponderance of the evidence standard, he did not violate the Policy. The central issue in regard to Mr. Doe's Title IX claim is whether he has plead sufficient allegations to raise a plausible inference that Oberlin's decision to find him responsible for violating its Policy resulted in a flawed outcome due to gender bias.
In his Reply Brief, John Doe focused heavily on Raimondo's alleged conduct:
If Oberlin had its way, schools would literally be able to discriminate openly, with impunity, so long as they masked their bias in any particular proceeding or refrained from discriminating in every single case. Under Oberlin's theory, a plaintiff's case should be dismissed even if a school's president, or Dean of Students, or Title IX Coordinator openly declared that its facially neutral sexual misconduct policy would be applied in a discriminatory manner, so long as no one said anything exhibiting bias in a given proceeding. Schools could openly instruct adjudicators to rule against every male, or to apply heightened standards to them, and those who are punished would have no recourse so long as no administrator in the proceeding said anything overtly biased….

Raimondo's declaration that gender considerations affect her views on consent in grey area cases cannot be evidence of gender bias simply because she leaves open the possibility that not all respondents will be convicted…. Here, the link between gender bias
outside the proceeding and individual adjudications is straightforward: Ms. Raimondo has gendered views on how to analyze consent, and she trained everyone at Oberlin on how to analyze incapacitation and consent. That is a direct line into the adjudicators' decisionmaking here, and her bias need only have plausibly affected the decision in part.

The evidence of gender bias within Mr. Doe's proceeding is just as straightforward: Mr. Doe's panel analyzed incapacitation and consent in ways not explainable by the evidence. That not only is evidence of bias on its own, it also shows just how plausible it is to infer that Ms. Raimondo's biased views informed Oberlin's training. That conclusion is only confirmed by the 100% conviction rate she presided over and the fact that she did so against the backdrop of so much government pressure. The Amended Complaint, for all of those reasons, overwhelmingly states an erroneous outcome claim.
It's not clear if or when this will be argued. Most likely a decision will come early next year.
This is a case that potentially has broader implications for students than the Gibson's Bakery case. But like the Gibson's Bakery case, few people other than us are paying attention — but they will pay attention if the appeals court reverses.
[Featured Image Photo credit: Legal Insurrection Foundation]
———————–
John Doe v. Oberlin College – 6th Cir – John Doe Brief by Legal Insurrection on Scribd
———————–
John Doe v. Oberlin College – 6th Cir – Oberlin College Brief by Legal Insurrection on Scribd
———————–
John Doe v. Oberlin College – 6th Cir – John Doe Reply Brief by Legal Insurrection on Scribd