Posted by
Fuzzy Slippers
Saturday, August 10, 2019 at 10:18am
| 8/10/2019 - 10:18am
Epstein was denied bail and faced up to 45 years in prison if convicted on sex trafficking charges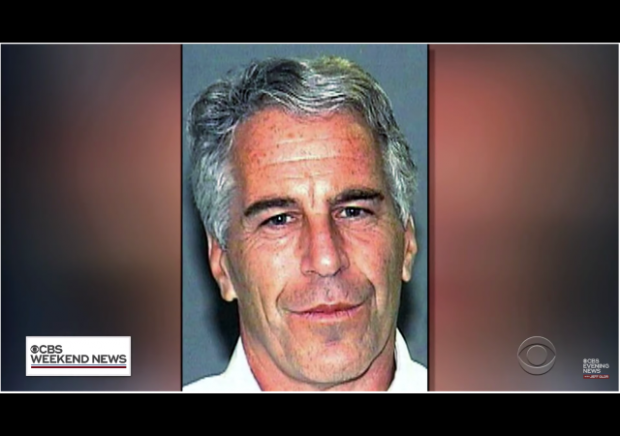 Last month, we blogged that Prosecutors Allege Jeffrey Epstein Operated Sex Trafficking Ring With Girls as Young as 14. He was indicted on sex trafficking conspiracy and one count of sex trafficking with underage females.
Epstein reportedly committed suicide overnight in his jail cell.
ABC NEWS SPECIAL REPORT: Jeffrey Epstein commits suicide overnight in his jail cell, officials tell @ABC News. https://t.co/Co4vIMzfHW

— ABC News (@ABC) August 10, 2019
Jeffrey Epstein died early Saturday by suicide after apparently hanging himself, three law enforcement officials told @ABC News.

He had been behind bars, denied bail by a judge who decided he was too great a flight risk to release from custody. https://t.co/iySWzm9Mqh

— ABC News (@ABC) August 10, 2019
Jeffrey Epstein, the disgraced millionaire who was facing federal sex trafficking charges, died by suicide early Saturday in his Lower Manhattan prison cell, three law enforcement officials told ABC News.

Epstein hanged himself, law enforcement sources said. He was transported in cardiac arrest at 6:39 a.m. from Metropolitan Correctional Center to New York Downtown Hospital, according to sources.

Epstein, 66, was set to stand trial next year for allegedly sexually abusing dozens of minor girls in New York and Florida.

His death came less than three weeks after he was found unresponsive in his cell at the federal prison in Lower Manhattan, with marks on his neck that appeared to be self-inflicted, sources told ABC News.

He had been on suicide watch since the July 23 incident.

. . . . Epstein, 66, pleaded not guilty to the charges. He faced up to 45 years in prison if convicted.
[UPDATES]
It's not yet clear how someone on suicide watch managed to commit suicide in a jail cell, but the conspiracy theorists are out in full force.
A guy who had information that would have destroyed rich and powerful men's lives ends up dead in his jail cell. How predictably…Russian.

— Joe Scarborough (@JoeNBC) August 10, 2019
That's convenient Jon for some powerful people. Trust you and colleagues are going to have a bloody good look under that rock and ensure the people it's convenient for don't get away Scot free.

— Dr Tellya Evrythins Gonnabe Alright (@vialbaboy) August 10, 2019
Incompetence from the remand prison warders, or …… ( was that a sigh of relief from #Trump and others?)

— asymetricjockey,Esq.Proud #ProEU Vermin#Stopbrexit (@asymetricjockey) August 10, 2019
So now Trump resorts to Putin practices. …..

— Michounette #FBPE (@PaoliMichele) August 10, 2019
#JeffreyEpstein
I don't dabble much in conspiracy theories, but…
a guy, who the most powerful people in the world want dead, shouldn't be able to commit suicide after an alleged attempted suicide already, while on suicide watch, while everyone says he's going to be suicided. https://t.co/B4mk4mQxfr

— Pat the Berner? (@PatTheBerner) August 10, 2019
Thanks to the Clintons, this looks as bad for the Democratic Party as it does for Trump.

— John Moran (@artistJohnMoran) August 10, 2019
Bill Clinton emerged the other day….he has maintained a very very very low profile recently…. now a key witness against him and others is found dead…you don't need to be Sherlock Holmes to figure this one out…the greatest crime syndicate of all time.

— Tommaso (@Tommaso212) August 10, 2019
Victims JUST started naming more names. Bill fucking Richardson! Gee I wonder where that trail was going to go?!?

— ᴀᴜᴛᴀʀᴋᴇɴ (@autarken) August 10, 2019
The above is apparently a reference to the following report: Jeffrey Epstein Accuser Names Powerful Men in Alleged Sex Ring.  And no, President Trump is not named, but that won't stop the long-suffering Trump deranged.
It went something like this . pic.twitter.com/WuTiV4zZaM

— Buck Bewley (@BewleyBuck) August 10, 2019
Trump is partying like free man today. Champagne and caviar for everyone at Mar A Lago

— Coop Coop (@BrokenBadCoop) August 10, 2019
MORE UPDATES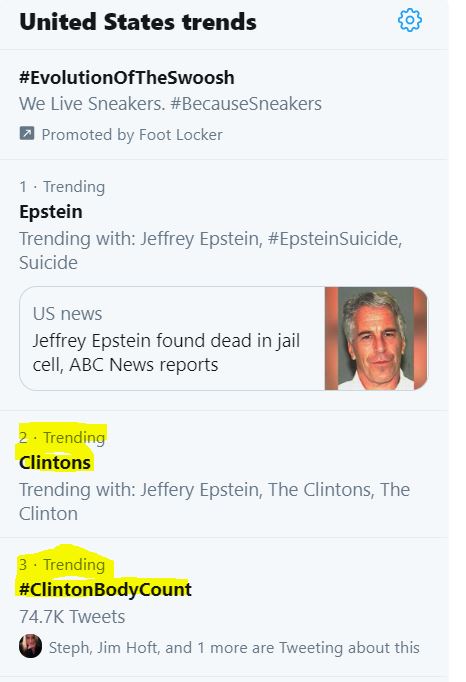 Top Epstein Conspiracy Theories:

Per 'Conservative Twitter'
1. The Clintons
2. Hillary acting alone
3. Friends of Bill

Per 'Liberal Twitter'
1. Trump
2. Putin
3. Bill Barr's goons

— Legal Insurrection (@LegInsurrection) August 10, 2019