Posted by
Kemberlee Kaye
Tuesday, August 13, 2019 at 9:00am
| 8/13/2019 - 9:00am
"I'll f*ckin ruin your sh*t. I'll f*cking throw you down these stairs."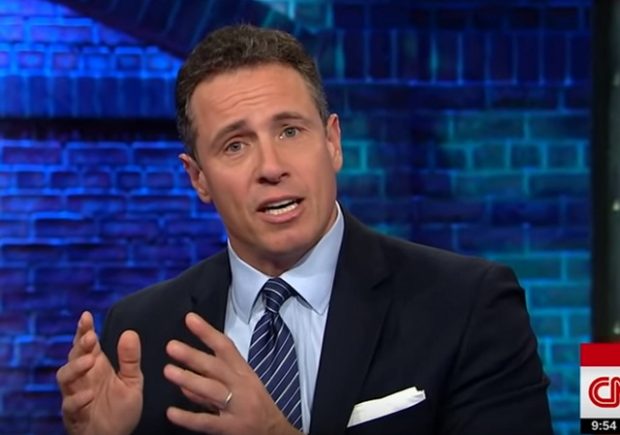 Sunday, a man approached CNN's Chris Cuomo referring to him as "Fredo" and asked him for a photograph. Cuomo was out with his family. Cuomo seemed to take great offense at the "Fredo" remark and proceeded to rip the guy a new one.
Watch:
A man in NY yesterday approached CNN's Chris Cuomo and called him "Fredo"

Cuomo: "You're going to have a problem"

Man: "What are you going to do about it?"

Cuomo: "I'll fuckin ruin your shit. I'll fucking throw you down these stairs"

Credit: "THAT'S THE POINT with Brandon" pic.twitter.com/4iWwzaSQpF

— Ryan Saavedra (@RealSaavedra) August 13, 2019
The video was filmed and sent to a YouTube program called "That's The Point With Brandon" who published it. According to the original video, the description is as follows:
Footage sent in by a TTP fan. A fan of news went to ask Chris Cuomo for a photo, mind you the man who asked him DID NOT know his real name and knows of him only through The RUSH LIMBUAGH [sic] SHOW and on that show Rush repeatedly calls him "FREDO" so the man legitimately thought his name was FREDO. At this point CHRIS CUOMO LOSES IT AND THREATENS THE MAN WITH VIOLENCE!
And now the internet is split. The whole thing looks an awful lot like a "gotcha" journalism set up, which is the worst of the worst in the world of journalism, but it could've been innocent enough. In any case, opinion is completely split as to whether Cuomo's response was justified, being that he was out with his family, minding his own business when he was insulted by some rando dude or whether he was completely off his rocker.
Trump Responds
Would Chris Cuomo be given a Red Flag for his recent rant? Filthy language and a total loss of control. He shouldn't be allowed to have any weapon. He's nuts!

— Donald J. Trump (@realDonaldTrump) August 13, 2019
I thought Chris was Fredo also. The truth hurts. Totally lost it! Low ratings @CNN https://t.co/yBpGjt4N1T

— Donald J. Trump (@realDonaldTrump) August 13, 2019
From the Cuomo Was Justified Crowd:
I say good for @ChrisCuomo

He's out with his 9 year old daughter, and his wife, and this guy is being a jackass in front of his family.

Imho Chris Cuomo has zero to apologize for. He deserves the apology. https://t.co/VnyMNgz14U

— Sean Hannity (@seanhannity) August 13, 2019
oh 100% I'm not here to defend CNN, they really embarrass themselves, I am just saying on a basic human interaction level I am with Cuomo on this one

— Leon Wolf (@LeonHWolf) August 13, 2019
Hannity's right tho: dude was being an aggressive arse to Cuomo, who responded like a normal human being. https://t.co/WUDtDJCgfr

— Seth Mandel (@SethAMandel) August 13, 2019
Or Maybe Cuomo Overreacted, By A Lot
He should have walked away. Hannity is right, but let's watch CNN/Media Matters afford him that same benefit – Never. Stelter would be the Kermit typewriter gif & everyone knows it.

— Stephen Miller (@redsteeze) August 13, 2019
I'm trying to imagine some guy insulting me at a bar or restaurant or something, me glancing back at my wife and children and thinking, "hell yeah, let's amp this shit up to eleven". This is why he's the dumb Cuomo, folks.

— John Ekdahl (@JohnEkdahl) August 13, 2019
Chris Cuomo defended himself when he was verbally attacked with the use of an ethnic slur in an orchestrated setup. We completely support him.

— Matt Dornic (@mdornic) August 13, 2019
Devin Nunes was referred to as "Fredo" on CNN in March. CNN's David Gregory compared @DonaldJTrumpJr to "Fredo" in February. And in January, CNN's Ana Navarro referred to @DonaldJTrumpJr as "Fredo"…to Cuomo on his own show. https://t.co/jXCUfFkYvs

— Sean Davis (@seanmdav) August 13, 2019
Welp, this is awkward. Here's a clip of @ananavarro calling @DonaldJTrumpJr "fredo" on…Chris Cuomo's show. https://t.co/gUMoyWvvEQ

— James Hasson (@JamesHasson20) August 13, 2019