Posted by
Mary Chastain
Wednesday, July 24, 2019 at 11:15am
| 7/24/2019 - 11:15am
The investigation had over 500 interviews.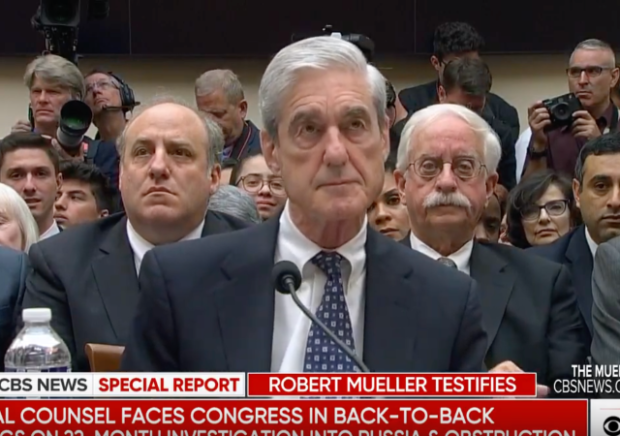 Robert Mueller's investigation performed over 500 interviews over the course of two years.
However, Mueller, who was in charge, told Congress he did not participate in many interviews.
Roby: How many of the 500 interviews conducted during your investigation did you sit in on?
Mueller: Very few.
Roby: Who wrote your March letter to the AG complaining about media coverage of your report?
Mueller: I can't say.

— Sean Davis (@seanmdav) July 24, 2019
.@RepMarthaRoby: "How many of the approximately 500 interviews conducted by the special counsel did you attend personally?"

Mueller: "Very few." pic.twitter.com/Xwpf3M2EdY

— House Judiciary GOP (@JudiciaryGOP) July 24, 2019
Mueller attended "long portions of former White House counsel Don McGahn's testimony."
Mueller only greeted former White House Chief of Staff Reince Priebus and former White House chief strategist Steve Bannon.
So the question is how much did Mueller take part in the whole investigation? I tweeted out that Mueller's body language looks to me like a kid dragged out with his parents when he would rather be at home playing video games.
Others have noticed Mueller's appearance:
Sad that Democrats put Mueller in this position https://t.co/C5DjCq5Oso

— Legal Insurrection (@LegInsurrection) July 24, 2019
Simple framing test here:

Does the Mueller you see today seem like the author of the Mueller Report?

— Jack Posobiec ?? (@JackPosobiec) July 24, 2019
.@PeteWilliamsNBC on Mueller's testimony so far: "The years have clearly taken a toll on the Bob Mueller we used to see, and I think that's affected his ability to be as facile with answering the questions, as perhaps both sides wanted him to be." https://t.co/m9KGQtpbkx pic.twitter.com/jD3DPbFs9x

— NBC News (@NBCNews) July 24, 2019
What we learned from the #MuellerHearing – Mueller had little knowledge what was in the report. The investigation and the report were the work of the 19 Trump-hating Democrats who made up his "team". Mueller was just the pretty bauble on top to give the appearance of fairness.

— Jeff McIrish (@JeffMcIrish) July 24, 2019
So….was Mueller really just a figurehead to give some degree of swamp gravitas to this sham investigation while his Democrat deputies ran it as the absurd witch hunt that it was?

— Buck Sexton (@BuckSexton) July 24, 2019