Posted by
Kemberlee Kaye
Wednesday, July 17, 2019 at 7:00am
| 7/17/2019 - 7:00am
"The President and the First Lady offer their deepest condolences to the family and friends of Retired Supreme Court Justice John Paul Stevens"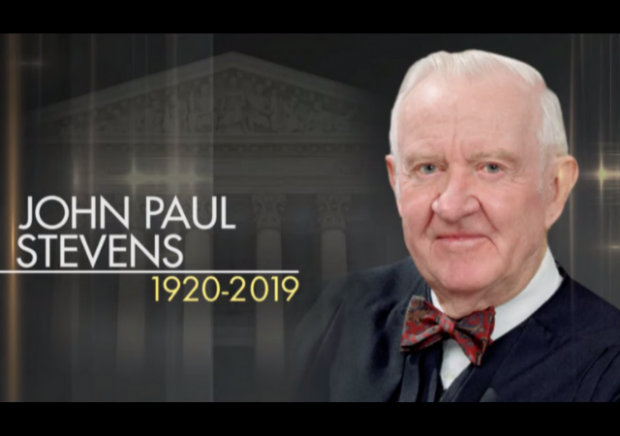 Tuesday, Justice John Paul Stevens passed away at the age of 99. Justice Stevens' retirement from the Supreme Court paved the way for Justice Keagan's appointment.
Tuesday evening, the White House released a statement. From The Hill:
"The President and the First Lady offer their deepest condolences to the family and friends of Retired Supreme Court Justice John Paul Stevens, who passed away this evening," press secretary Stephanie Grisham said in a statement, noting he was a decorated World War II veteran "known for his humility, legal acumen, and affection for his beloved Chicago Cubs."

"His work over the course of nearly 35 years on the Supreme Court will continue to shape the legal framework of our Nation for years to come. His passion for the law and for our country will not soon be forgotten," Grisham added.

The Supreme Court announced earlier on Tuesday evening that Stevens had passed away.

Appointed by President Gerald Ford to the nation's top court, where he served from 1975 to 2010, Stevens became one of leading liberal justices on the bench.
Stevens leaves behind, "two daughters, nine grandchildren and 13 great-grandchildren."