Posted by
Fuzzy Slippers
Sunday, June 30, 2019 at 6:21pm
| 6/30/2019 - 6:21pm
Cruz: "To federal law enforcement: investigate & bring legal action against a Mayor who has, for political reasons, ordered his police officers to let citizens be attacked by domestic terrorists."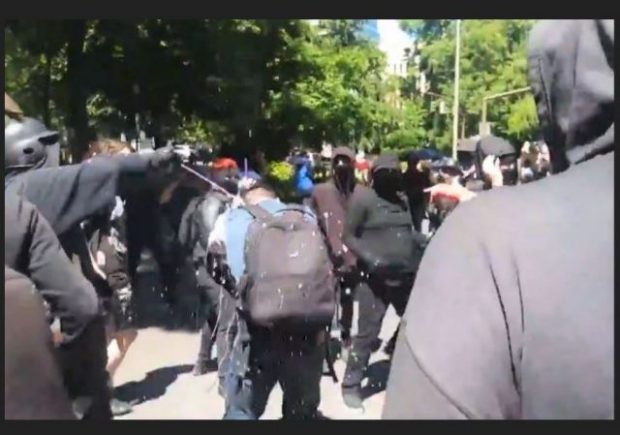 On Saturday, independent journalist and Quillette editor Andy Ngo was brutally attacked by an antifa-fascist mob in Portland, Oregon.  Since then, reaction has been mixed, with leftists actually expressing delight over Ngo being assaulted in broad daylight on a crowded city street and conservatives expressing outrage and demanding that people be held accountable.
There is new footage of Ngo being attacked, and it's very difficult to watch.  These antifa-fascists are screeching and cheering and acting like pack-hunting wild animals. It's terrifying just to watch; I can't imagine what Ngo was thinking and feeling.
There's a video with a different angle of the brutal assault of Andy Ngo. (via @michellemalkin)

Antifa pummeled him with carbon fiber-knuckled gloves (Oakley Assault Gloves).

Timestamps:
:15 Robber steals camera equipment
:17 Assailant with assault gloves
:21 Second assailant pic.twitter.com/yOuWExqYge

— Ian Miles Cheong (@stillgray) June 30, 2019
Ngo's attorney posted an update last night on Ngo's condition.
Update to @MrAndyNgo supporters — he is being admitted to the hospital overnight as a result of a brain bleed. You sick "journalists" and other hacks gloating about this should be ashamed. As for the rest, please pray for @MrAndyNgo who we need back in health — brave man!????????????????????????❤️ https://t.co/XYVy4EbIzv

— Harmeet K. Dhillon (@pnjaban) June 30, 2019
He also has a few choice words for those defending antifa-fascists.
For all the blue-check jerks out there mocking @MrAndyNgo about being "milkshaked" with unknown substances, do you think this is funny also? This is organized, targeted, FELONY ASSAULT. If you defend or excuse it, you are complicit in violence. "No hate no fear" my ***. https://t.co/RqtiAIIKDP

— Harmeet K. Dhillon (@pnjaban) June 30, 2019
As of this writing, Michelle Malkin's GoFundMe for Ngo has so far raised over $115,000.  He's going to need every penny to replace his stolen equipment and for his medical bills and future security needs.  If you can help and care to, please do so here.
Portland police were reportedly present but did not intervene to help Ngo or any of the other people assaulted by the antifa-fascists. They claim to have arrested three people in relation to the mob violence; eight people, including three police officers, were injured.
Portland Mayor Ted Wheeler and the city's police force have come under criticism after an attack on a conservative writer at dueling protests on Saturday.

. . . . Police were lined up along the perimeter of the park before the attack, but no one intervened to break up the fight. Late Saturday, police reported that three people had been arrested, including one for assault, but it was unclear if that person had anything to do with the attack on Ngo.
Senator Ted Cruz (R-TX) is livid and is calling for legal action against Portland's mayor who reportedly had ordered police not to protect victims of the antifa-fascist mob.
Sickening criminal assault. To mainstream "journalists": don't cover this up, don't ignore it. https://t.co/0WKE3eQGMb

— Ted Cruz (@tedcruz) June 30, 2019
To federal law enforcement: investigate & bring legal action against a Mayor who has, for political reasons, ordered his police officers to let citizens be attacked by domestic terrorists. https://t.co/5xyCDARICl https://t.co/c0Tf3SsKEf

— Ted Cruz (@tedcruz) June 30, 2019
Thank you for reporting on this sickening assault. Other journalists should do the same & those who facilitated or turned a blind eye to domestic terrorists—e.g., the Mayor—should be held fully accountable. By DOJ. By civil litigators. By criminal prosecutors. AND by the media. https://t.co/uqRRYEmhFe

— Ted Cruz (@tedcruz) June 30, 2019
Meanwhile, Malkin and attendees of the Portland melee are attempting to identify the alleged perpetrators. Click over to read the whole thread with all of the antifa thugs pictured.
This makes ANTIFA THUG 11 via @ckferrache ==>https://t.co/ir1nfWZEkF
/9

— Michelle Malkin (@michellemalkin) June 30, 2019
On the left, the response has been gruesome, loathsome, and vile.  In other words, perfectly predictable.
Violence is completely wrong, and I find it sad and weak to allow a sniveling weasel like Andy Ngo to get under one's skin like this, but I'm also not going to pretend that this wasn't Ngo's goal from the start.

I mean… let's cut the shit here. This is what they do.

— Charlotte Clymer????️‍???? (@cmclymer) June 30, 2019
"Pretend Andy is someone totally different and not a sniveling racist shithole" Nah. Milkshakes for all the racist trash. Hope yours comes soon!

— Craig Christ (@RealCraigChrist) June 29, 2019
Leftists now making homophobic comments about journalist Andy Ngo who is the hospital with a brian hemorrhage after an Antifa attack pic.twitter.com/LfdLtdakWt

— Jack Posobiec ???????? (@JackPosobiec) June 30, 2019
RIP Andy Ngo, whose brain exploded into diarrhea fragments from getting hit with a single piece of silly string. Esteemed brain experts reported 'we've never seen so much thin broth inside someone's skull before.' The WSJ commented: 'Nooo!!! Who will we hire to be racist now?!?!' https://t.co/2FMTwLXR77

— Nate Bethea (@inthesedeserts) June 30, 2019
And from well-known parody/troll account:
Antifa activists have physically assaulted right-wing journalist Andy Ngo, thereby proving irrefutably that he is guilty of inciting violence.#Checkmate https://t.co/ayGemQh3bk

— Titania McGrath (@TitaniaMcGrath) June 30, 2019
In all fairness, the reaction from the left hasn't been all in that vein.
Andy Ngo is someone who antagonizes those he knows will react in a disproportionate way and this exact outcome was inevitable. Everyone knew it.

Those who assaulted him, however, are the ones at fault here. https://t.co/CKyYzxdESh

— Alheli Picazo (@a_picazo) June 29, 2019
Even @MrAndyNgo's critics should have no trouble saying this: The assault against him was unacceptable. pic.twitter.com/VLKc4M0P05

— Brian Stelter (@brianstelter) June 30, 2019
Antifa regularly attacks journalists; it's reprehensible https://t.co/m8pBaSfomzhttps://t.co/kF1Mx8k8O2https://t.co/HIB88lIY7T https://t.co/fTKVBg17CG

— Jake Tapper (@jaketapper) June 29, 2019
Mostly, though, leftie media types—when they refer to the horrifying assault at all—are blaming Ngo or just looking for an "angle."
Thread from a great journalist who routinely embeds w/ hate groups. This doesn't discount that the situation is fucked and that violence should be unacceptable. But there are also serious risks involved with putting yourself in volatile situations. Any journalist should know that https://t.co/KPmaiSrmoM

— Charlie Warzel (@cwarzel) June 30, 2019
This HuffPost writer @letsgomathias deleted this tweet celebrating Antifa's "milkshaking" of a journalist.

The milkshakes were lined with quicklime/quick dry concrete mix and produce chemical burns, in addition to being heavy. pic.twitter.com/orQi1ikruv

— Ian Miles Cheong (@stillgray) June 30, 2019
Dave Rubin and Kyle Morris nail it:
Now watch Lefty silence as an Asian man who just so happens to be gay get assaulted. Identity Politics only works for them when you bow to their authoritarian rule. You have my support, Andy: https://t.co/rSWoh4vDLb

— Dave Rubin (@RubinReport) June 30, 2019
White, masked thugs beat up Asian-American journalist.

I thought the media drooled over headlines like that one. Why are they so silent?

— Kyle Morris (@RealKyleMorris) June 29, 2019
Addendum: Quillette has published an important piece "Antifa's Brutal Assault on Andy Ngo Is a Wake-Up Call—for Authorities and Journalists Alike." It's worth reading.