Posted by
Kemberlee Kaye
Monday, April 1, 2019 at 7:00pm
| 4/1/2019 - 7:00pm
Alleges 2009 incident: "He put his hand around my neck and pulled me in to rub noses with me. When he was pulling me in, I thought he was going to kiss me on the mouth."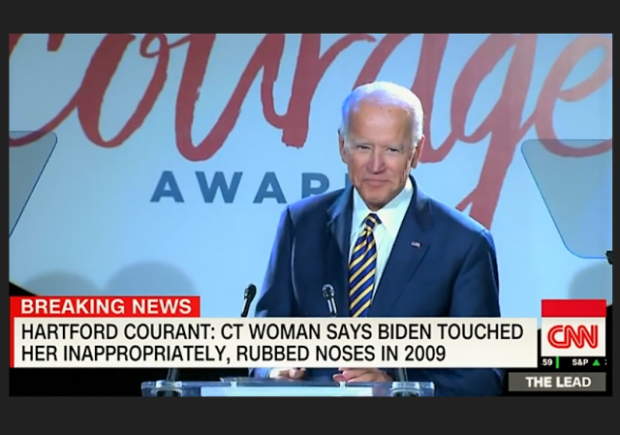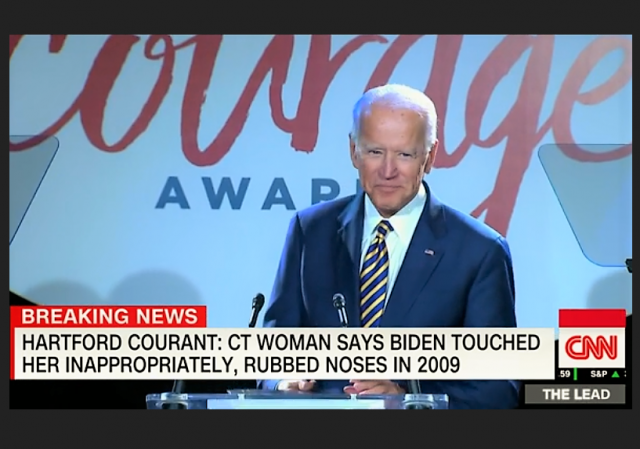 A second woman has come forward accusing former Vice President Joe Biden of inappropriate touching at a fundraiser in Greenwich, Connecticut in 2009.

According to the Hartford Courant:
A Connecticut woman says Joe Biden touched her inappropriately and rubbed noses with her during a 2009 political fundraiser in Greenwich when he was vice president, drawing further scrutiny to the Democrat and his history of unwanted contact with women as he ponders a presidential run

"It wasn't sexual, but he did grab me by the head," Amy Lappos told The Courant Monday. "He put his hand around my neck and pulled me in to rub noses with me. When he was pulling me in, I thought he was going to kiss me on the mouth."

Lappos posted about the alleged incident on the Facebook page of Connecticut Women in Politics Sunday in response to a similar account by former Nevada legislator Lucy Flores, which comes as Biden is considering a 2020 run for president. Flores accused Biden of kissing her on the back of her head in 2014, when she was a candidate for lieutenant governor.

Lappos, 43, who is now a freelance worker with nonprofit agencies, said she felt extremely uncomfortable when Biden approached her at the 2009 fundraiser for U.S. Rep. Jim Himes, D-4th, where she was volunteering. At the time, Lappos was a congressional aide to Himes, who she said was not in the room when the incident took place.
Lappos claims she never filed a complaint, "because he was the vice president. I was a nobody."
"I never filed a complaint, to be honest, because he was the vice president. I was a nobody," Lappos said. "There's absolutely a line of decency. There's a line of respect. Crossing that line is not grandfatherly. It's not cultural. It's not affection. It's sexism or misogyny."
Biden's camp has not issued a comment but did release a bizarre statement meant to address the first accuser:
"In my many years on the campaign trail and in public life, I have offered countless handshakes, hugs, expressions of affection, support and comfort. And not once – never – did I believe I acted inappropriately. "If it is suggested I did so, I will listen respectfully. But it was never my intention. I may not recall these moments the same way, and I may be surprised at what I hear. But we have arrived at an important time when women feel they can and should relate their experiences, and men should pay attention. And I will."
Professor Jacobson blogged about this, exactly, last weekend when he asked, "How can Democrats back Joe Biden for president when they jettisoned Al Franken as a Senator?"
NEW: I just spoke with Biden's latest accuser who told me adamantly that the former Vice President should not run in 2020.
"This is Al Franken all over again," she told the examiner.

More: https://t.co/nbGJ6Es4e8

— Joe Gabriel Simonson (@SaysSimonson) April 1, 2019
I mean, seriously…
Politico on Joe Biden in 2012: "Joe Biden: Sex symbol?" https://t.co/25l8IieLtX pic.twitter.com/H5Mcayctnu

— Steve Guest (@SteveGuest) April 1, 2019
This nifty little compilation of Biden making young girls uncomfortable should be the beginning of the end of his campaign. It won't, it should be though: