Posted by
Mike LaChance
Monday, April 29, 2019 at 8:00am
| 4/29/2019 - 8:00am
"Mollie has proven herself to be a skilled investigative journalist and important voice in today's media"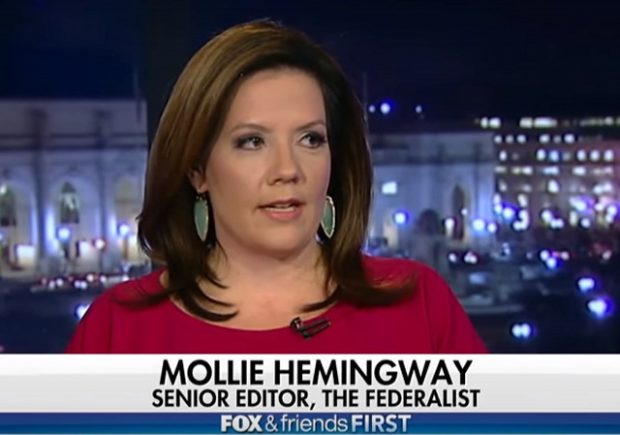 This is great news for Hillsdale. Mollie Hemingway has become a favorite FOX News contributor and in her work at The Federalist, was way ahead of most people in media on the Russia collusion hoax.
From The Federalist:
Hillsdale College Welcomes Mollie Hemingway as Senior Journalism Fellow

Hillsdale College welcomes author and journalist Mollie Hemingway as a senior journalism fellow at its growing campus in Washington, D.C.

"Mollie has proven herself to be a skilled investigative journalist and important voice in today's media," said Matthew Spalding, dean of educational programs for Hillsdale College in Washington, D.C. "She will be an invaluable resource for students and alumni looking to build careers of excellence and integrity in this competitive field."

As the senior journalism fellow, Hemingway will represent the Hillsdale journalism program in Washington D.C. She will teach a course on journalism for Hillsdale students in the Washington-Hillsdale Internship Program and mentor students as they complete their internships and in their professional development. Additionally, Hemingway will regularly visit Hillsdale's Michigan campus to work with students in the journalism program and those interested in Hillsdale's programs in Washington, D.C.

"I'm thrilled to join Hillsdale, a school I've long admired for its emphasis on the importance of the ideas at the heart of America," said Hemingway. "I'm always impressed by the curiosity and diligence of its students, the intellectual firepower of its faculty, and its embrace of independent thinking. Among so many crumbling edifices in higher education, Hillsdale is unique for standing strong in its understanding of how classical teachings and values are the cure for so many contemporary problems in politics, journalism, and beyond."
Featured image via YouTube.