Posted by
Mary Chastain
Wednesday, April 24, 2019 at 5:00pm
| 4/24/2019 - 5:00pm
DeSantis: "Scott Israel failed to protect the families and students of Broward County and I look forward to the @FLSenate resuming the process of formal removal."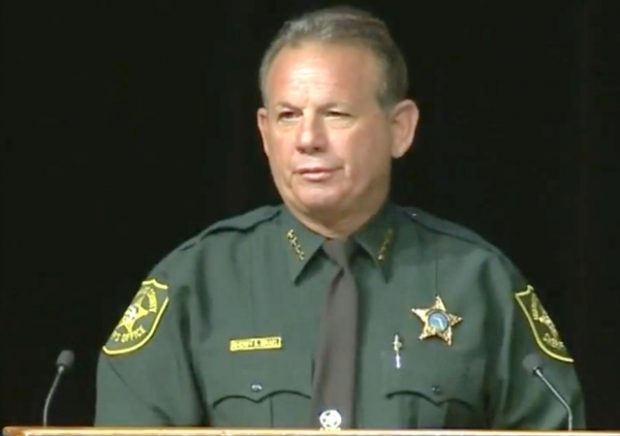 In January, Florida Gov. Ron DeSantis suspended Broward County Sheriff Scott Israel over his response to the Parkland School shooting in 2018.
Israel tried to get his job back through the courts, but Florida's Supreme Court ruled DeSantis has the constitutional right to suspend Israel.
The Miami Herald wrote that "Florida's constitution allows the governor to suspend a sheriff for neglect of duty or incompetence." The Sun Sentinel from January reported on DeSantis's executive order:
In his executive order, the governor cited incompetence and neglect of duty. At the press conference, he did not mince words.

"I have no interest in dancing on Scott Israel's political grave," DeSantis said, "but suffice it to say the massacre might never have happened had Broward had better leadership in the sheriff's department."

The suspension caps a nearly year-long series of revelations that exposed the failure of Broward sheriff's deputies to run in to save children at Marjory Stoneman Douglas High School. Some deputies said they couldn't remember when they'd last been trained to handle an active shooter, even though the agency had a confused, chaotic response to a mass shooting at Fort Lauderdale-Hollywood International Airport in 2017.
Israel fought back as he "filed a lawsuit challenging whether DeSantis had the authority to suspend him." He claimed DeSantis never "specified any statutory or official duty that Israel neglected or performed incorrectly." I guess he didn't read or listen to DeSantis's order or press conference.
Broward Circuit Judge David Haimes ruled against Israel in April. Israel's attorneys filed an appeal, but the Supreme Court said DeSantis could suspend him.
Today's @flcourts opinion leaves no doubt of my authority to suspend a government official for neglect of duty and incompetence. Scott Israel failed to protect the families and students of Broward County and I look forward to the @FLSenate resuming the process of formal removal.

— Ron DeSantis (@GovRonDeSantis) April 23, 2019
Of course Israel attorney's bashed the ruling and promised he would not stop fighting.
After this ruling, it heads to Florida's "Republican-majority Senate, which will decide if his [DeSantis's] decision stands."
Israel's attorneys also issued a warning to the rest of elected officials. He urged them to remain "aware of the potential for Governor overreach when discharging their duties."
How pathetic. Anyone with a brain knows that Israel did not do his job properly. The shooter killed 17 people and injured 17 more. The sheriff ignored warning signs and tips about the shooter. Then he didn't allow his people to storm into the school to take down the shooter.