Posted by
Mike LaChance
Tuesday, April 30, 2019 at 7:00am
| 4/30/2019 - 7:00am
"We have one last chance to unleash the ingenuity and political will of hundreds of millions of Americans to meet this moment before it's too late"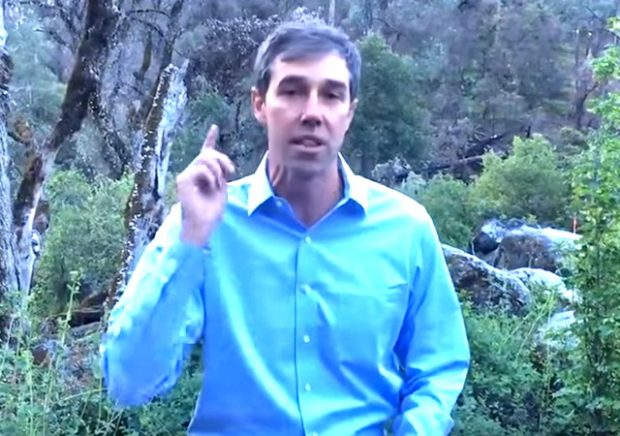 Beto O'Rourke has stagnated in polls and isn't getting nearly as much adoring press coverage as he did just a month ago. Now he's trying to get some notice by advancing his own version of the Green New Deal.
Paul Steinhauser reports at FOX News:
Beto's Green New Deal? Flagging in polls, O'Rourke unveils $5T climate change plan

Democratic presidential candidate Beto O'Rourke, trailing in the polls despite a high-profile campaign launch, sought to prove his policy chops by unveiling a $5 trillion plan to battle climate change and reach net zero carbon emissions in the U.S. by 2050.

"The greatest threat we face — which will test our country, our democracy, every single one of us — is climate change. We have one last chance to unleash the ingenuity and political will of hundreds of millions of Americans to meet this moment before it's too late," the former three-term congressman from Texas warned as he unveiled his proposal Monday.

O'Rourke's plan – his first major policy rollout since launching his presidential campaign in mid-March – calls for "mobilizing" $5 trillion over 10 years to transform the nation's aging infrastructure and spur innovation to help communities lead the fight against climate change. O'Rourke's campaign calls the price tag the "single largest investment in fighting climate change in history."
This is an accurate analysis:
"Beto's $5 trillion in new government spending is strictly designed to impress his chardonnay swilling coastal elite friends. The fact is the money has to come from someone and taxpayers across the country are not going to foot the bill for Beto's crazy plans," Republican National Committee spokesperson Mandi Merritt said in a statement.
Garrett Haake of NBC News has more:
O'Rourke's four-pillar framework, detailed in a campaign memo, combines proposed executive action with legislation he pledges to introduce within his first 100 days in office and outlines further steps to take in response to climate-related disasters in the future. It amounts to the first major policy rollout for a campaign that critics have targeted for being light on specifics…

The meat of the O'Rourke plan is a promise to send Congress, as his first piece of legislation, a bill that would mobilize $5 trillion over the next 10 years to upgrade infrastructure and spur innovation — including more than a trillion dollars in tax incentives to reduce emissions, and $250 billion dedicated directly to research and development.
Here's a video of Beto standing in the woods, wearing the only outfit he owns, announcing the plan:
In a development which should surprise absolutely no one, the far left Sunrise Movement, which played a pivotal role in AOC's Green New Deal, is completely unsatisfied by O'Rourke's proposal. After all, the world is going to end in 12 years, remember?
Sunrise Movement Statement in Response to @BetoORourke's Climate Plan:

Thread: pic.twitter.com/VzN9Uz6pz5

— Sunrise Movement ???? (@sunrisemvmt) April 29, 2019
.@BetoORourke: this is not what the "latest science demands" and a 2050 net-zero emissions goal is not in line with the #GreenNewDeal. pic.twitter.com/mgWOIjEaME

— Sunrise Movement ???? (@sunrisemvmt) April 29, 2019
Leading UN scientists say we need to reduce emissions globally 40-60% by 2030 in order to avoid the worst impacts of climate change & get to net-zero emissions globally by 2050.

To achieve that, the US must do much more, much faster.

More here: https://t.co/F9JxbXN9pl

— Sunrise Movement ???? (@sunrisemvmt) April 29, 2019
That's why the #GreenNewDeal calls for a 10-year mobilization to move to net-zero emissions.

Weeks ago, Beto told students he supported the "goal of getting to "net-zero" carbon emissions by the year 2030."

But now he appears to be walking that back.https://t.co/i1zxiKvX3Q

— Sunrise Movement ???? (@sunrisemvmt) April 29, 2019
Beto claims to support the Green New Deal, but his plan is out of line with the timeline it lays out and the scale of action that scientists say is necessary to take here in the United States to give our generation a livable future.

— Sunrise Movement ???? (@sunrisemvmt) April 29, 2019
It'll be fascinating to see if this policy proposal moves the needle for Beto in the coming weeks.
I wouldn't bet on it.
Featured image via YouTube.