Posted by
Kemberlee Kaye
Thursday, March 28, 2019 at 11:00am
| 3/28/2019 - 11:00am
His lavish lifestyle appears to have been a farce.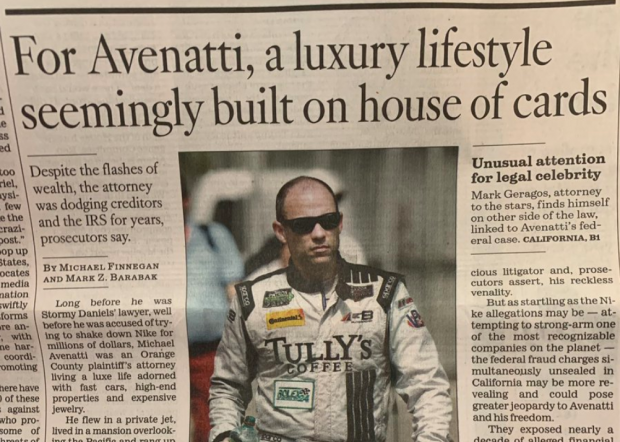 Michael Avenatti's problems are only getting worse. Recently dinged for extortion and embezzlement, now, the fame-lusting porn lawyer is tangoing with the IRS, who has been investigating Avenatti for a decade.
His lavish lifestyle appears to have been a farce.
Not only has he allegedly failed to pay taxes for the last ten years, but a side company he created was also allegedly ordered to withhold taxes from employee paychecks, while not surrendering the taxes to the IRS.
From the LA Times:
The nearly 200 pages of charging documents submitted by the Internal Revenue Service show that federal investigators started pursuing Avenatti for alleged tax violations a decade ago.

The first sign of trouble came in 2009 when, the IRS said, he reported $1.9 million in personal income but failed to pay $570,000 in taxes. The next year, the IRS said, Avenatti reported $1.2 million in income but skipped out on a $282,000 tax bill.

Since then, according to federal prosecutors, Avenatti has filed no personal income tax returns, even as he deposited $18 million into his bank accounts.

He also has filed no tax returns since then for Avenatti & Associates, a corporation that has recorded $38 million in deposits, the government says. Avenatti, who owns the firm, has often used it to pay personal expenses, including $176,500 to Exclusive Resorts, which bills itself as "the world's elite private vacation club."

"During these tax years, Avenatti generated substantial income and lived lavishly," Remoun Karlous, an IRS criminal investigator, wrote in his sworn statement.

Among other big-ticket items: $217,000 at Neiman Marcus; $117,000 at Jewelers on Time, a luxury watch store; $277,236 to Porsche dealers; $100,000-a-month rent for a waterfront house on Lido Isle in Newport Beach; $39,762 in Ferrari lease payments; $123,825 in rent on his apartment in a luxury high-rise in Century City.

The government placed a $5-million lien on the company and started garnishing its bank accounts. Avenatti allegedly ordered subordinates to stop using those accounts and open new ones that would be out of the government's reach.

At the same time Global Baristas was pocketing the taxes withheld from employees, his law firm, Eagan Avenatti, allegedly did the same.

In 2017, the firm filed for bankruptcy. After it emerged a year later, Avenatti vowed Eagan Avenatti would pay nearly $900,000 it owed in taxes. It did not.
And if that's not enough drama for you, get a load of this:
BREAKING: Seagrams heiress Clare Bronfman faints in court after judge seems to suggest that Michael Avenatti was secretly representing her, trying to negotiate deal with US attorney's office in NXIVM case. An ambulance has been called.

— Emily Saul (@Emily_Saul_) March 27, 2019
Bronfman has been wheeled on a stretcher by paramedics and…into a conference room.

— Emily Saul (@Emily_Saul_) March 27, 2019
Bronfman remains in a conference room after being treated by paramedics. She's conscious.

— Emily Saul (@Emily_Saul_) March 27, 2019
Bronfman's "faint" happened after a prolonged sidebar, which was called after the judge asked her "did she retain Mr. Avenatti to represent her in this case? Yes or no?"

— Emily Saul (@Emily_Saul_) March 27, 2019
Avenatti has never entered a notice of appearance in this case. Yet Mark Geragos has.

— Emily Saul (@Emily_Saul_) March 27, 2019
First assistant US attorney Mark Lesko says on the record he met with Geragos and Avenatti last week about THIS case.

— Emily Saul (@Emily_Saul_) March 27, 2019
Geragos says this is true, but he doesn't know if Avenatti intended to file a notice of appearance in this case "because of the other case." They don't say on the record if that's Avenatti's SDNY case, or one of Bronfman's pending civil suits.

— Emily Saul (@Emily_Saul_) March 27, 2019
Asked by reporters if he was cc-1, Geragos deflected. Asked if he was cooperating against Avenatti, he mumbled "no."

— Emily Saul (@Emily_Saul_) March 27, 2019
Bronfman is gone, back in court tomorrow. Led to a car on Gergagos' arm. Geragos declined to answer any questions, saying they would be answered tomorrow when her curcio hearing resumes.

— Emily Saul (@Emily_Saul_) March 27, 2019