Posted by
Mike LaChance
Sunday, February 17, 2019 at 10:00am
| 2/17/2019 - 10:00am
"loving that she can campaign for president *and* shop at this boutique"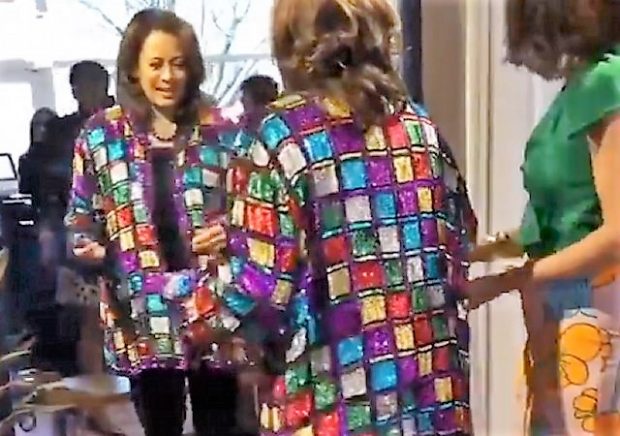 This weekend, reporters for CNN and CBS News who are supposedly covering Democrat primary candidate Kamala Harris enjoyed quite a friendly moment in a boutique as they helped the former prosecutor try on clothes.
Consider this a preview of the coverage we can expect for Democrats heading into 2020.
This was posted by CNN's national political reporter Maeve Reston:
We kind of forced @kamalaharris to try on this awesome oversized rainbow sequin jacket … She snapped it up. @alivitali perfectly named it as "the Mardi Gras Jacket" #2020 #SouthCarolina #CampaignFashionReport pic.twitter.com/2G0NFRkKL6

— Maeve Reston (@MaeveReston) February 16, 2019
Here's another from CBS News political reporter Caitlin Huey-Burns:
When the campaign trail takes you to a boutique, and @MaeveReston spots a great sequined jacket for @KamalaHarris to try on. #campaignfashionreport pic.twitter.com/38bYJKqjRI

— Caitlin Huey-Burns (@CHueyBurns) February 16, 2019
Here's Ali Vitali of NBC News:
.@KamalaHarris loving that she can campaign for president *and* shop at this boutique in Columbia, SC. #scprimary pic.twitter.com/GXXUgG1n04

— Ali Vitali (@alivitali) February 16, 2019
Update: she bought the jacket ⭐️ ????

— Ali Vitali (@alivitali) February 16, 2019
Brit Hume of FOX News reacted:
This is just embarrassing. So now journalists are going shopping with Harris, helping pick out clothes and then putting out glowing tweets about it. https://t.co/RX2IY0B8JL

— Brit Hume (@brithume) February 16, 2019
That prompted this response from Kasie Hunt of NBC News:
Nobody seemed to have a problem when the candidate was @ScottWalker and the activity was motorcycle riding

Or @MittRomney riding jet skis on vacation

Or skeet shooting with @LindseyGrahamSC

I'm all for female candidates expanding the list of campaign activities https://t.co/KgIgxnNW5x

— Kasie Hunt (@kasie) February 16, 2019
To which Hume replied:
Talk about missing the point. Did journalists help Walker pick out his motorcycle, then gush about it on Twitter? Did they they help Romney on with his life jacket? That Kamala Harris shopping incident wasn't coverage, it was participation. https://t.co/tjg7OqJ7uu

— Brit Hume (@brithume) February 16, 2019
James Taranto of the Wall Street Journal also commented:
This is a CBS reporter noting, without evident disapproval, that a CNN colleague is helping dress a Democratic candidate she's supposed to be covering. https://t.co/qa7GgZbs1P

— James Taranto (@jamestaranto) February 16, 2019
As did David Martosko of the Daily Mail:
If this is what the 2020 campaign is going to be like, President Trump's complaints about the media could have even more staying power with his base than the last time around. https://t.co/3uHwlbdc1b

— David Martosko (@dmartosko) February 16, 2019
Media yesterday: No, Mr. President, we are not fake news.
Media today: Here, Kamala. Try this one on.
Featured image screen capped from video.