Posted by
Mary Chastain
Friday, February 1, 2019 at 4:00pm
| 2/1/2019 - 4:00pm
"…this matter remains open and we may file charges at any time prior to the expiration of the statute of limitations."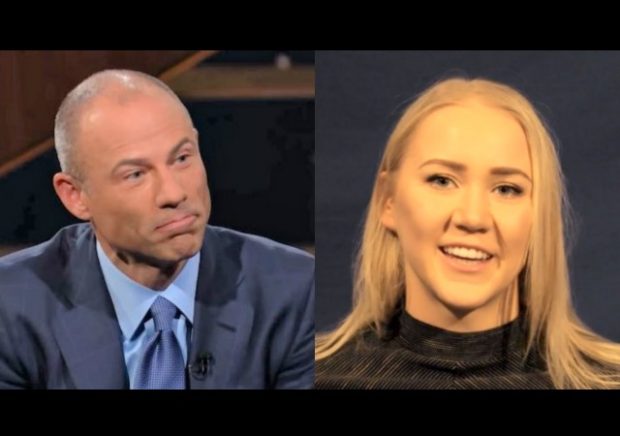 The Los Angeles City Attorney's office announced it will not file domestic violence charges against Michael Avenatti after Estonian actress Mareli Miniutti claimed he dragged her around her apartment.
However, the office left the door open to possibly file charges in the future.
From The Hollywood Reporter:
"The City Attorney's Office has reviewed all of the reports in this matter and considered all of the evidence," reads the statement. "This matter has been set for city attorney hearings in which both the victim and the suspect will have an opportunity to be heard on different days. The victim will be advised of services available to her. The suspect will be informed that although we decline to file charges at this time, this matter remains open and we may file charges at any time prior to the expiration of the statute of limitations."

The case was sent to the city attorney's office after it was declined for felony consideration by the Los Angeles County District Attorney's office last November.
The office has one year from the incident to file charges. Avenatti responded on Twitter:
(1/2) I am extremely thankful that after three thorough investigations, one by the LAPD, one by the LA District Attorney, and one by the LA City Attorney, the truth of my innocence is now established and no charges are being brought.

— Michael Avenatti (@MichaelAvenatti) February 1, 2019
(2/2) Every purported victim should have her or his claims investigated. Here, that is exactly what happened. I wish to thank the LAPD, LADA, and LACA for their professionalism during this difficult process. I will continue to speak truth to power and seek justice for my clients.

— Michael Avenatti (@MichaelAvenatti) February 1, 2019
And Jacob Wohl and @TMZ – I am coming for you. In America, you are not permitted to fabricate stories and facts against someone because he is a huge threat to the person you want as president. The truth will be known and you will be held accountable.

— Michael Avenatti (@MichaelAvenatti) February 1, 2019
The police department arrested Avenatti on November 14 and Miniutti filed a restraining order against him. She said that the two began dating in 2017 and she moved in with him in 2018.
From TMZ:
The woman, Mareli Miniutti, says she and Avenatti were in the master bedroom of their apartment arguing about money on November 13, when he called her an "ungrateful f**king bitch" … according to docs. She says he followed her into a guest bedroom while verbally berating her and hitting her "forcefully" in the face with pillows. She claims he said, "Do not disrespect me. You don't get to sleep in my house tonight."

In the docs, Mareli says Avenatti grabbed her by her wrist and pulled her off of the bed in the guest bedroom — and when she escaped his grasp, she started texting a friend. She claims he grabbed the phone out of her hand … and started screaming for help out of a window.

According to the docs, Avenatti then dragged her by her right arm and out into the public hallway of the apartment building. She says she was only wearing underwear and a t-shirt, and suffered scratches on her side and leg. The woman says she rang a neighbor's doorbell for help, but Avenatti allegedly grabbed her and dragged her back into his apartment and shut the door … preventing her from leaving.

Mareli says she was eventually able to get out of the apartment, but she claims Avenatti rode down in the elevator with her while begging, "Don't do this Mareli, don't involve them" … presumably referring to building security. She says security guards did take her into a room by herself while she waited for a friend to come pick her up.

Mareli says, in the docs, this was the second time Avenatti was physically violent toward her. She claims the first time was in February … when he pushed her out of the apartment into the hallway where she struck her head against a neighbor's door … and threw her shoes at her. She also claims he has a history of being "verbally abusive and financially controlling."