Posted by
Mary Chastain
Friday, February 15, 2019 at 11:30am
| 2/15/2019 - 11:30am
"I'm here because I think our country is in grave peril and I cannot sit any longer quietly on the sidelines."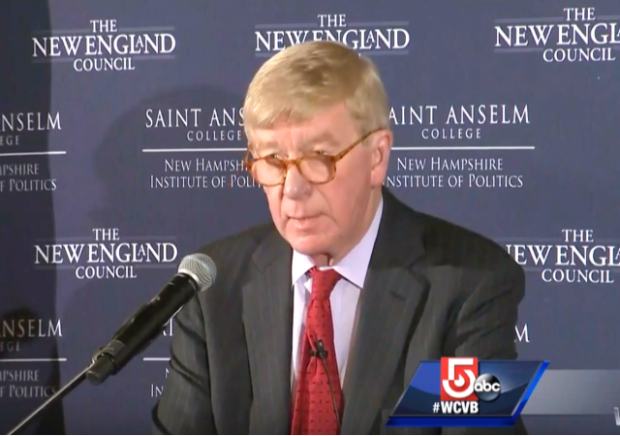 Former Massachusetts Governor and Libertarian vice presidential candidate Bill Weld has formed an exploratory committee for a 2020 presidential bid to challenge President Donald Trump in 2020. From Fox News:
"I think there definitely is a path to victory, but you want to test the market a bit. I look forward to talking to a variety of people. You want to make sure the motion doesn't fail for lack of a second but it won't," Weld said Thursday evening in an interview with the New Hampshire Union Leader. "Everyone I have talked to says you are running as an R, count me in."

Fox News first reported on Wednesday that Weld, a very vocal Trump critic, would likely announce at "Politics and Eggs" that he was taking a step toward launching a longshot bid to unseat the president.

The former two-term Massachusetts governor during the 1990s is returning to New Hampshire again a week and a half after Friday's appearance. Weld will speak Feb. 26 at New England College's Town Hall Meeting Series, a popular forum for presidential candidates and potential White House contenders.
Weld ran as Gary Johnson's vice president in 2016. He re-registered as a Republican recently.
Weld made his announcement this morning. From CBS Boston:
"I'm here because I think our country is in grave peril and I cannot sit any longer quietly on the sidelines," Weld said.

Weld harshly criticized Trump in his speech, calling him a president who "openly praises and encourages despotic and authoritarian leaders," "has railed against the very idea of the rule of law," "has failed to call out and denounce appalling instances of racism" and "ridiculous and dismisses the looming threats from climate change."

"Our president is simply too unstable to carry out the duties of the highest executive office of the land," Weld said.

Weld said he supports cutting spending, affordable access to prescription drugs, better medical care for veterans and to seriously consider eliminating the Department of Education.

Trump has high approval ratings among Republicans, something Weld equated to "Stockholm syndrome, identifying with their captor."

"I encourage those of you who are watching the current administration nervously but saying nothing to stand up and speak out when lines are crossed in dangerous ways," Weld said.
Also, the New Hampshire GOP isn't too happy with Weld:
"He ran as a Libertarian vice presidential candidate in 2016. As far as we're concerned he's a Libertarian and he can't flip-flop back and forth for political expediency," newly elected state party chair Steve Stepanek told Fox News recently. "We don't consider him a Republican. We don't want him back as a Republican."

Stepanek, who served as co-chair of Trump's 2016 presidential campaign in New Hampshire, explained that "if there is a legitimate national Republican candidate, then under the bylaws I have to remain neutral. I'm not going to be supporting them by any means, I'm just not going to be going against them."