Posted by
Mike LaChance
Wednesday, January 30, 2019 at 12:00pm
| 1/30/2019 - 12:00pm
"appeared to be a display of white supremacy in his smirking ignorance toward Native American Nathan Phillips"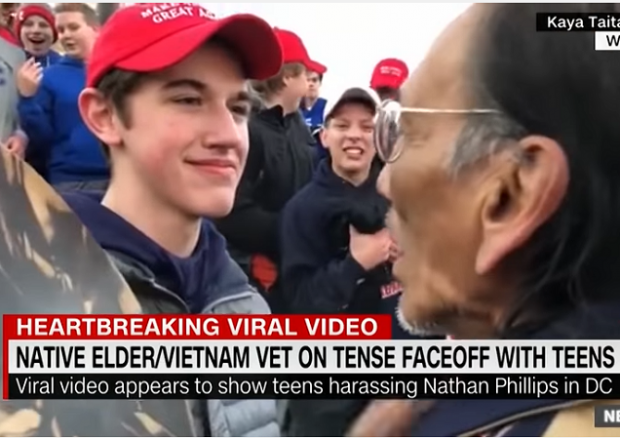 It's amazing that this false narrative is still being advanced so many days later.
Take a look at this:
Column: MAGA is becoming a symbol of white supremacy

The viral video showing a standoff between a Covington Catholic High School student and a Native American veteran shed light on the escalating visibility of racial issues and cultural insensitivities in President Trump's America, ranging from the meaning of "Make America Great Again" hats to media coverage.

On Jan. 18, an initial video documenting the incident was released which portrayed the student, Nick Sandmann, in what appeared to be a display of white supremacy in his smirking ignorance toward Native American Nathan Phillips. Sandmann appeared to refuse to move from the spot in front of Phillips and maintained a sniggering character toward the traditional Native American song Phillips was playing on his drum.

The tune Phillips sang was from the American Indian Movement from the 1970s. AIM was a political movement that strove to create economic independence for Native people and strove to abolish police brutality, racism, and imperialism affecting Native peoples. That fact that this song was being mocked adds insult to injury in the controversy. Not only were the students mocking traditional Native dances and songs, but they were also mocking a resistance song that was written during a time of great political unrest. This song was meant to uplift Native people around the country and to have it mocked so publicly is hurtful — a fact that was overlooked by many media outlets.

A longer video was later released, showing Sandmann and his peers appearing to mock traditional dances of Native Americans, prompting Phillips to walk over to Sandmann. It's this video that has caused public, white outrage, arguing Phillips approached Sandmann.