Posted by
Mary Chastain
Tuesday, January 8, 2019 at 9:00am
| 1/8/2019 - 9:00am
"Now that the television networks have decided to air the President's address, which if his past statements are any indication will be full of malice and misinformation, Democrats must immediately be given equal airtime."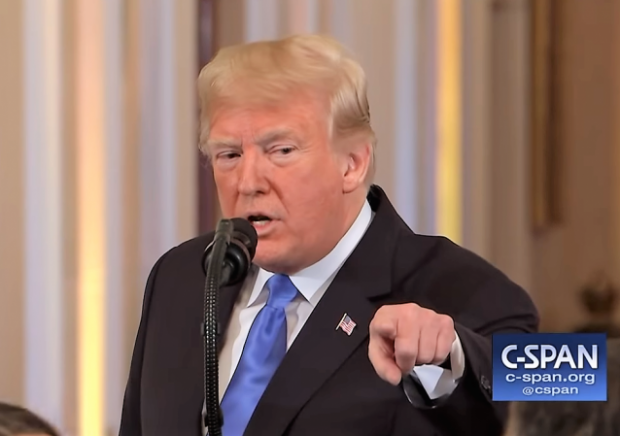 President Donald Trump tweeted today that he will give a national address on the situation on our southern border. He will travel to the area on Thursday.
After hours of  "will they, won't they" coverage,  the broadcast networks and cable news networks decided they will broadcast Trump on Tuesday night. Only CBS confirmed the broadcast by Monday evening.
However, their decision led to Speaker of the House Nancy Pelosi (D-CA) and Senate Minority Leader Chuck Schumer (D-NY) to demand equal airtime.
I am pleased to inform you that I will Address the Nation on the Humanitarian and National Security crisis on our Southern Border. Tuesday night at 9:00 P.M. Eastern.

— Donald J. Trump (@realDonaldTrump) January 7, 2019
From CNN Business:
The major television networks will provide wall-to-wall coverage of President Donald Trump's prime time address on border security on Tuesday.

NBC, ABC, CBS and Fox broadcast network all said on Monday that they had agreed to the White House's request for air time.

CNN, Fox News and MSNBC will all carry the address live, as well.
CNN and Fox News had stated that each intended "to air Trump's address," but did not confirm it until later. When I wrote this post Monday evening, only CBS confirmed its decision.
But the Democrats want the same amount of airtime. Schumer and Pelosi wrote in a statement that since "television networks have decided to air the President's address, which if his past statements are any indication will be full of malice and misinformation, Democrats must immediately be given equal airtime."
Now that the television networks have decided to air the President's address, which if his past statements are any indication will be full of malice and misinformation, Democrats must immediately be given equal airtime.

My statement with @SpeakerPelosi: pic.twitter.com/KIQPrdXEeg

— Chuck Schumer (@SenSchumer) January 8, 2019
*Previous reporting…
Only CBS has chosen to broadcast the address at 9PM ET. The other networks have not commented or decided to do the same.
From CNN Business:
One of the TV executives who spoke to CNN Business confirmed that the White House had requested time for the speech, as is customary in the relationship between a president and the press.

"Time has been requested for 9 p.m. Networks are deliberating," the network executive said.

Trump is almost certain to go ahead with the address regardless of what the broadcast networks do.

Spokespeople for CNN and Fox News said their networks would air the address. A spokesman for MSNBC said the channel's coverage plans were "still being discussed." It would be highly unusual for the cable news networks not to air a presidential prime time address.
Granted it is last minute and networks usually air the winter premieres of their shows. Plus the 9PM slot is usually set for their prime programs.
However, I cannot wonder if they would do this to failed presidential candidate Hillary Clinton. I know it's not the first time networks have resisted a live broadcast, but something tells me it's different with Trump.
CNN at least admits it: "With Trump, there are other factors to consider, including his record of deception and his tendency to ramble off script in long speeches."
Record of deception. My goodness, I am no Trump fan, but find me another president that has always been 100% honest.
There is absolutely zero benefit to viewers of networks covering this live as opposed to on a sufficient delay for 1. journalists to fact check and contextualize and 2. Pelosi or Schumer to be given a similarly prominent opportunity to respond. https://t.co/RzVE9vMkzO

— Susan Hennessey (@Susan_Hennessey) January 7, 2019
I responded to Hennessey that everyone needs to favorite her tweet so we can use it in the future, mainly the part about fact checking and contextualizing the speech. Heritage's Lyndsey Fifield said:
Okay—networks don't want to cover Trump's address? Fine.

They should also agree not to give any analysis of it thereafter.

You can't say it's your mission to inform people and then, in lieu of informing them, give them only a manipulative version of events.

— Lyndsey Fifield (@lyndseyfifield) January 7, 2019
My friend Kira Davis at Townhall had a few good points:
So the networks are thinking of not covering Trump's speech? I call BS. The anchors don't make these decisions, the people who run the companies do and those people like to make $$ which is the only reason there are news shows at all. #AdRevenue

— Kira (@RealKiraDavis) January 7, 2019
Let's say they do decide to forgo the ad revenue& ratings points – WTH does it even matter at this point? The President doesn't need network tv to be heard anymore. He can stream from any number of platforms and get just as many viewers. This is all ridiculous grandstanding.

— Kira (@RealKiraDavis) January 7, 2019
Financial expert Carol Roth tweeted:
This is so bizarre. The networks have been covering every single time Trump sneezes since the moment he announced his candidacy, to the point of exhaustive lunacy. Now, he is doing an official address and there's a question on whether to air it? https://t.co/yp9BZHHY9r

— Carol Roth (@caroljsroth) January 7, 2019
It's Donald Trump!! People will tune in because they either love or hate him. I'll probably watch hockey unless the bossman wants me to watch.