Posted by
Fuzzy Slippers
Saturday, December 1, 2018 at 7:00am
| 12/1/2018 - 7:00am
"a World War II hero, distinguished public servant and patriarch of an American political dynasty"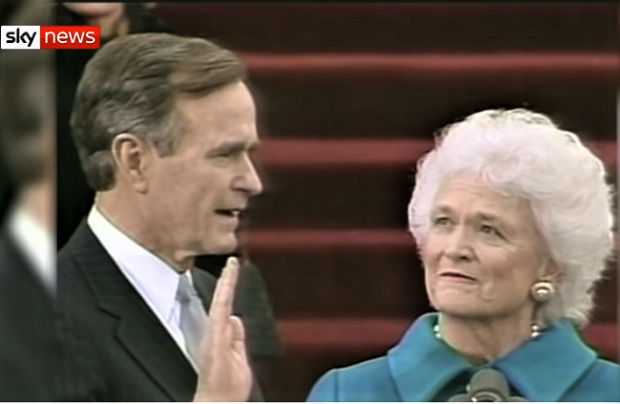 President George H. W. Bush has passed away at age 94. His wife, former First Lady Barbara Bush, passed away in April.
The New York Post reports: "Former President George H. W. Bush — a World War II hero, distinguished public servant and patriarch of an American political dynasty — died on Friday. He was 94."
Bush's death was announced in a statement by his office that said he passed in Houston at 11 p.m. New York time.

"He was more than a great man; he was a good man," Bush's grandson George P. Bush wrote on Twitter. "His courage was matched by his compassion; and his dedication to country was equaled only by his devotion to his family."

After serving as a two-term vice president under President Ronald Reagan, Bush led the nation as America's 41st president from 1989 to 1993.
Former President George H.W. Bush, who spent a lifetime in public service and as the nation's leader scored a decisive victory over Saddam Hussein but battled a faltering economy, died Friday at age 94.

Family spokesman Jim McGrath said Bush died shortly after 10 p.m. Friday, about eight months after the death of his wife, Barbara Bush.

He is survived by five children, including former President George W. Bush and former Florida Gov. Jeb Bush. A sixth child died in early childhood. The late former president also is survived by 17 grandchildren.

Former President George W. Bush issued the following statement upon his father's death:

"Jeb, Neil, Marvin, Doro, and I are saddened to announce that after 94 remarkable years, our dear Dad has died. George H.W. Bush was a man of the highest character and the best dad a son or daughter could ask for. The entire Bush family is deeply grateful for 41's life and love, for the compassion of those who have cared and prayed for Dad, and for the condolences of our friends and fellow citizens."
President Trump also issued a statement.
Statement from President Donald J. Trump and First Lady Melania Trump on the Passing of Former President George H.W. Bush pic.twitter.com/qxPsp4Ggs7

— Donald J. Trump (@realDonaldTrump) December 1, 2018
President H. W. Bush, Fox News continues, "was known for his gentlemanly demeanor, dedication to traditional American values, willingness to take on foreign despots like Iraq's Hussein and Panama's Manuel Noriega, and presiding over the breakup of the Soviet Union."
Watch: