Posted by
Kemberlee Kaye
Wednesday, December 12, 2018 at 1:00pm
| 12/12/2018 - 1:00pm
Blames Trump for causing him to "follow a path of darkness rather than light"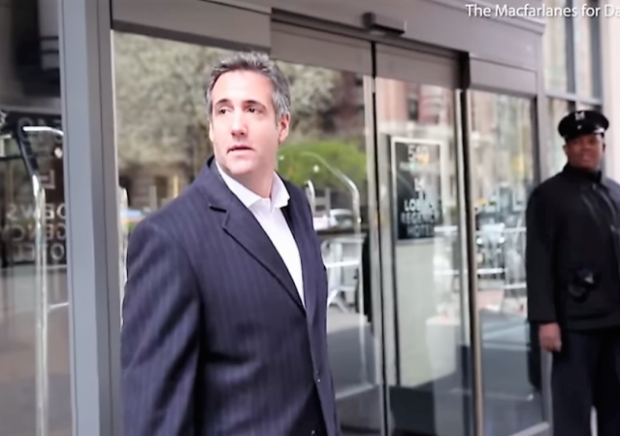 Former Trump Attorney Michael Cohen was sentenced to three years imprisonment Wednesday.
The sentence included charges for lying to Congress, tax evasion, and campaign finance violations.

For ABC News:
Before leveling his sentence, Judge William Pauley said "Cohen pled guilt to a veritable smorgasbord of fraudulent conduct" and "lost his moral compass," adding that "as a lawyer, Mr. Cohen should have known better."

In addition to his imprisonment, Cohen will have to pay $1.39 million in restitution plus $500,000 in forfeiture for the financial and campaign finance crimes. He will face an additional fine of $50,000 for lying to Congress.

…Prosecutors in the Justice Department's Southern District of New York charged Cohen with eight felony counts in August, including tax evasion, making false statements to a financial institution, and campaign finance violations. Special counsel Robert Mueller, tasked with investigating Russian interference in the 2016 presidential election, tacked on an additional count of lying to Congress last month. Cohen pleaded guilty to all nine counts and struck a deal to cooperate with ongoing investigations.
Cohen blamed Trump for causing him to "follow a path of darkness rather than light." ABC ctd:
Before ruling was issued, Cohen had pleaded for leniency, accusing President Trump – his former boss – of causing him to "follow a path of darkness rather than light" and "cover up his dirty deeds." Cohen's attorney, Guy Petrillo, argued that Cohen "came forward to offer evidence against the most powerful person in the country."

But while the special counsel's office appeared to be willing to give Cohen credit for his cooperation, SDNY prosecutors took a harder stance.

In court on Wednesday, Jeannie Rhee, a prosecutor with the Office of the Special Counsel, said Cohen had provided "wide ranging and helpful" information on matters related to the Russia probe while being careful not to inflate the value of that information.

Nicolas Roos, a prosecutor with the Southern District of New York, however, struck a different tone.

Cohen "didn't come anywhere close to assisting this office in an investigation," Roos told the court, adding, "the charges portray a pattern of deception, of brazenness and of greed."
For our previous coverage on this story, see here.