Posted by
Fuzzy Slippers
Sunday, December 30, 2018 at 6:00pm
| 12/30/2018 - 6:00pm
Christina Sommers points out the "Central fallacy of intersectional feminism: It fights racism and sexism by rigidly categorizing everyone by race and sex"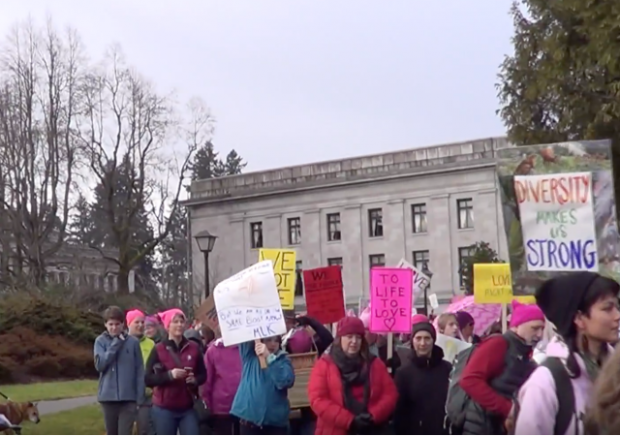 We've been covering the Women's March here at LI since its inception, including its January 2017 exclusion of pro-life feminists, and have been closely following revelations of the group's rampant anti-Semitism.  From closed chapters to cancelled marches and lost sponsors, the Women's March is flailing due to its leadership's associations with and defense of vile anti-Semite Louis Farrakhan.
It seems that anti-Semitism is not the group's only problem: the California Women's March scheduled for next month has been cancelled because leadership fears it will be "too white."
The organizers of the annual Women's March have decided not to hold a rally in Eureka on Jan. 19, as previously planned, because they say participants do not represent the diversity of the area.

"This decision was made after many conversations between local social-change organizers and supporters of the march," organizers said in a press release.

. . . . "Up to this point, the participants have been overwhelmingly white, lacking representation from several perspectives in our community," the press release went on to say.

"Instead of pushing forward with crucial voices absent, the organizing team will take time for more outreach. Our goal is that planning will continue and we will be successful in creating an event that will build power and community engagement through connection between women that seek to improve the lives of all in our community."
According to the Washington Times, Humboldt county, where the march was scheduled to take place, is 74% non-Hispanic white (i.e. higher than the 60% national non-Hispanic white population).
The move was immediately criticized by both Women's March supporters and detractors.
The announcement was met with criticism from some social media users.

"I was appalled to be honest," Amy Sawyer Longwrote on Facebook. "I understand wanting a diverse group. However, we live in a predominantly white area…not to mention how is it beneficial to cancel? No matter the race people still want their voices heard."

David Holper added: "I was really saddened to hear that the march won't be happening this year. Isn't there still time to reach out to minority groups and pull this together?"
PROOF OF WHAT A SCAM THIS IS…Organizers cancel Women's March Jan. 19 due to 'overwhelmingly white' participants https://t.co/jvcHrs68Oi

— Lyrnn Carter (@lyrnncarter05) December 28, 2018
Anti Semitism was fine, but they had to draw the line somewhere.

— JeffC (@JeffChrz) December 28, 2018
https://t.co/XCYRyq8NCB
Another example of how social justice groups are imploding because of their own misguided virtue signaling. Too funny!

— Derek S. ???????? (@DerekSupp) December 29, 2018
Central fallacy of intersectional feminism: It fights racism and sexism by rigidly categorizing everyone by race and sex. Try humanism instead. See: https://t.co/2VqUf74mwM

— Christina Sommers (@CHSommers) December 30, 2018