Posted by
William A. Jacobson
Monday, December 17, 2018 at 1:22pm
| 12/17/2018 - 1:22pm
Earlier released statement in Hebrew that "the policy will not be implemented," now says "We are developing the tools needed to implement our policy."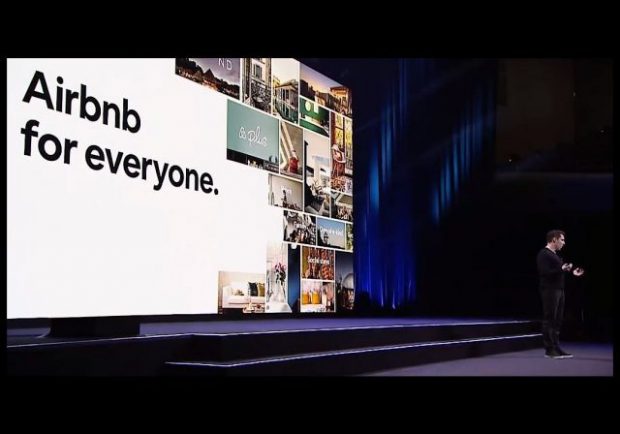 UPDATE: After sending out a statement in Hebrew that it was suspending the boycott of Jews in the West Bank, Airbnb has announced that that statement was issued in error. It plans to go forward with the boycott after figuring out how best to implement it.
The Free Beacon reports:
Airbnb is denying widespread reports Monday it was suspending its recently announced policy to exclude Israeli settlement homes in the West Bank from its listings, creating confusion when it appeared to release contradictory statements in English and Hebrew about the matter.

Multiple outlets reported earlier in the day on the company, an online marketplace for users to rent private homes around the world, had said the policy "will not be implemented." However, it later called those reports inaccurate and said it was meeting with "a variety of stakeholders" to gain an "even deeper understanding that this is an incredibly complex and emotional issue."

A spokesman told the Washington Free Beacon the earlier statement was "released in error." …

Asked to clarify if that meant the policy of banning the Jewish settlement listings remained in place, spokesman Nick Papas repeated,"We are developing the tools needed to implement our policy."
For all those interested: Here's @Airbnb's Hebrew announcement vs. the English one ("the policy will not be implemented" vs. "this is an incredibly complex & emotional issue". I emailed their VP asking about the difference. Did not receive a straight answer yet pic.twitter.com/w6ErWCe3FP

— Noa Landau נעה לנדאו (@noa_landau) December 17, 2018
Still here? Now got email from @Airbnb saying 'an earlier statement was released in error'. How does that even happen? Meanwhile, unofficially am still told implementation of #settlements ban indeed suspended. Y'all know what? We'll just wait & see if settlements will be removed pic.twitter.com/0B3usEOEXi

— Noa Landau נעה לנדאו (@noa_landau) December 17, 2018
EARLIER REPORTING
According to the Israeli Ministry of Tourism and Israeli news reports, Airbnb has suspended implementation of its decision, under pressure from the anti-Israel boycott movement, to delist homes in Jewish settlements in Judea & Samaria (the "West Bank").
The reversal comes after mounting public, legislative and legal pressures were brought to bear on Airbnb.
For background, see these prior posts:
The Jerusalem Post reports on the reversal:
Airbnb's decision to remove their listings in Jewish settlements throughout the West Bank will not be implemented, according to Israel's Ministry of Tourism.

After the meeting between Israel's Tourism Minister Yariv Levin and Vice President of Airbnb Chris Lahan, Levin said that he will continue to act in coordination with Strategic Affairs Minister Gilad Erdan, Justice Minister Ayelet Shaked and Deputy Foreign Minister Tzipi Hotovely to ensure that all Israeli citizens receive equal treatment.
Haaretz adds:
Airbnb announced Monday that it has suspended the implementation of its prior decision to remove listings in Jewish settlements in the West Bank, after sending a senior delegation to Israel to negotiate with Tourism Minister Yariv Levin.

"Our policy will not be implemented," Airbnb said in a statement following the meeting in Jerusalem between Levin and the company's delegation, led by Airbnb Vice President Chris Lehane. "The company will continue its dialogue with the Israeli government."
BREAKING: After talks in Israel @Airbnb announces it is suspending the implementation of the new policy of boycotting West Bank settlements https://t.co/rh3pDLkjgH

— Barak Ravid (@BarakRavid) December 17, 2018
Announcement by @Airbnb: 'Company's VP held a meeting today in Jerusalem with Israel's Minister of Tourism Levin, after which the company said its policy (#settlements boycott) will not be implemented. The Company will continue the dialogue with the government of Israel'

— Noa Landau נעה לנדאו (@noa_landau) December 17, 2018
After YOUR action and over 8500 emails to @Airbnb speaking out against discrimination, Airbnb has backtracked. Thank you to all those who spoke out against the unacceptable #discrimination by Airbnb. Hate will not win.https://t.co/qP9au1l7gx #israel

— StandWithUs (@StandWithUs) December 17, 2018
Pro-tip for diplomats, journalists, etc: Whenever you see the words "violation of #InternationalLaw" and #Israel together, you're being conned. Ask @Airbnb – they fell down the @hrw @KenRoth rabbit hole https://t.co/C9SyXSKgOz

— (((Gerald M Steinberg))) (@GeraldNGOM) December 17, 2018
Is it a complete reversal? Or just a pause? Airbnb reportedly is saying it's just a pause:
It's the same announcement Omar. Implementation suspended

— Noa Landau נעה לנדאו (@noa_landau) December 17, 2018
Airbnb has created confusion:
My information comes from Airbnb. Not from anybody else

— Barak Ravid (@BarakRavid) December 17, 2018
The Israel haters are upset
This is beyond a huge disappointment @Airbnb – to use your own lens of inequality an discrimination and then succumb to pressure from an occupying state? Shame on you if this is true. https://t.co/Yn9Y0xqQlB

— JewishVoiceForPeace (@jvplive) December 17, 2018
.@Airbnb bows to Israeli pressure and will continue to facilitate and profit from the violent theft of Palestinian land. https://t.co/kD0oA9Pu5V

— Ali Abunimah (@AliAbunimah) December 17, 2018
Meet Airbnb! The great room-sharing platform that cares about human rights.

*five seconds later*

We regret to inform you that they don't care about human rights. https://t.co/oezsAVTwtX

— IfNotNow???? (@IfNotNowOrg) December 17, 2018
(This post has been updated multiple times, including the title)