Posted by
Mary Chastain
Wednesday, November 7, 2018 at 2:15pm
| 11/7/2018 - 2:15pm
"Honestly, I think you should let me run the country, you run CNN and if you did it well, your ratings would be much better."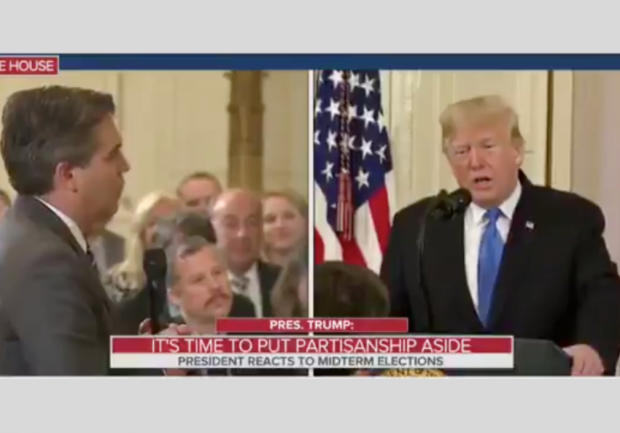 President Donald Trump locked horns with CNN's Jim Acosta. As usual, Acosta used the press conference to create a spectacle, refusing to cede his turn to the next reporter when Trump had moved on and hanging on to the mic when a staffer tried to take it to pass to the next reporter. When Acosta kept on, Trump told him to stop.
From Fox News:
"That's enough. Put down the mic," he ordered Acosta, as a White House aide tried to take the microphone from him, only for Acosta to initially refuse to turn it over and push her arm down. "I tell you what, CNN should be ashamed of itself having you working for them. You are a rude, terrible person, you shouldn't be working for CNN."

It was one of several testy exchanges during the nearly 90-minute press conference. The dispute began when Acosta first asked Trump about the migrant caravan approaching the U.S. southern border. After challenging Trump whether the caravan really was an "invasion," as Trump had previously stated, Acosta proceeded to "caravan-splain" to Trump.

"The caravan was not an invasion, it is a group of migrants moving up the border from Central America towards the border with the U.S.," the reporter scolded Trump.

"Thank you for telling me that, I appreciate it," Trump said, before saying he had not "demonized" immigrants as Acosta claimed.

But as Trump answered, Acosta repeatedly interjected and went back and forth with Trump over how the White House had characterized the caravan.

"They're hundreds of miles away, that's not an invasion," Acosta said.

"Honestly, I think you should let me run the country, you run CNN and if you did it well, your ratings would be much better," Trump said.
Watch here: