Posted by
Fuzzy Slippers
Sunday, November 25, 2018 at 8:30pm
| 11/25/2018 - 8:30pm
Anything is possible: "No one thought we'd have electric cars"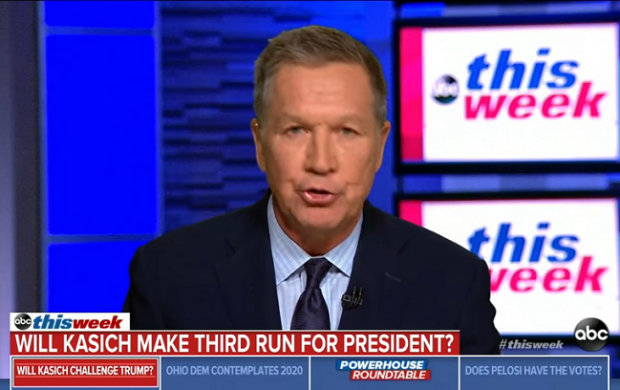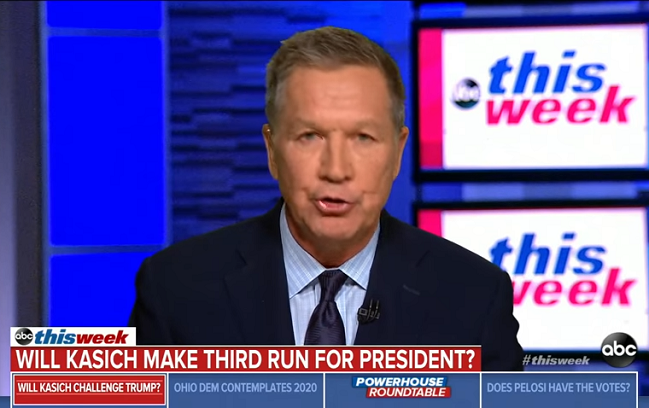 Ohio governor John Kasich (R) has been an outspoken critic of President Trump and his voters, so it's perhaps not surprising that he stated Sunday he is "very seriously considering" running for president in 2020.
It's not clear if he plans to primary the president or if he believes he can win on a "centrist" third party, even bipartisan, ticket.
Considering his abysmal showing in the GOP primaries in 2016 and his failed-before-it-even-started 2000 bid for the GOP presidential nomination, two-time loser Kasich may conclude that an attempt to primary a sitting president who is still wildly popular with the GOP base may not be effective.
Ohio Gov. John Kasich (R) said Sunday that he is "very seriously considering" another bid at the presidency in 2020 and raised the possibility of running on a bipartisan ticket.

"These are earnest conversations that go on virtually every day with some of my friends, with my family. We need different leadership. There isn't any question about it," he said on ABC's "This Week."

. . . . Kasich said that "all options are on the table" for his potential bid, including running on a bipartisan ticket.

The Ohio governor, who ran unsuccessfully for the Republican nomination in 2016, raised the possibility that President Trump and Sen. Elizabeth Warren (D-Mass.) are nominated by their respective parties in 2020.

Kasich said that would leave an "ocean of people" in the middle.

"Is there a legitimate opportunity for a third party, bipartisan kind of ticket to be able to score a victory or to have a profound impact on the future of American politics? … We don't know at this point," he said.

"No one thought a guy like Donald Trump would be elected president. No one thought we'd have electric cars," he added. "This is a time of change, dynamic change. You can't judge tomorrow on the basis of what happened yesterday."

Kasich . . . added that he is worried about the future of the United States.

"And not just in the short-term," he said. "I'm worried about our country in the long-term."
Kasich told This Week host George Stephanopoulos that he's considering a run even if he thinks he can't win.  In this case, he ponders making "such a good showing" that he can "send a message that can disrupt the political system in this country."
Stephanopoulos points out that President Trump has "something like 90% approval rating within the Republican Party," and suggests that a Kasich run would be futile.  To this, Kasich tacitly acknowledges that he wouldn't win a GOP primary against the president by making the bizarre claim that he would, instead, "make a statement" about his dissatisfaction with the "direction of the country."
Newsbusters points out another bizarre portion of this interview.
Ohio Governor John Kasich was one of the last two holdouts against Donald Trump during the 2016 GOP primaries and since then, he has become a go-to for the liberal media when they need a never-Trump Republican to bash the President. He has also become a name the liberal media love to throw around as a contender to knock out Trump in 2020. During an appearance on ABC's This Week, Sunday, Kasich wanted advice from host and Clinton lackey George Stephanopoulos on a possible third-party run.

. . . . "Let's say that Donald Trump is nominated and Elizabeth Warren is nominated and you have this ocean of people who sit in the middle," he prefaced. "Is there a legitimate opportunity for a third-party, bipartisan kind of ticket to be able to score a victory or have a profound impact on the future of American politics? That would be something I would talk to you about offline and get your view, because we don't know at this point."[emphasis in original]
Watch: