Posted by
Fuzzy Slippers
Saturday, October 27, 2018 at 6:11pm
| 10/27/2018 - 6:11pm
"But her long hair is just a western version Of hijab! I figure shave it if you're really against hijab."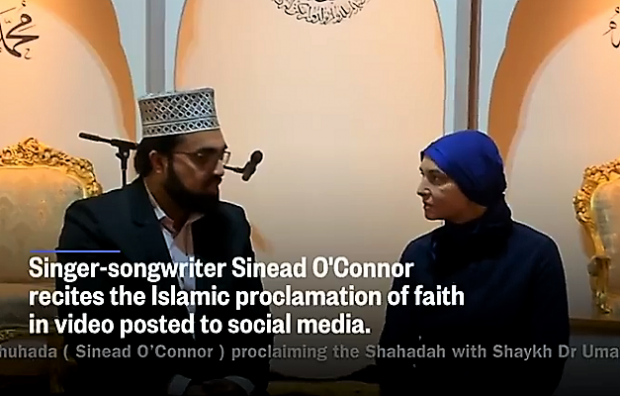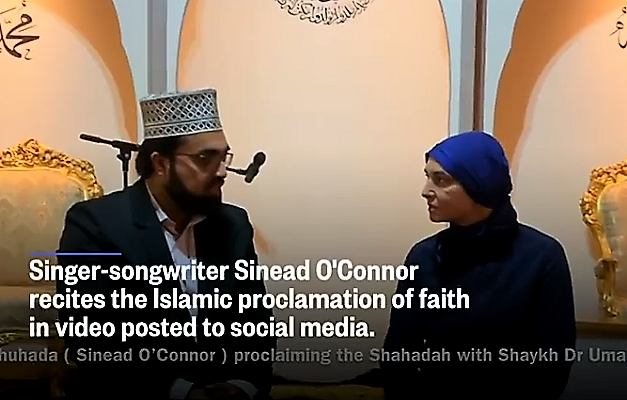 Remember Sinéad O'Connor, Irish songstress of "Nothing Compares 2U" fame and ripper-up of Pope photo on SNL?  She's announced that she's converted to Islam and taken the name Shuhada' Davitt.  She released a video of herself singing the Muslim call to prayer.
Irish singer Sinéad O'Connor announced that she has converted to Islam and changed her name to "Shuhada," saying her decision was "the natural conclusion of any intelligent theologian's journey."

O'Connor uploaded a video of herself singing the adhan, or Islamic call to prayer. She apologizes for mispronouncing some of the classical Arabic words. The Koran is written in Arabic, and its prayers are recited in Arabic, even if the believer is not fluent in the language.
Here's the tweet and video in question:
Here is my 1st attempt at singing the Azan. I got some pronouncition wrong because emotions took me from my page… but there'll be hundreds of others onstage to come … https://t.co/vDFyheqOOc

— Shuhada' Davitt (@MagdaDavitt77) October 19, 2018
WaPo continues:
The theologian at Islamic Centre Ireland in Dublin, Umar al-Qadri, released a short video clip of the Irish singer reciting the "Shahadah," the profession of Islamic faith that begins, "There is no god but Allah, and Muhammad is the messenger of Allah."

"She's so happy," the cleric wrote.

"Her coming to Islam has been a careful and informed decision and follows a lifetime of searching and study," the imam said in a statement.

Qadri added that O'Connor "has faced many challenges in her life. Where there is light, darkness has tried to envelope it, the greater the light, the greater the struggle with darkness."

O'Connor told Oprah Winfrey in 2007 that she had tried to commit suicide at age 33 and was bipolar. She later said she had been misdiagnosed, but she has been outspoken in support of lifting the stigma over mental illness.

Qadri said O'Connor took the name "Shuhada" because "it refers to one who bears witness, as she hopes her life and her voice will always remain a witness to truth, justice and mercy."
Shuhada' Davitt tweets:
Today a long haired blonde lady with prejudice questioned me for 20 mins on why I wanna wear a hijab. But her long hair is just a western version Of hijab! I figure shave it if you're really against hijab.

— Shuhada' Davitt (@MagdaDavitt77) October 27, 2018
What Islam needs is to recognise it's greatest weapon is the Azan. And it's greatest weakness militarily, is that it doesn't ask western singers to perform it our way. I am a soldier. I am helping you. Try to trust me.

— Shuhada' Davitt (@MagdaDavitt77) October 27, 2018
[Featured image via YouTube]