Posted by
Leslie Eastman
Wednesday, October 17, 2018 at 7:00pm
| 10/17/2018 - 7:00pm
Meanwhile, a cleanup crew heading to Great Pacific Garbage Patch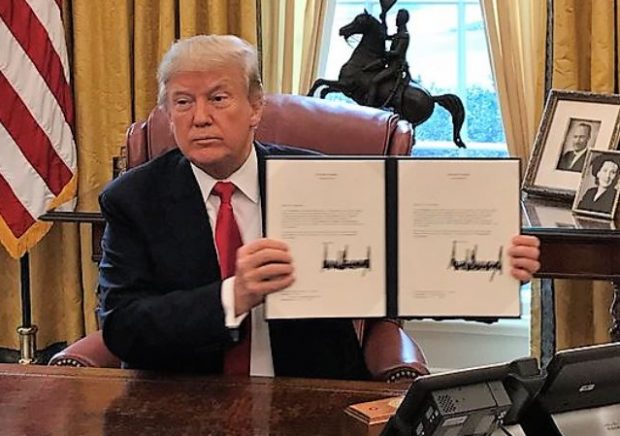 President Donald Trump has signed into law an eco-friendly bill that may have been the most bipartisan measure created on Capitol Hill since 2016.
The Ketchikan Daily News reports the Save our Seas Act, which Trump signed Thursday, reauthorizes the National Oceanic and Atmospheric Administration's Marine Debris Program through 2022.

The program works to reduce debris through research, prevention and reduction. The Save our Seas legislation keeps the program going by continuing to authorize $10 million per year for the next five years.

The bill also encourages the executive branch to reach out and engage the leaders of countries — located primarily in Asia — that are responsible for much of the sea pollution found around the planet's oceans.
The passage is especially timely, as a clean-up crew has completed its first phase of testing pollution containment methods specific to large-scale removal of plastics in the ocean. The unit is now on its way to the Great Pacific Garbage Patch.
The Ocean Cleanup, a nonprofit that assembled its floating plastic-capture system at the former Alameda Naval Air Station, successfully completed two weeks of testing about 350 nautical miles off the coast. On Tuesday, the team was given the go-ahead to head another 1,000 miles to a location halfway between Hawaii and California.

That's where the world's largest accumulation of discarded junk lurks — fishing nets, plastic bottles, pieces of plastic containers and bottle caps — drifting across an area estimated to be twice the size of Texas.

When the cleanup crew arrives in about two weeks, the goal is to collect and remove larger pieces of plastic before they are broken down into microplastics.
The new law can aid in supporting and promoting the clean-up efforts internationally. The nonprofit's test system used a tapered screen drifting about 10 feet underwater that's attached to floaters in a "Pac-Man" shape to gather debris while allowing marine life to swim safely around the unit.
The goals of the recent trial included confirming that the system could be assembled into the u-shape; move at sufficient speed through the water; and reorient when wind and wave directions change.

The crew also tested the system's ability to capture floating debris, and marine life observers on board monitored the trial. Only five fish were seen near the system, and quickly moved away, according to The Ocean Cleanup website.
The response for eco-activists have been glowing…when compared to their usual opinions on Trump's actions.
Good idea! Now what about the rest of the environment!

— Rebecca Taylor (@rsftaylor) October 11, 2018
I FOUND IT!! I FOUND IT!!! The one and only one thing that Trump did that was…..GOOD!!!!

— ACM (@ApathyOver) October 11, 2018
Midterms make good things happen sometimes it's just a shame that his cold heart is disguised with deception.

— John Taylor (@JBG_Past_Prime) October 11, 2018