Posted by
Mary Chastain
Thursday, October 25, 2018 at 5:02pm
| 10/25/2018 - 5:02pm
The radio station is home to CONSERVATIVE radio shows.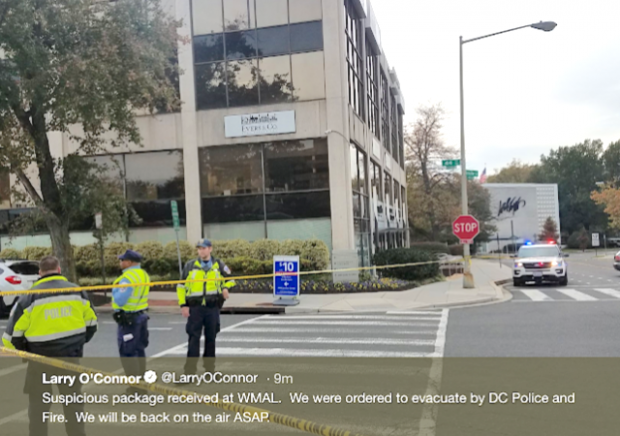 Washington, DC, radio station WMAL evacuated the building after it received a suspicious package.
In case you don't know, this station airs radio shows hosted by conservative people like Rush Limbaugh, Mark Levin, and Larry O'Connor.
*This is a BREAKING story. Will provide updates…
At about 5:30PM ET, Larry O'Connor tweeted that the station received the all clear and they returned to the air.
We still do not have any new information.
Suspicious package received at WMAL. Building evacuated. Police and fire are on scene. We'll be back with you live as soon as we can, but for now enjoy our "Best of" programming on WMAL.

— WMAL DC (@WMALDC) October 25, 2018
I saw the package mailed to @WMALDC.

Though it does not look like the other packages we have seen the past day or two, there were some similarities. DC police examined it and immediately ordered full evacuation.

— Larry O'Connor (@LarryOConnor) October 25, 2018
Suspicious package received at WMAL. We were ordered to evacuate by DC Police and Fire. We will be back on the air ASAP. pic.twitter.com/l58Ef1CdVT

— Larry O'Connor (@LarryOConnor) October 25, 2018
I'm not going to describe the package in question because there is an ongoing investigation. We were informed moments after police studied it to immediately evacuate.

Could be a bad copy cat or could be something more.

We will return to the air as soon as we can. @WMALDC

— Larry O'Connor (@LarryOConnor) October 25, 2018