Posted by
Mary Chastain
Tuesday, October 30, 2018 at 2:37pm
| 10/30/2018 - 2:37pm
"He will be getting a pitchfork in the ass from the devil now."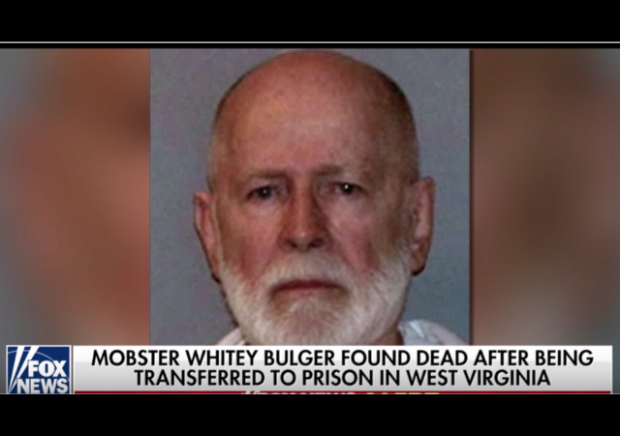 Boston mob boss James 'Whitey' Bulger, the man who inspired The Departed, was murdered this morning after he arrived at a West Virginia federal prison. From The Boston Herald:
Bulger, 89, was convicted in 2013 of being complicit in 11 murders in Massachusetts, Florida and Oklahoma.

His attorney, Hank Brennan, who tried to appeal Bulger's life sentence all the way to the U.S. Supreme Court, declined comment pending notification by the Bureau of Prisons.

Bulger arrived at USP Hazelton yesterday. He was found unresponsive at 8:20 this morning, according to a statement from the Bureau of Prisons, which provided no other details.

"Life-saving measures were initiated immediately by responding staff. Mr. Bulger was subsequently pronounced dead by the Preston County Medical Examiner," the statement said.

BOP notified the FBI and Bulger's death is now under investigation,

"No staff or inmates were injured, and at no time was the public in danger," BOP stressed.

The facility houses 1,277 maximum-security inmates and is located in Bruceton Mills.

The Herald reported last week he had been relocated from a penitentiary in Florida to one in Oklahoma, which often serves as a temporary stop for inmates in transit.
Family members of Bulger's victims did not hold back:
Mary Callahan, whose husband John was killed by the Bulger gang in 1982, said today Whitey hurt everyone he came in contact with.

"My memory of him is anybody, good or bad, who had anything to do with him got hurt," said Mary Callahan. "Good people and bad people were hurt by him.

"But he's a legend, like Al Capone and Billy the Kid. He will always be remembered but in a bad way," the widow added. "I was expecting his death, but not like this."

Tommy Donahue, whose dad Michael was one of Bulger's victims, said his family can "finally" put Whitey behind them.

"He will be getting a pitchfork in the ass from the devil now," said Donahue. "His (expletive) legacy is gone. We can finally put him behind us."