Posted by
Fuzzy Slippers
Sunday, September 30, 2018 at 5:30pm
| 9/30/2018 - 5:30pm
"The case argues that the president has received foreign government favors . . . . "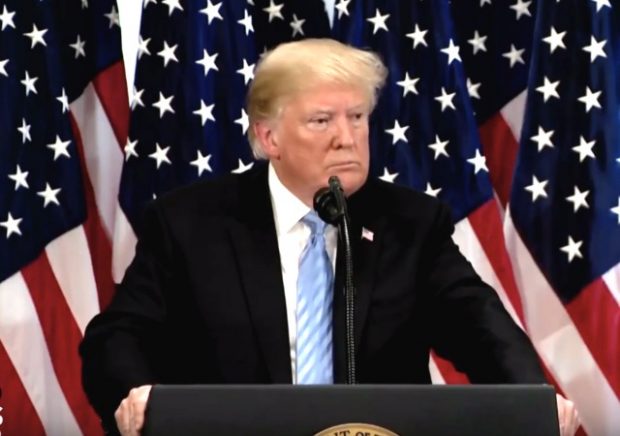 The anti-Trump #Resistance and #NeverTrumpers are determined to undermine our president and "undo" the 2016 election by any means necessary.  So single-minded and focused on the moment are they, that they are willing to sacrifice our electoral process, our Republic, and our Constitution for the sake of their Trump derangement.
This emoluments argument has been batted around since before Trump even took office. 
A federal judge has now ruled that Congressional Democrats can sue President Trump in an emoluments case.
A federal judge has ruled that 200 Democratic members of Congress have legal standing to sue President Donald Trump for allegedly violating the emoluments clause of the Constitution by doing business with foreign governments while in office.

The emoluments clause bars presidents from accepting gifts from foreign and domestic interests without consent from Congress.

The case argues that the president has received foreign government favors, such as Chinese government trademarks for his companies, payments for hotel rooms and event-space rentals by representatives of Saudi Arabia and Kuwait, and proceeds from Chinese or Emirati-linked government purchases of office space in Trump Tower.

U.S. District Court Judge Emmet Sullivan on Friday found that lawmakers have adequately shown that they have suffered harm from the president's alleged violation of the clause.

"This is a bombshell victory enabling us to move forward to hold the president accountable for violating the chief corruption prohibition in the United States' Constitution," Sen. Richard Blumenthal, D-Connecticut, told the Associated Press. "President Trump has been violating it repeatedly with impunity and now we as members need to hold him accountable."

Elizabeth Wydra, attorney for the Democratic lawmakers and president of the nonprofit Constitutional Accountability Center who argued the case in court, said that "by recognizing that members of Congress have standing to sue, the court proved to all in America today that no one is above the law, not even the president."