Posted by
Mary Chastain
Friday, August 10, 2018 at 11:00am
| 8/10/2018 - 11:00am
So why won't she debate Candace Owens?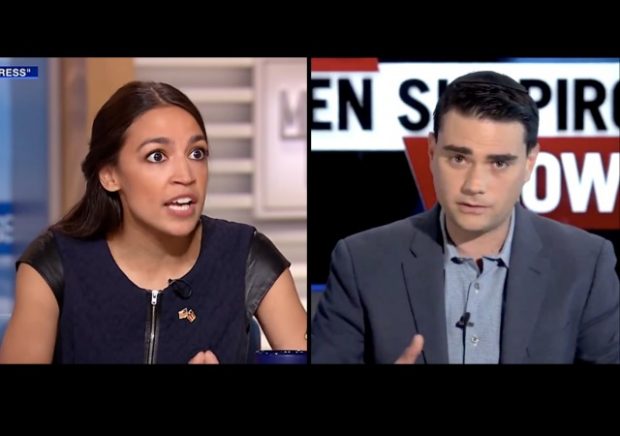 What a freaking insult to women who have actually experienced harassment. Daily Wire editor-in-chief Ben Shapiro asked to debate Democratic Socialist Alexandria Ocasio-Cortez, even offering $10,000 to her campaign or for charity.
The congressional nominee likened the offer to catcalling.
Hey, @Ocasio2018, what do you say? pic.twitter.com/lKDtmMc8Us

— Ben Shapiro (@benshapiro) August 8, 2018
From Fox News:
"Miss Ocasio-Cortez, I'm really excited that you've been elevated to that position and I would love to have a real conversation with you about the issues. You've noted that you think Republicans are afraid to debate you or talk to you or discuss the issues with you," Shapiro said.

"Not only am I eager to discuss the issues with you, I'm willing to offer $10,000 to your campaign, today, for you to come on our Sunday special," he continued. "We can have an hour long conversation about all the topics under the sun, really probe your belief system."

Shapiro said he would also debate Ocasio-Cortez for charity.

"However you want to do it, I am more than willing to talk to you," Shapiro said. "Let's make this happen."

Shapiro, Daily Wire editor-in-chief, said that he wants to make "America a more civil and interesting place," and feels a conversation with Ocasio-Cortez could do just that.
The tweet took off on social media, with some noting that Ocasio-Cortez wasn't responding. She finally did in a childish way and Shapiro fired back:
Just like catcalling, I don't owe a response to unsolicited requests from men with bad intentions.

And also like catcalling, for some reason they feel entitled to one. pic.twitter.com/rsD17Oq9qe

— Alexandria Ocasio-Cortez (@Ocasio2018) August 10, 2018
Discussion and debate are not "bad intentions." Slandering someone as a sexist catcaller without reason or evidence does demonstrate cowardice and bad intent, however. https://t.co/kYaYuf0W43

— Ben Shapiro (@benshapiro) August 10, 2018
But sure, go with "the Orthodox Jew who has never catcalled a woman in his life is ACKSHUALLY a sexist catcaller for asking for a discussion or debate." I'm sure your media sycophants will eat it up.

— Ben Shapiro (@benshapiro) August 10, 2018
Others quickly refuted Ocasio-Cortez's attack
@benshapiro @Ocasio2018 pic.twitter.com/COfpOJyIgl

— Wyly Walker (@WylyWalker) August 10, 2018
She is a treasure. pic.twitter.com/70g8c3pQZt

— Matt's Idea Shop (@MattsIdeaShop) August 10, 2018
I thought strong women could stand up for themselves and hold their own in any situation…apparently @Ocasio2018 isn't one of them. https://t.co/y4m2mktB3V

— Katie Pavlich (@KatiePavlich) August 10, 2018
When you think asking for a reasoned debate for charity is the same as catcalling. God forbid you treat a woman as an intellectual equal, you sexists. https://t.co/FMcM2THeg0

— Mo Mo (@molratty) August 10, 2018
Ocasio-Cortez: "Republicans are afraid to debate me."

Ben Shapiro: "I'll debate you."

Ocasio-Cortez: "Stop catcalling me!!!!"

Totally normal logic… nothing to see here.

— Tim Young (@TimRunsHisMouth) August 10, 2018
.@Ocasio2018: "Joe Crowley was so sexist, he wouldn't even debate me!"@benshapiro: "I'll debate you."@Ocasio2018: "OMG STOP SEXUALLY HARASSING ME!"

— Brittany Hughes (@RealBrittHughes) August 10, 2018
"Catcalling" is a new "dog whistle" for "I can't win a debate, so I'm grabbing my marbles and going home. Then sticking my tongue out at you. BURN!"

This is also why the Left disproportionately blocks people on Twitter.https://t.co/oDtVAhAYMj

— David Henry (@imau2fan) August 10, 2018
I wonder how Ocasio-Cortez will react to Candace Owens' offer to debate for $20,000:
And what exactly was your excuse for having turned down the debate with me?

Can't wrap that one up in fake-feminism.

I'll double @benshapiro's offer. 20k to a charity of your choice— a capitalism vs. socialism debate. https://t.co/jHQHZcJ83V

— Candace Owens (@RealCandaceO) August 10, 2018