Posted by
Fuzzy Slippers
Sunday, August 19, 2018 at 2:00pm
| 8/19/2018 - 2:00pm
ICE detains illegal immigrant wanted for murder in Mexico while driving wife to planned C-section appointment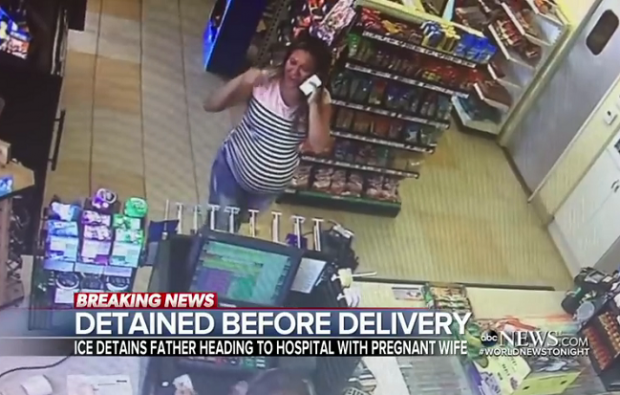 Yesterday, ICE arrested an illegal alien who was in the process of driving his pregnant wife to the hospital; ICE later stated that the man was picked up on an outstanding warrant for murder in his native Mexico.
The media ran with the story, focusing on the "outrage" of arresting him while his wife was left to drive herself to the hospital.
Daniel Dale, an intrepid journalist for the Toronto Star, appears to have broken the story of the reason behind the arrest and is facing pushback for his efforts to tell the whole story.
Important update: ICE said today that this man was arrested because of a homicide warrant for him in Mexico. ICE didn't mention this in its comments to media yesterday. His lawyer says he denies that there are such Mexico charges; no details from ICE yet. https://t.co/AnIfv8DapM

— Daniel Dale (@ddale8) August 19, 2018
And boy did they run with it.
Two possible stories:

1) ICE arrests murder suspect and protects American citizens;

2) ICE arrests man on the way to the hospital with pregnant wife.

The Press runs with story #2 and doesn't mention key point #1.

— Lee Doren (@LDoren) August 19, 2018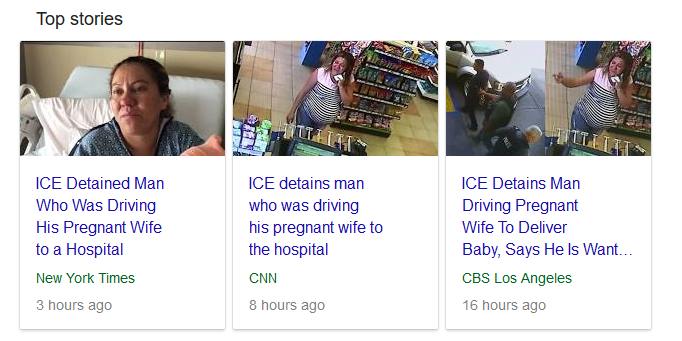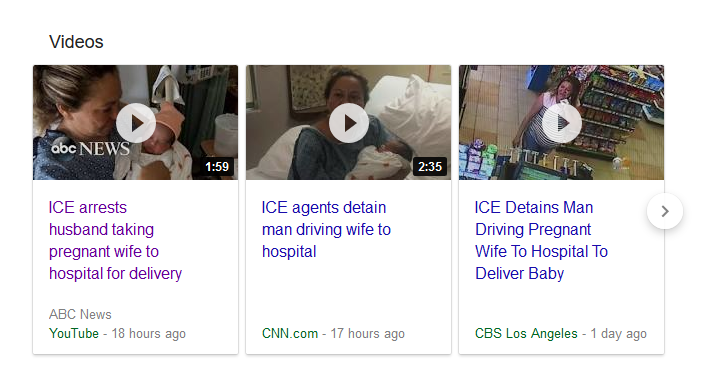 Oh, and she wasn't in labor, though you might think so from these headlines; they were driving to hospital for a planned C-section.
This is a great example of why the media has lost credibility. What possible justification can there be for multiple news organization omitting that the person ICE arrested was wanted for murder? pic.twitter.com/dtg2Jo2JsR

— (((AG))) (@AG_Conservative) August 19, 2018
Surveillance footage shows ICE agents detaining a man in California stopped at a gas station who was bringing his pregnant wife to the hospital for the delivery of their baby. https://t.co/NrzXyHktdH pic.twitter.com/kesN7U37aW

— ABC News (@ABC) August 18, 2018
Ice under fire for husband's arrest; picked up while taking pregnant wife to hospital: https://t.co/rz6lSkxmJu @TVMarci reports. pic.twitter.com/eYKJisfNda

— Good Morning America (@GMA) August 19, 2018
And of course the flurry of headlines and news reports focused on only one aspect, the one that makes ICE look bad to those unwilling to wait for details, prompted the left to meltdown across social media.
There's heartless and then there's whatever the hell this is. https://t.co/qWgPoJ2ABe

— Rep. Joe Kennedy III (@RepJoeKennedy) August 18, 2018
ICE detained Joel while he drove his wife to the hospital to deliver their baby.

How is government serving its purpose here? How does this better society?

This leaves a mom without a partner, a baby without a father, and us without a soul.#AbolishICEhttps://t.co/XEy7609HXz

— Abdul El-Sayed (@AbdulElSayed) August 19, 2018
Terrorist. Organization. Period. People might scoff and say, "Where's the violence?" And I'd argue that ripping a father away from his wife as their child is being born is a violent act.

Just close your eyes and imagine it's you. The terror is real. https://t.co/L7FKSv7TK3

— Buckminster (@thatcolinbell) August 18, 2018
As the full picture began to emerge, it is the media who looks ridiculous, not ICE, who as it turns out were doing their job and getting a man wanted for murder, here illegally, off our streets.
I know headlines are for shit at @thehill lately, but it's been since yesterday that we know the husband was charged with murder. Maybe mention that? https://t.co/3t9vxrYuhO

— Instapundit.com (@instapundit) August 19, 2018
Did you read the article, or just the headline? The piece says:

1. ICE claims he was "wanted by law enforcement authorities in Mexico on an outstanding homicide warrant."

2. She was not in labor – she was going in for a scheduled c-section.

What would you have done?

— Joseph Steinberg (@JosephSteinberg) August 19, 2018
Dear screaming #democrats. A) She wasn't in labor…..If she was ICE would've gotten her an ambulance. B) He is wanted for MURDER! https://t.co/E37qd7VxdO

— Andrew Wilkow (@WilkowMajority) August 19, 2018
ICE says it detained a man who was taking his wife to a hospital for a C-section in California because of homicide charges against him in Mexico. His lawyer says the Mexican consulate was not able to confirm the charges. https://t.co/WqgUgZYHv4

— NPR (@NPR) August 19, 2018
This is how the MSM create Fake News. By not telling the whole truth…..
(Media Leaves Out Key Fact In ICE Arrest of Man Driving Pregnant Wife To Hospital)https://t.co/3Xtb00PiSK

— Diamond and Silk® (@DiamondandSilk) August 19, 2018
Anyway, handling these stories is tricky – maybe should note in tweets about early reports that we don't have all the details yet, especially if ICE omits key helpful-to-ICE details when asked for comment. Trying my best over here; always regret spreading any misleading info.

— Daniel Dale (@ddale8) August 19, 2018
When it fits the narrative of the day, in this case #AbolishICE, the media chooses to run without all the facts. All the better to stoke outrage and division and to feed the anti-Trump, anti-law and order #Resistance base.