Posted by
William A. Jacobson
Monday, July 9, 2018 at 1:00pm
| 7/9/2018 - 1:00pm
How long before the media sends helicopters to follow a White Ford Bronco?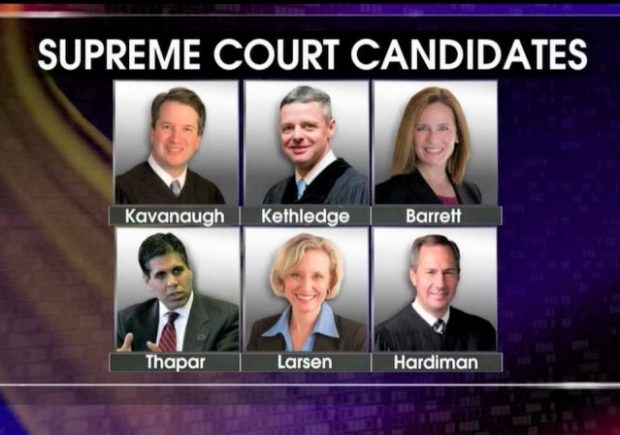 It's getting crazy out here on the internet.
Trump names his nominee to replace Justice Anthony Kennedy at a live press conference at 9 p.m. tonight. Trump did a pretty good job keeping the selection on the quiet with Neil Gorsuch, and as of this writing, there have been no definitive leaks. Just a lot of "insider" speculation as to who the finalists and top 2 are.
Seems to me a lot of these "insider" accounts are deliberate deflection, letting the media play the "who's on top" game inconsistently.
The media already is on stakeout:
per a source who knows Kethledge and walked by his home today: TV trucks and a police vehicle still outside of his house (to shoo away any trespassers), but no sign he has left town or leaving soon. TV trucks have been there for a few days just in case, source said.

— Robert Costa (@costareports) July 8, 2018
Maybe he was in that white Ford Bronco that left two hours ago, did anyone follow it? https://t.co/pSVen4325s

— Legal Insurrection (@LegInsurrection) July 9, 2018
You know who isn't waiting for the actual nomination to evaluate the pick? College students!
Consider this an Open Thread — we'll update, and readers can add what they are seeing in the comment section.
UPDATES:
Back to the Future:
If I win the Presidency, we will swamp Justice Ginsburg with real judges and real legal opinions!

— Donald J. Trump (@realDonaldTrump) July 13, 2016
Who is it?
FYI – current talk from LawyerSmack people is that Barrett's on a plane to DC with her family right now. #ScotusPick

— Keith Lee (@associatesmind) July 9, 2018
Hardiman was also told to come to DC on the day Gorsuch was nominated https://t.co/ZOQZWUvmqq https://t.co/tFoJz2YwW1

— Lachlan Markay (@lachlan) July 9, 2018
But wait:
WSJ says as of 2:56 ET that Barrett is still home in Indiana https://t.co/Po8f0wF5Sl

— Allahpundit (@allahpundit) July 9, 2018
WSJ: Allies of Judge Thomas Hardiman say they have been told to be ready to begin promoting him

— Josh Caplan (@joshdcaplan) July 9, 2018
AND it looks like Barrett is out:
Our producer in South Bend just saw Judge Amy Coney Barrett at her home asked if she was the SCOTUS pick: "I can't confirm nor deny anything but you can see that I'm here."

— Eric Marrapodi (@EricMarrapodi) July 9, 2018
————–
A Twitter List by LegInsurrection
.
A Twitter List by LegInsurrection