Posted by
Leslie Eastman
Friday, July 27, 2018 at 9:00am
| 7/27/2018 - 9:00am
"Today, the Chairman is fulfilling part of the commitment he made to the President to return our fallen American service members."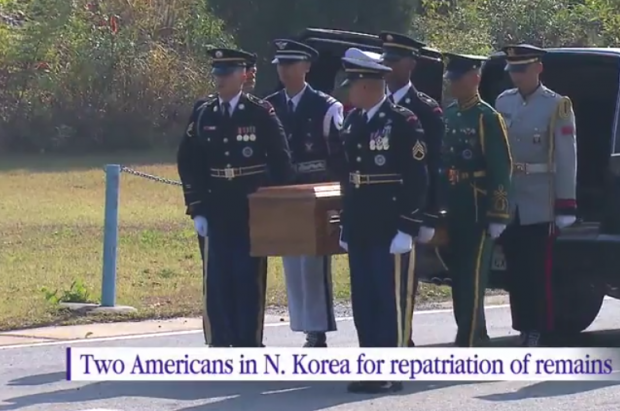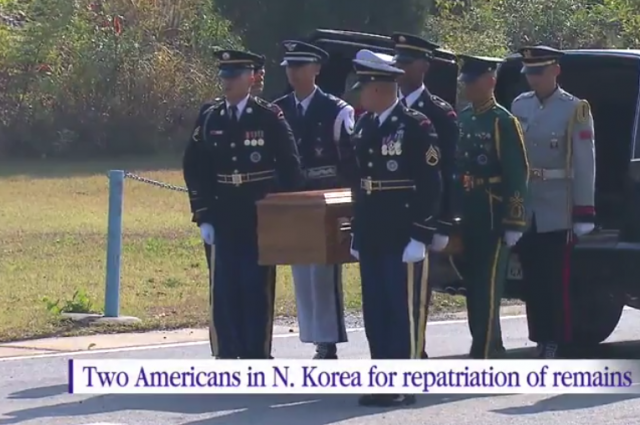 North Korea has transferred the remains of U.S. soldiers killed during the Korean War, in keeping with the agreement made in Singapore signed by Chairman Kim Jong-un at the historic summit with U.S. President Donald Trump.
The remains were carried out of Wonsan, North Korea, on a U.S. Air Force C-17 aircraft headed for Osan Air Base, south of Seoul, White House press secretary Sarah Sanders said in a statement. The plane arrived at the base at around 11 a.m. (Korean time).

A formal repatriation ceremony will be held Aug. 1 at the base.

"At their historic meeting in Singapore, President Donald J. Trump and Chairman Kim Jong Un took a bold first step to achieve the complete denuclearization of the Korean Peninsula, transform relations between the United States and North Korea, and establish enduring peace," Sanders said.

"Today, the Chairman is fulfilling part of the commitment he made to the President to return our fallen American service members. We are encouraged by North Korea's actions and the momentum for positive change."
Friday marks the 65th anniversary of the signing of the armistice agreement that ended the three-year Korean War, and that may play a part in the timing. A forensic anthropologist was one of two Americans who has been in North Korea to assist in the preparation of the remains that will be returned.
The Coalition of Families of Korean & Cold War POW/MIAs President Richard Downes has stated that two Americans were sent to North Korea for the repatriation of the remains of American soldiers. The Americans are a forensic anthropologist and a coordinator for the handover process. In an interview with Voice of America, Downes said that a forensic anthropologist was sent to minimize the mixing of the remains.

…Unlike in the past when large sums of money had been paid for the return of the remains, no financial compensation was made this time. It is also expected to take a considerable amount of time to identify the remains. Identification will be made through photo tracking, DNA comparison, and dental records. But it may take more than a year to identify them all since the conditions of the remains are all different and multiple remains are likely to have been mixed.
A Seoul official said that 55 wooden boxes were sent to North Korea for the repatriation. It is not currently known how many sets of remains will be transferred.
The Trump administration is pleased with this development.
"Today's actions represent a significant first step to recommence the repatriation of remains from North Korea and to resume field operations in North Korea to search for the estimated 5,300 Americans who have not yet returned home," White House press secretary Sarah Huckabee Sanders said in a statement Thursday night.
Hopefully, the positive developments related to ending the Korean War officially will continue.