Posted by
Leslie Eastman
Tuesday, July 17, 2018 at 7:00am
| 7/17/2018 - 7:00am
New island forms temporarily off the coast of Hawaii's Big Island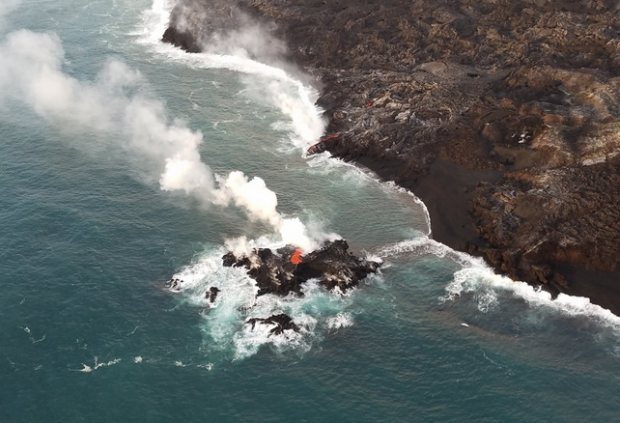 The last time we visited the Big Island of Hawaii, its Kilauea volcano had oozed lava over a portion of a geothermal power plant and some pot growers were staying to protect their cash crop.
While there is no word on the intrepid marijuana farmers, there has been no power disruption due to the loss of the plant.

For the first time in 25 years, geothermal energy in volcano country is not powering any Big Island homes or businesses – and seemingly no one has noticed.

Electrical customers have not suffered a single blackout or been asked to conserve energy as a result of the Kilauea eruption having forced the privately owned Puna Geothermal Venture to close unexpectedly two months ago, said Jay Ignacio, Hawaii Electric Light Co. president.

HELCO powers the island's grid using a mix of electricity it generates and also buys from PGV along with other independent producers.

"We still have adequate margins (to meet the island's power demands)," Ignacio said of HELCO's ability to supply 242 megawatts of "firm" electricity to an islandwide grid currently consuming 170 MW.
However, some tourists experienced the wrath of Kilauea. At least 23 people were injured after a lava bomb flew through the roof of their tour boat.
The "lava bomb" hit the roof of the Lava Ocean Tours vessel near the town of Kapoho, Hawaii's Department of Land and Natural Resources said. The explosion sent lava through the boat's roof and into the passenger cabin.

At least four passengers were rushed to the Hilo Medical Center, according to the Hawaii County Fire Department. Two of those hospitalized were in stable condition while one woman was in serious condition with a fractured femur.

Nine other passengers drove themselves to the hospital, and officials considered their injuries to be superficial. Later Monday, officials added that 10 other passengers were treated at the harbor, raising the number of injured to 23.
What might be of interest to brave tourists and Hawaiian residents is the new island that temporarily formed off the coast during the eruption.
The U.S. Geological Survey said the tiny island formed off the northernmost part of the ocean entry from Fissure 8, and was oozing lava similar to that of the larger lava flow along the coast.

In photos posted by the agency, the "island" is just a few meters off shore, and about 20 to 30 feet in diameter.

But anyone who may have wanted to visit the new landmass in its 'island' form is out of luck, as the agency revealed on Monday it's now connected back to the Big Island by a strip of lava.
While it might be some time before the new land becomes cool enough to farm, its soil would be fertile enough to grow some sizeable marijuana plants if the courageous pot growers need a new farm.
Kilauea's current eruption phase began in early May, and there are no signs that it is slowing down.