Posted by
Kemberlee Kaye
Monday, June 18, 2018 at 7:44pm
| 6/18/2018 - 7:44pm
"If my Democratic colleagues will join me, not play politics but work to solve the problem, we can start to end family separation this week. And, we can honor the rule of law."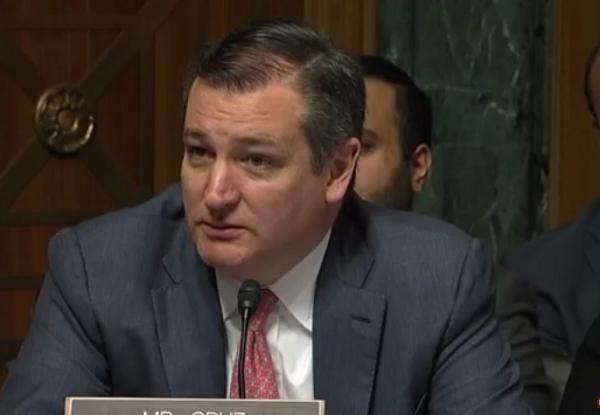 Sen. Cruz will be introducing legislation to curb instances child separation along the U.S. border.
Cruz explained Monday:
All Americans are rightly horrified by the images we are seeing on the news, children in tears pulled away from their mothers and fathers. This must stop. Now. We can end this crisis by passing the legislation I am introducing this week. –> https://t.co/D4W7e7qaw6

— Senator Ted Cruz (@SenTedCruz) June 18, 2018
I've visited detention facilities tragically housing children. For too long, they've been victims of our broken immigration system, detained under the Obama Administration & through the present, facing horrific physical or sexual assault from human traffickers.

— Senator Ted Cruz (@SenTedCruz) June 18, 2018
The answer isn't what congressional Dems are proposing: releasing illegal aliens & returning to the failed policy of 'catch & release.' Rather, we must fix the backlog in immigration cases, remove legal barriers to swift processing & resolve asylum cases on an expedited basis.

— Senator Ted Cruz (@SenTedCruz) June 18, 2018
While cases are pending, families should stay together.Children belong w their families.Once their cases have been adjudicated–under my bill, in no longer than 14 days–those who meet the standard should be granted asylum & those who don't should be returned to their home country.

— Senator Ted Cruz (@SenTedCruz) June 18, 2018
We can fix this. If my Democratic colleagues will join me, not play politics but work to solve the problem, we can start to end family separation this week. And, we can honor the rule of law.

— Senator Ted Cruz (@SenTedCruz) June 18, 2018
While the full text of the Protect Kids and Parents Act is not yet available, Cruz claims the bill will curb child separation by doing the following:
Double the number of federal immigration judges, from roughly 375 to 750.
Authorize new temporary shelters, with accommodations to keep families together.
Mandate that illegal immigrant families must be kept together, absent aggravated criminal conduct or threat of harm to the children.
Provide for expedited processing and review of asylum cases, so that—within 14 days—those who meet the legal standards will be granted asylum, and those who do not will be immediately returned to their home countries.
Cruz is up for re-election this fall and will square off against Rep. Beto O'Rourke. Finding bi-partisan support in an immigration issue that's drawn national outrage certainly won't hurt him in the race.
Reporting is all over the place on the border/child separation issue that has only recently drawn an incredible amount of attention from the media. Everyone on every side (including the people that brought them here) are using these children in some way for some particular reason. It's gross on every side and I have no idea which reports are overblown and which are accurate.
That said, this exposition from Rich Lowry is the best bit I've read on the issue thus far and one that navigates away from emotion to explain regulations and the circumstances they've created.
Much of the media expects the government to somehow, without following lawmaking or rulemaking regulatory procedures, fix the problem.
Because laws are laws regardless of the emotional appeal (and exploitation) of photos. Congress is perfectly capable of changing these laws if they so choose. The Executive is not a lawmaking branch, but Congress is. Because apparently these things need to be said. https://t.co/E1Pbu18siw

— Kemberlee Kaye (@KemberleeKaye) June 18, 2018
The Trump administration has implored Congress to fix the loop holes that require a child to be removed from their parent's custody pending hearing. Cruz, it would seem, has accepted the challenge.
So, game on.