Posted by
Mary Chastain
Thursday, June 21, 2018 at 12:31pm
| 6/21/2018 - 12:31pm
"The images struck her as a mother, as a human being, and also as a first lady."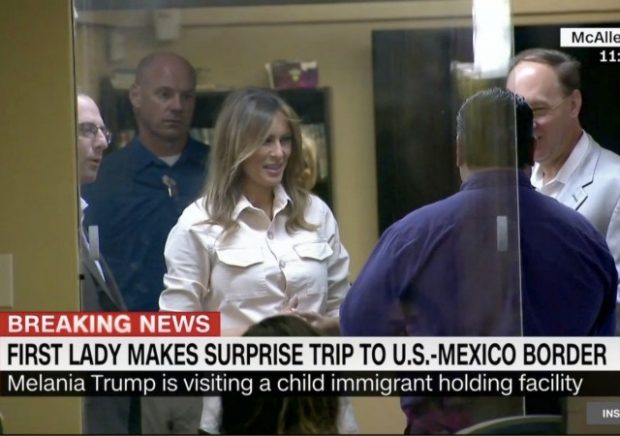 First Lady Melania Trump has arrived in Texas to visit border facilities. From CNN:
"This was her decision. She told her staff she wanted to go and we made that happen. He (President Trump) is supportive of that, but she told him, 'I'm heading down to Texas,'" her spokeswoman Stephanie Grisham told reporters on the flight to McAllen.

Trump was moved by the images and sounds of the children separated from their parents, and sought to see an unfiltered view of the situation on the ground. "The images struck her as a mother, as a human being, and also as a first lady," Grisham said, adding, "She wanted to see as close to what she had been seeing on TV. She wants to see what's real, she wants to see a realistic view of what's happening."
.@FLOTUS Melania Trump visits Child Immigrant Detention Center: "I also would like to ask you how I can help to get these children reunited with their families as quickly as possible."

Full video here: https://t.co/e0YzyTZru7 pic.twitter.com/dVRGCsGH1v

— CSPAN (@cspan) June 21, 2018
JUST IN: Melania Trump just made a surprise trip to a child detention center near the US-Mexico border. Told Trump: "I'm heading down to Texas." https://t.co/RoPnkXm5ns pic.twitter.com/8o7by7SWM0

— Brian Ries (@moneyries) June 21, 2018
Confirmed: @FLOTUS in #Texas. pic.twitter.com/NnjCOJuLCl

— Steve Herman (@W7VOA) June 21, 2018
At cabinet meeting, POTUS says Melania Trump is at the border because the situation concerned her. pic.twitter.com/uDIqI28b42

— Sarah McCammon NPR (@sarahmccammon) June 21, 2018
Melania Trump arrives in McAllen, Texas, to visit border facilities where children being held. pic.twitter.com/gEBNXNZgrT

— Steve Holland (@steveholland1) June 21, 2018
Vile Reactions
Haters wasted no time to take to social media to criticize Melania for her trip.
What stilettos will Melania wear to visit the child prison? Louboutins? But Gucci IS having a moment right now.

— Leslie Grossman (@MissLeslieG) June 21, 2018
Melania Trump arrives at border in hopes of being separated from her family.

— Medium Happy (@jdubs88) June 21, 2018
LOL — Fox News propagandist @HARRISFAULKNER lauds Melania Trump for asking basic questions of officials during PR trip to child detention facility.

"I made the comment — she's amazing at asking these questions!" #TheBarIsLow pic.twitter.com/EhlWiAjZnS

— Aaron Rupar (@atrupar) June 21, 2018
.@FLOTUS: "…I'd also like to ask you how I can help these children to reunite with their families as quickly as possible."

You're a mob wife who supported birtherism & said nothing about these kids. Not buying the Johnny-come-lately sympathy act.

— Bishop Talbert Swan (@TalbertSwan) June 21, 2018
Melania Trump making a trip to a child prison doesn't put those children back together with their families. This is an attempt to demonstrate "compassion" where it's clearly been absent in people who literally put children in oversized dog kennels as political pawns.

— Charlotte Clymer????️‍???? (@cmclymer) June 21, 2018
Dear media, please don't repeat the White House lie that First Lady Melania Trump's visit to a border detention center is "unannounced." The only people it wasn't announced to were you and us. Call it what it is: a PR charade with crisis actor.

— Randi Mayem Singer (@rmayemsinger) June 21, 2018
Melania is visiting the incarcerated children that her husband kidnapped. We're supposed to look at this as a warm human moment from the woman who was also a birther.

— Stephen Nathan (@squarechicken) June 21, 2018
First lady Melania Trump speaks at an immigration detention center in Texas during an unannounced visit: I'd like to ask how I can help to get these children reunited with their families as quickly as possible. pic.twitter.com/wFR7IqCdiz

— Alfons López Tena #FBPE (@alfonslopeztena) June 21, 2018
Melania Trump just visited a CHILD INTERNMENT CAMP and turned it into a fucking photo-op for her husband who is guilty of kidnapping and abusing children. These people (the Trumps) have no soul.

— Ryan Knight ???? (@ProudResister) June 21, 2018
….and the Oscar for Best Crisis Actor goes to….

Melania Trump!

For her role in "Baby Prison Publicity Stunt"

— Michael Tannenbaum (@iamTannenbaum) June 21, 2018